Yes, creative post titles, that's my forte. 
If you are wanting with bated breath for my 80s race recap, you'll have to keep waiting.  I don't have time now to write a good one and do it justice.  I'm planning to do so tonight, but after work I am going for a run and then I have to watch last night's Mad Men…you'll get it when you get it.  If you recall, this is what I wore: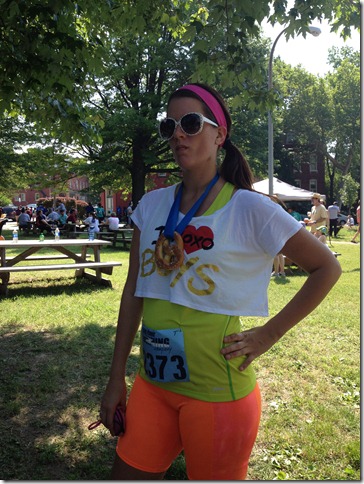 I will tell you about how awful and hot the race was soon though.  And how gross and sweaty a pair of skin tight orange shorts get.
But first: 
Yesterday was another busy day, with fun and work.  You know, the usual.  We started by taking care of a friend's dog.  Chris loves this dog and wants one like it someday.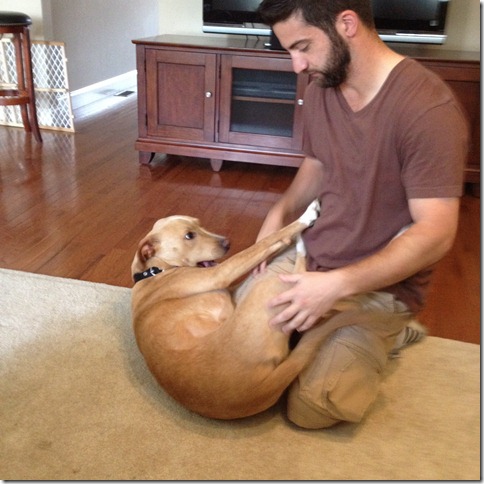 That's Buck.
Then we met Steve and Melissa for brunch at Vin de Set.  I follow them on facebook and every weekend they post these amazing sounding dishes of what they have for brunch.  It was finally a good day to go, and I'm glad we did.  I always love eating at Vin de Set, because it's the building we got married in and it brings back all kinds of happy memories.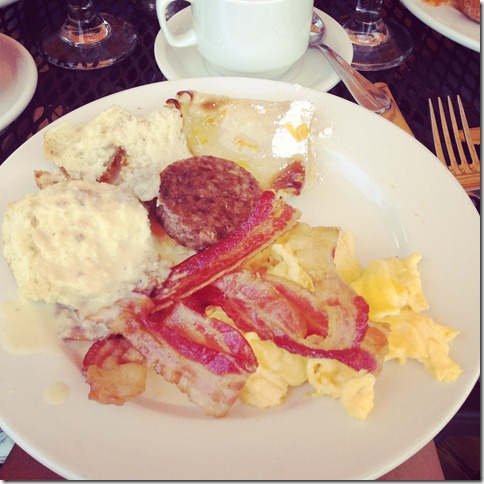 Plate number one…you can tell this was a really healthy meal.  Bacon is the centerpiece of any healthy breakfast.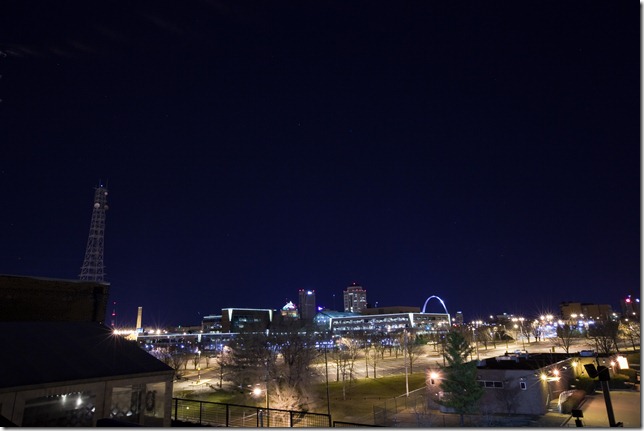 The view…at night…from Vin de Set.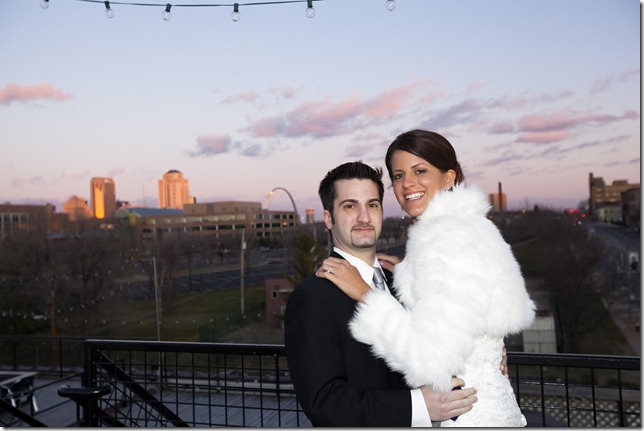 The world's coldest couple, on top of Vin de Set (we took pictures out there.)
Oh, wait, did I hijack this post with wedding photos?  Gosh, how DID that happen? 
Which brings us to my first afternoon activity—our Festival Concert with the St Louis School of Music at the Sheldon Concert Hall.  This is the annual concert for all the kids to perform in groups rather than by themselves, though this year we had a few kids play solos by audition. 
My wedding photographer (and friend) Sarah Crowder's daughter takes violin at the school, so Sarah was on hand snapping a million photos.  I had a hard time not just dropping everything I was doing and posing for her, but I reminded myself she wasn't there to take pictures of ME this time.
She posted this gorgeous picture on facebook though—I'm onstage in the back left, somewhere…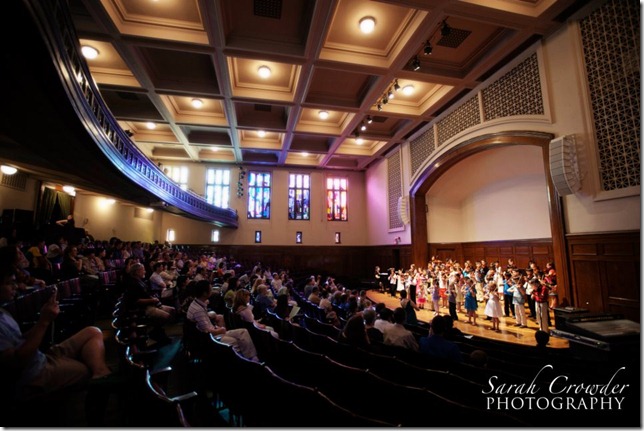 It was a wonderful experience for the students and they all did a wonderful job!
After that I had to meet for a photo shoot in Forest Park (which ended up being at Tower Grove Park due to a mixup) for a new strolling strings group I'm joining with my friend Elizabeth.  There are three violins and a guitar, and our next step is to put together some demo tracks, and the step after that is: profit!  I'm sure I'll have some pictures to share—we took pictures at the Music Stand Pavilion and by the Ruins in Tower Grove Park.  It was about to rain the whole time but held off long enough for us to be holding our instruments. 
After all that Chris and I had dinner and then watched "The Girl With the Dragon Tattoo."  I do love that Daniel Craig.  The movie was very good too, though confusing in parts (and I've read the books). 
How was your weekend?  Are you happy it's Monday?