Does anyone else hate the phrase "Hump day" for Wednesday?  I know I do.  Then again, maybe that's the point?
So far this week is going pretty well.  The sun is shining, how can I be upset?  I have realized that my mood seems to be strongly correlated to the weather.  Or the ability to run outside.  The two are strongly connected.  Yesterday I had a workout with Mike and then ran around Tower Grove Park.  It was great!  Then I went to teach for four or so hours, including getting to work on the Bach Double with one student, and then met my friend Laura for a drink.  We ended up at Frazer's. 
Today I have classes in the morning and teaching in the late afternoon and evening.  In between Chris and I are going to visit a wedding venue.  Things are really coming together, and it's possible by the end of today we will have something booked.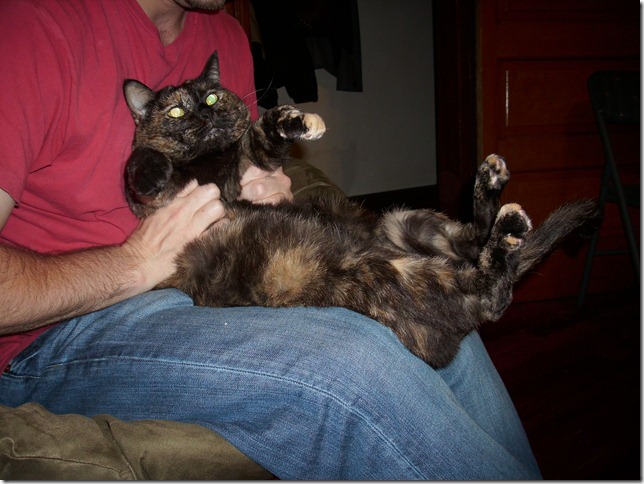 Another ridiculous picture of my cat.
Random thoughts:
A few weeks ago I took two days off from working out because my legs had been sore for quite some time.  This really helped!  Since then I've been running better and walking normally.  Though I was going crazy during those two days, it was truly a wise decision.  Don't let your exercise addiction keep you from taking rest days. 
Real friends are people who you can do or say embarrassing things in front of and they still want to be your friend.  Throughout my life there are many instances of me saying or doing truly embarrassing stuff.  I have only a few friends in my life who don't hold that against me.  I suppose it's because they like me well enough already.  You worry that the next time you see them they will act awkward or different (because this has also happened countless times) but instead they make fun of you (or not even!) and then continue on as if nothing humiliating was said or done.  Many years ago I was just becoming friends with my friend Sarah and this was an ability of hers that I truly appreciated and needed at the time.  I have a couple of newer friends in my life now with this same quality, and I truly appreciate them.
I woke up before my alarm again this morning.  It's so bright now, starting around 6 am, that sleeping until 7:30 am sometimes feels long.  It's a bit crazy…
Well, I'd better finish getting ready for my day.  I'm sitting here with a towel wrapped around my head, drinking coffee.  There is something to be sad for getting up earlier—makes for a very relaxing morning.