Some people blog to hold themselves accountable. I blog for the sheer embarrassment of it and to have a place to put all my thoughts and words down for eternity.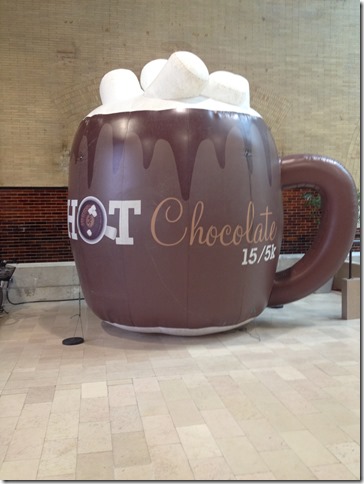 I was excited about the Hot Chocolate Race, and even when I got the first "extreme temperature advisory" email I wasn't going to let it phase me. But then on Saturday I did some walking around outside in the cold, and then Saturday evening I was outside in cold temperatures that weren't even as cold as they would supposedly be Sunday morning, and I just started freaking out. I remember running a few times in extreme (well, extreme to me, it's all relative, I imagine) cold and one time in particular that I ran a 5k and honestly, the entire time it just really sucked. My legs were frozen, my feet were basically numb. And that was old Hannah. I used to be way more hard core.
So much to the disappointment of many people, and with the full support of others, I decided NOT to run the race this morning. It isn't, as other races have been, because I didn't want to run, because in fact, now that it has been light for many hours and the temperature is back up to a normal winter temperature, I will be running…but because the idea of getting up and being cold and running (at my current slow pace) for a long time…I just wanted to tear out my hair and cry. Plus the idea of dealing with the ice and snow getting to my car and the race…just everything about it made me say…not today.
If that makes me lame, I'm fine with it. At least fairly fine. You can totally call me lame in the comments.
I hope the race went well for those that ran, and I definitely applaud those of you who were far more hearty and determined than I am! I think for me, I'm just going to focus on my next plan, which is…the Go Half Marathon in April. I spectacularly failed last year at training for it, and this year is going to be very different. And I know it won't be cold—it'll probably be unbearably hot, but at least that doesn't make me cry. (Okay, it might make me cry, but that's just me.) I want to do the half again to give myself a new goal and a focus. I've been floundering for awhile, and it's been a very tough year (for reasons I haven't outright said on the blog especially, and I'm sorry for not being more open), but I know that I need to pull myself back together, and a spring half marathon will help. Blah blah blah. Really, I just want to dream of the days where I come here and complain how HOT it is outside and how awful that is. I should bookmark this blog post to read then that happens 😉
So that's it. Me rationalizing my lame behavior. Eh. *shrugs*. It's just a race. I did pick up my hoodie and travel mug, so I did get something for my entry fee at least!
How was your weekend? What did you plan to do and then bail on? Or even more impressive (perhaps)…what did you achieve?