We had a bit of freezing rain…and no school today!  I am still teaching at home today, though a few students have canceled.  My "inclement weather policy" for my home students is that they can decide whether to come or not, with no penalty.  Most of the roads are pretty good by now, though the sidewalks are still slippery in places.  I really hate ice—give me a foot of snow ANY day.
I was glad they canceled school last night rather than waiting until this morning because I got to sleep in with no worries!  I do miss the students though—I won't see them until January now.  I'll also have to mail home some things I was going to hand out, but that's probably better anyway because then the parents definitely get the memos.
Tonight we are planning to go to a friend's holiday gathering.  I wasn't going to go because I thought I would be exhausted after a long day of teaching, but I'm down to four students now (and we'll see if they all show) so my energy should be high! 
I've decided to make a nice Christmas dinner for Chris and I before we go to Long Island.  I love making/planning big holiday meals and I don't get to do that when I visit the "in-law's."  I don't want to go overboard, but I have planned a menu of Ham  (not Ham Solo), Corn Pudding, Parmesan-Roasted Broccoli, Smoky Cheddar Loaf, and for dessert, Egg Nog Tres Leches Cake.  Sounds good?!?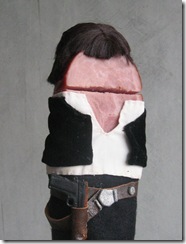 Ham Solo
After the meal we'll exchange our Christmas gifts (and open any that were mailed as well).  Should be fun! 
HBBC:  5 mile run: 5 points