My sister sent me this the other week.  Oh, and sorry, Leslie, I realized this week has gone by and I haven't called you back.  Maybe today!
But really, we're talking life and death, and you try ONE time to get out of the freezing water, Mr. DiCaprio?  When I was younger, my cousins and I used to spend many an afternoon playing in my grandparent's pond.  They had this large intertube, and we spent HOURS trying to get four of us (Nathan, Nick, said sister Leslie, and myself) all in the one intertube without flipping.  It was a delicate procedure, involving lining up just right and precise timing.  Nonetheless, when I watched Titanic the other week with Leslie, we realized that getting on that door was something that we had trained for our entire childhood.
That and the Amazing Race, which we should still totally do someday.  Between my iron stomach and our impressive physical stamina (plus, as super hot sisters we'd totally be fan favorites) we would be unstoppable.  We also are excellent with directions, making fools of ourself, and are really good at having horrific fights and then four minutes later acting like absolutely nothing has happened.  You know, typical sibling stuff, right?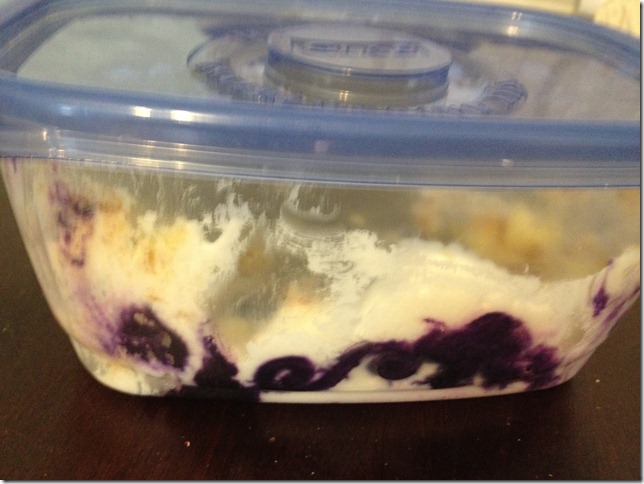 Remnants of the wedding cake…iPhone photo.  You can see the design still!  (I can see your house from up here!)
Oh, and yesterday afternoon I got retweeted by "Talk of the Nation."  It was one of the highlights of my day!

If I recall, Neal was talking about baseball and just seemed really…EAGER.  I was delighted.
(That and an amazing dinner at Trattoria Marcella that I may blog about later, I LOVE that restaurant.  If it weren't for dinner last night I totally would have had an excellent low carb diet day and might not have gained five pounds overnight.  Oh well.) Edited to correct the tenses since I wrote the post Thursday night for publishing on Friday.  I'm so tired.

We miss you @duckierose!  Hope your trip is going well.  Get back to the states soon to entertain us with your highly inappropriate jokes, tweets, blog entries, emails, you name it!
Concert tonight:  Friday, 8 pm, Tavern of Fine Arts.  It's a repeat of the other week's Chamber Project St Louis concert, so if you missed it, you should come see it tonight!  I think I'm going to wear the polka dot dress again—I wanted to wear it the other week but it was too cold.
I leave you with this as part of my "Kids say the darnedest things feature":
(Yes, Vanessa is Canadian, why do you ask?)