Tuesday is my Monday.  Though I teach a few students on Monday, it doesn't really feel like the start of the work week until I drive to the school on Tuesday and teach for approximately 5 to 6 hours straight.  But I've still got a few hours.  After I finish this I'm out for a run (my running mojo has returned with a vengeance and I am taking full advantage of it) and then I have to prep dinner before heading to teach.
The past two days have been great.  Russell and Vanessa came to visit on Sunday night.  Russell is new and will have to get used to the blog…he refused to allow me to photograph him.  Vanessa was game, however, because she needed to show off her shiny new engagement ring.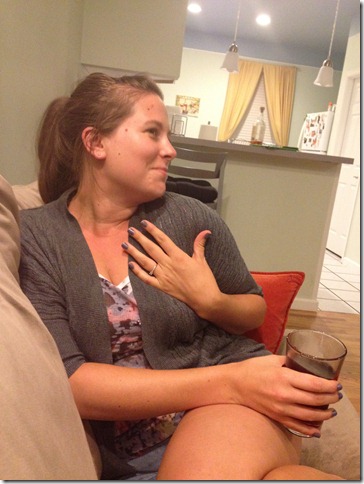 We made burgers for them (Chris is hard at work perfecting his burger recipe for our upcoming housewarming party) and then afterwards Vanessa insisted on taking us to Ted Drewes.  If you are from St Louis, apparently Ted Drewes is one of those places that you rave about.  I think it's like Pizza Inn in Clinton—if you had it as a child you love it nostalgically.  Or I'm just overly critical ;)  Anyway, it was totally fine, I just guess I prefer a creamier texture to start with.  I'm not a "fro-yo" fan either.  Give me a super rich dessert or I'll just pass.  But it was nice of them to treat, of course!
I instagrammed it before I realized I didn't love it.  Don't worry.  I ate it all anyway. 
Monday afternoon Chris mentioned that I looked like I had lost weight.  I decided to throw that all away by going out to dinner with Melissa.  Just kidding.  Well…sort of.  She had heard there was going to be a "pop-up restaurant" in Clayton with fried chicken and pie (and other stuff) and we thought it would be very hip and "with it" (and NEW YORK, she said) to go check it out.  We thought we'd get there shortly after five, which was when it opened. 
Well, by the time we got there, it was an approximate 2 hour wait.  We consulted for a bit, and decided that we just didn't care enough to wait that long for food.  So we decided to go to a nearby restaurant, called Oceano Bistro, that neither of us had been to.  The menu was basically ALL seafood, which was great.
I decided on the seafood chowder and the coconut shrimp salad. 
They were both good—I wish there had been a few more coconut shrimps on the salad (ha!) but I suppose that could have been overkill.  It also had avocadoes and heart of palm on it, two of my favorite salad vegetables.  The chowder was great too, very full of seafood and creamy. (This is a story, not a restaurant review, and evidently I learned nothing at the Food Media Forum about writing about food).
We were still feeling guilty about having given up so easily on the pop-up restaurant, and Melissa hadn't gotten her pie, so we figured we should split the bread pudding.  (It was a line of logic at the time, trust me, and we weren't even drinking.)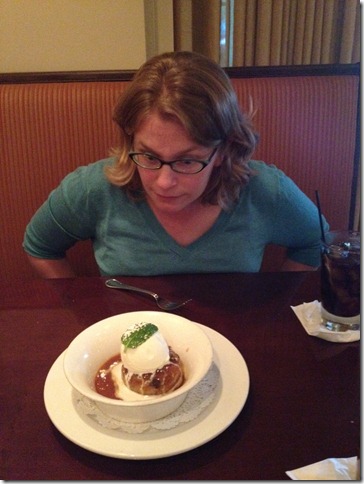 Melissa, unlike Russell, really enjoys being on the blog, so she posed for this picture.  I think her expression turned out really well, and not creepy at all. 
The bread pudding was warm and moist, and the ice cream was rich and creamy the way ice cream should be.  The caramel sauce was the perfect complement to the pudding and we debated asking our waiter for a straw to polish it off, but decided since we were in Clayton we should behave in a more civilized manner.
After that Chris and I went to see "The Bourne Legacy."  It was entertaining, and a nice continuation of the series, but wasn't ground breaking or really up to par with the other movies.  If you really enjoy the other Bourne movies, you'll like this one though. 
Have you been to a pop-up restaurant before?  Are you more hip and "with it" than I am?