Saturday, March 26, 8:00 am, Alton Riverfront Park.
I initially signed up for this race for two reasons:  one, it would be a good test of my pacing for the Go St Louis Half two weeks later, and two, the course was very scenic, crossing the Mississippi River on a bridge and running alongside the river much of the time. 

I didn't sleep well the night before, but I got up at 5:30 am.  Alton is about 45 minutes away and I hadn't picked up my race packet/shirt yet, so I wanted to allow plenty of time.  Also, the weather was cold and I just didn't know what to expect.  Snow was in the forecast for the afternoon and rain in the morning, but luckily it wasn't raining at the time, and even luckier the rain held off.
However, it was very cold, and colder by the river.  Where the entire race was, except the part where we ran over the bridge, where it was even colder and windier. 
I wore my ear covering headband, a fleece jacket with a tank underneath, long tights, and little gloves.  I wish I had worn bigger, warmer gloves, and a long sleeve shirt, but otherwise I was okay.  Oh, and maybe a skirt or shorts over my pants.  I planned to take pictures during the race on my phone, but it was just too cold to use my phone much. 
It wasn't quite as windy when the race started, though.  I arrived at the site around 6:45 am.  Parking was super easy as this was a small race—I picked up my bright yellow long sleeve tech shirt, some brochures, a plastic cup, and my race number.  I decided to hang out in my car until about ten till 8 (with a couple of port-a-potty stops).  It didn't seem too cold outside, so I thought I should get out and walk around a bit.  I almost left my gloves in the car! 
The race was only gun timed, not chip timed, but there didn't seem to be more than 200 or so people there, and I'd estimate it took about 3 to 4 seconds to get started, so that wasn't a bit deal.  My goal was to run approximately 12 minute miles and to run as much of the race as possible, preferably only walking the water stations.  Basically we ran from the park to the bridge, over the bridge, south for a few miles, back, back over the bridge, south again for a bit, and back to the park.  The double backs weren't quite as exciting, though it was fun to see the faster runners heading by.  There were 5 or 6 water stations, and I walked through them all, and only walked a little longer three times (going back across the bridge, and then trying to eat two Gu's). I was towards the end of the pack the whole time, but I was surprisingly okay with that—especially as I realized I was definitely going to p.r.!  I thought a smaller race would be lonely, but compared to training runs it was still really fun!  I was never alone and was always within sight of several other runners, and the water station people would always cheer me on.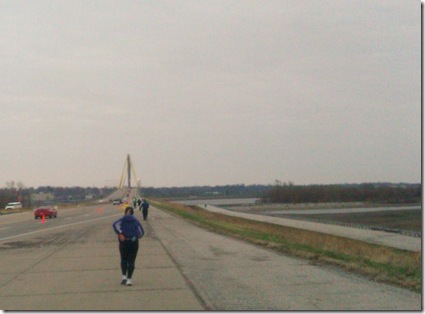 I tried to take a picture on the way back over the bridge.  Meh.
Found these pictures elsewhere.  The first is the Clark bridge, the second a view of the Alton lock and dam, which we ran by after we crossed the Mississippi again, back in Illinois.
There were a couple of things that weren't good:  first was right after crossing the bridge.  There was a distinctive manure smell blowing in for a bit, and I was having trouble with that.  Then the wind really picked up and by the time I was crossing the bridge back my wrists were practically numb.  I was really struggling then, but knew it would be a little better off the bridge.  I had looked forward to the bridge crossing but hadn't anticipated the strong winds!  And it was better off the bridge, though still windy.  I knew I would feel warmer in my car with the heat on, so I just forged ahead.  I also wasn't able to eat my second gu very easily due to my hands feeling numb, and never bothered to try to eat a third one.
I did the first 10 miles in just under two hours (within seconds) and I could not have been more on my 12 minute mile plan.  I considered kicking it a bit more in the last three miles, but didn't want to give it my all—I wanted to save something for the race in two weeks, and make sure I would be able to keep running this week. 
My time was 2:36:57, a new PR (personal record)!  That's over a 10 minute improvement since Phoenix in January, and I couldn't be more pleased.  
After the race there was a tent with water, bagels, chips, and bananas.  I had a bagel and water, stretched a bit, sat down, and then decided to head to my car to try to warm up.  I was SO cold!  I waited for 10 to 15 minutes before driving home, where I promptly crashed in bed for the rest of the afternoon.  I didn't feel too sore at all, and I think that's because I didn't push myself that hard and treated it more like a long training run, which was absolutely my plan. 
Success!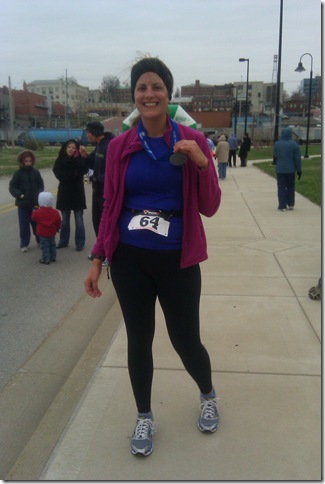 You can see the green/white finish line behind me.
This was my first medal that didn't just have a plain ribbon, kinda fun!
The race was sponsored by the Alton Telegraph, and there was a nice article in the paper afterwards.  I did briefly chat with the woman they mentioned who had just had surgery on her eyes, though she didn't mention then that the surgery hadn't worked.  She was a very positive person, just as the article makes her sound.
I know I can run this faster—particularly because I feel FINE today—my legs are a bit tired, but nothing like after the Phoenix race where they were completely spent.  That tells me I can do better in two weeks…fingers crossed for 2:30 or bust!