Ah, Mondays. It's especially hard to get up when it's raining outside. Luckily my schedule is easier on Monday mornings. I wake up, have a panic of dread thinking about the state of the union and my to-do list, and then calm myself down

I did a good thing last night actually, and put a bunch of tasks on my to-do list. I just keep a running list on my phone and then occasionally add a date/time specific one if needed. I am often torn between making a more detailed and time sensitive list, but my method works mostly pretty well. I'm thinking of how to work on some longer term goals and if I need to revamp my routine, and I'll ponder that some more. I'm not entirely sure of my long term goals, and I was thinking lately that maybe I should come up with some, since that's what they say successful people do. At least some specific ones!
This week is sort of like the calm before the storm. I'm fortunate in that I have a ton of extra gigs over Holy Week, but I am considering that "the storm". And it really starts this weekend with the Festival…so maybe it's not so calm, but it feels it. I only have 4 students playing this weekend so it's easier than last year. I do hope to convince more to do it next year…maybe I'll try for a group photo and put it in the newsletter or something (also, must get back to doing newsletters!)
So there you have it, on this rainy day. I have no long-term goals and my to –do list is a mess, but I still manage

(I do have vague long term goals, like "retire" and "stay healthy" and "play more chamber music")
Other randomness. We did Blue Apron last week (got a free week from Leslie) and it was pretty neat. Like Hello Fresh (which had terrible customer service) they send you a box of ingredients for three meals, along with a card for each meal telling you exactly how to prepare it. Unlike a meal where you have to figure out how the various parts fit together (what to start first, for instance) this is all done for you, which makes the meal easier. Also most stuff is already measured out, though there's still lots of chopping and salting and peppering.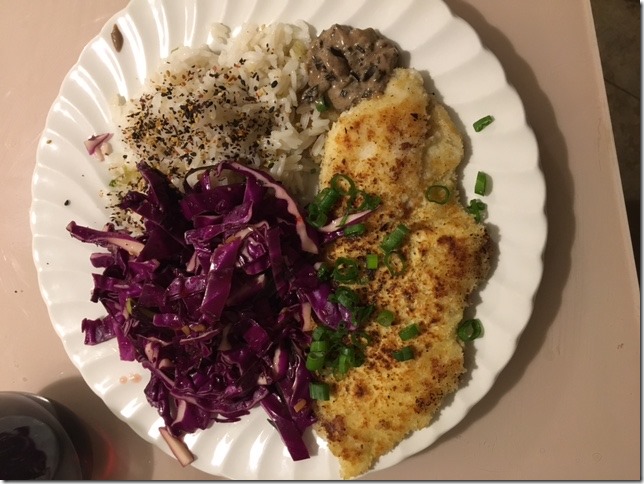 I loved this catfish!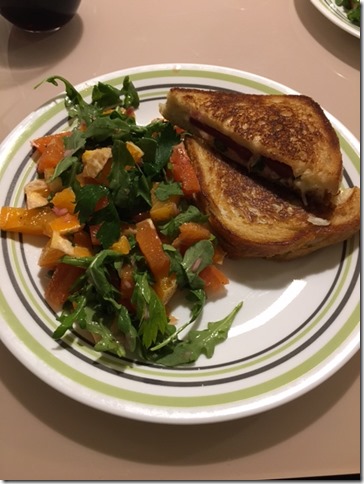 The salad with tangelos and oranges was delicious.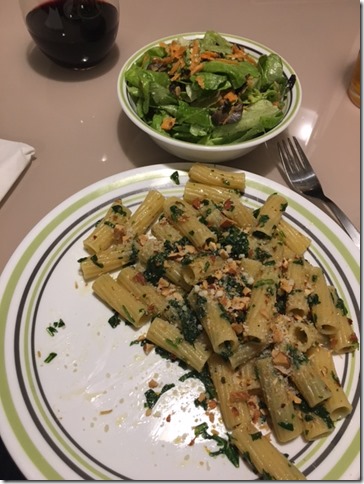 The last meal I was underwhelmed by but Louie really liked it.
Anyway, we might do Blue Apron again, though it's hard to beat the price of "free." We are lucky to have nice friends!
Yesterday we took a short hike in Babler State Park. I didn't take any pictures because I forgot and really it was just trees and hills and mud

Typical Missouri spring hiking, but we had a nice time. Babler has a campground and we were thinking it might be nice for a short getaway (35 minutes drive) if I ever have the time for that. (Ha!) There's a long hike there that we want to do another time (8.5 miles), but we hiked the Dogwood Trail which was about 2 miles.
Alright! I'd better get to it. Practice, teach, teach, teach, and then maybe dinner at Lulu's on South Grand.