I read a cousin's Christmas letter today and he mentioned a trip his family took to Rome, Italy as the highlight of their year. I personally did not write a Christmas letter (I feel that this blog probably suffices and everybody I would send a letter to already knows more about my life than they even want to) but I was thinking about what the highlights of MY year would be if I were writing. Two things stand out, of course—our wedding, and our trip to Paris.
I'm not planning to get married again, but I do want to go to Paris again. There are blogs I read now just about living in Paris and sometimes I will do internet research, you know, just in case. I also do this for other destinations and for cruises—I'm not alone in this am I? How many people plan hypothetical trips to destinations they won't be going to any time soon, just to pretend? (Next on my list is Rome…or London…or Spain…or another cruise…or Russia…)
So, if you are planning a real OR hypothetical trip to Paris, where to start?
I think the most important thing to do is to figure out what neighborhood you want to stay in. Until I booked our accommodations for our most recent trip, I was totally overwhelmed by the city, and after I knew where we'd be sleeping, it became somehow more real that we were going, and I was able to better visualize the rest of the trip.
(Note to reader: please do not actually book any rooms unless you are taking an actual trip. I am not responsible for any money you lose planning a hypothetical trip. In fact, I am not responsible for any money of yours at all.)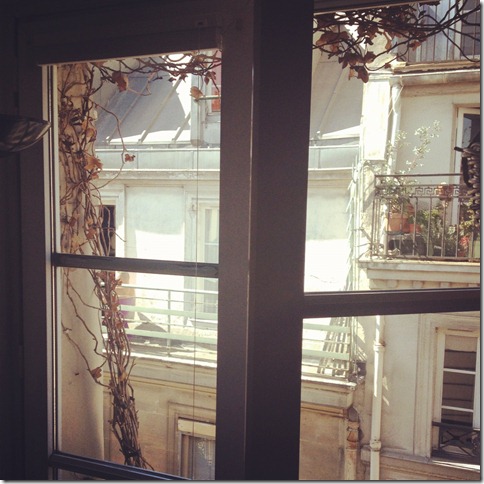 (view from our window in Paris)
On our most recent trip to Paris (implying there have been many, right?), we wanted to stay somewhere centrally located so that we would have an easy time getting around the city. If you read all my blog posts about Paris you'll learn that I became a huge fan of the Rick Steves travel book but initially I just talked to a bunch of people and did tons of searching online. I found that the Marais neighborhood was centrally located, near a variety of Metro lines, and came highly recommended by friends. You can find a hotel here and very easily see where on the map you will be.
I think for our next visit (fingers crossed, right?) we would want to stay near the Eiffel Tower since that ended up being our favorite destination. In my "planning stage" I also found this great resource on the NY Times website: all kinds of information and recommendations for a Paris getaway.
So tell me: do you love to travel? Do you daydream about travel destinations? Where would be your number one place to go?