I promise.
St Louis Track Club Half Marathon.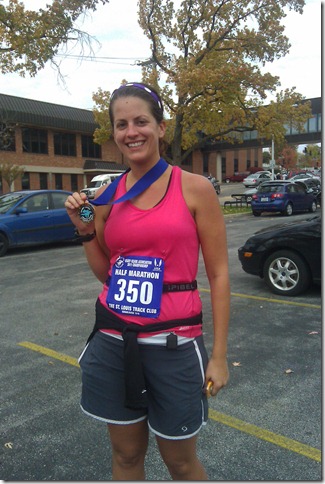 2:35:56.  My second fastest half!!
It was a tough course, always either uphill or downhill.  We started in Clayton and ran into Forest Park and then back. My hip was bugging me so I ended up having to walk more than I had hoped, and then I decided to run faster when I ran since that didn't hurt any more.  I'm not sure if that was the best plan as far as pacing, but I figured since I was walking due to pain rather than being out of breath it made sense.  I had run into Stephanie from Off the Eaten Path at the start of the race and ended up being right behind her the entire race (I used her as my pacer.) 
And that's it for the year.  I'm not running any more half marathons until next year.  This has been a crazy month of races, but I'm glad I did them all! 
Two weeks:  St Louis Track Club Marathon Relay.  Team of 4, each of us runs two legs of approximately 3 miles.  Should be a cake walk, ha!
Post race meal:  went with Jen to the Three Monkeys and had an awesome brunch buffet.  It wasn't that the food was so great, but it was unlimited and included biscuits and gravy.  I would recommend it as a great post-race restaurant!