Since mostly I blog when I'm overwhelmed and tired (apparently!) right now I'm trying to blog while I'm spending about an hour purposefully relaxing. Why yes, writing my blog IS relaxing!
This weekend has been full of activity, but mostly fun activity. I've had a few students and a family issue (nothing to worry you about!) but otherwise Louie and I have had fun together. Friday night we went to the symphony concert…it was a little stressful coming right after what had happened in Paris, which I almost hesitate to even mention, since we ignore mass killings in non-European countries so often, but David Robertson did mention it at the concert…it seems fitting that I acknowledge it, and acknowledge how horrible things can be, and that all we can do is to continue to try to bring joy and music to the world.
So, the symphony. We are subscribers but this was a trade from next week which didn't work for my schedule. It's super easy to trade concerts if you buy a subscription, by the way. It took about 3 minutes on the phone. My one complaint about the symphony concert was that they had a little screen up with some words and moving animation in the back for various parts, and I found it very distracting and awful. I find supertitles to be helpful when there are singers, but other than that I don't want quotes or pictures to "enhance" the performance. The music should speak for itself, and usually does, and definitely would have in this case. I know I can be a fuddy-duddy with classical music (using that world probably makes me one for sure!) but in this case I really think I'm right…
Saturday Louie and I walked around Forest Park enjoying the unseasonably warm weather. It was seriously around 70 degrees and sunny! And then for dinner I'd made reservations to take Louie out for a belated birthday dinner at Elaia. Wow. We had an amazing meal—it was not cheap, but I'd been planning on it for awhile, and it was a great experience. We both got a 4 course prix fixe dinner and shared each course. My favorites were a mushroom dish called "Hen of the Woods" and the Beet and Salmon Salad (totally strange combo, but it worked magnificently). It was a great evening—good food, drinks and conversation. I would say I'll be back, but not for a long time due to the price. Right next to Elaia is Olio, which is also great and a bit more affordable, depending on how much you eat.
This morning we went to Laumeier Sculpture Park with friends. I had originally thought I'd sleep in a bit, since I've been complaining of being tired, but decided it was worth it to do something new with people. It was a lovely morning to walk around in the woods, the grass, and see some interesting art.
This was made by an artist using a chainsaw, if I recall. One tree trunk.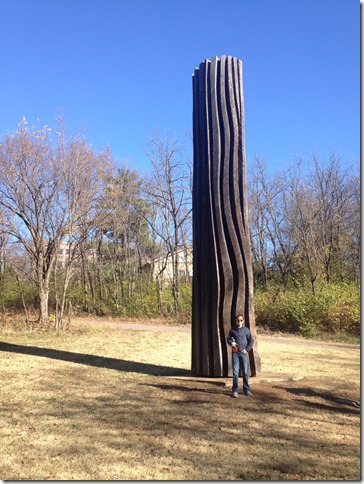 A tree covered in aluminum. It reminds me of that tree from Lord of the Rings. Gondor?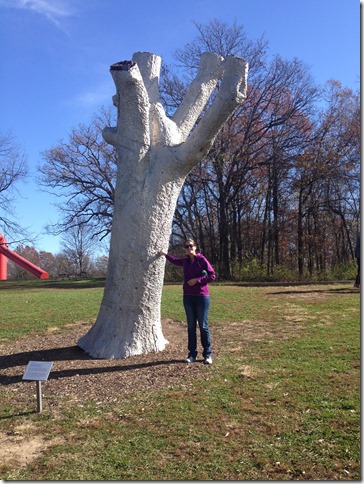 I liked this one with the lady playing the piano. It was a piece of art in memory of somebody, and I thought it was really nice. I hope somebody makes some art for me when I'm gone. Or maybe before that?!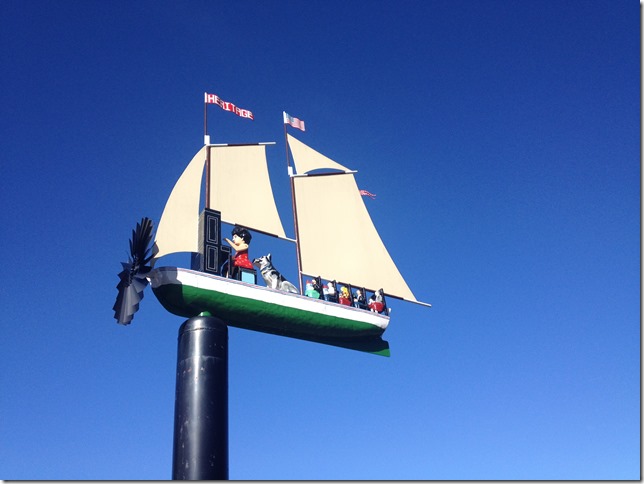 A chair made from a tree trunk. There wasn't a sign not to sit on it.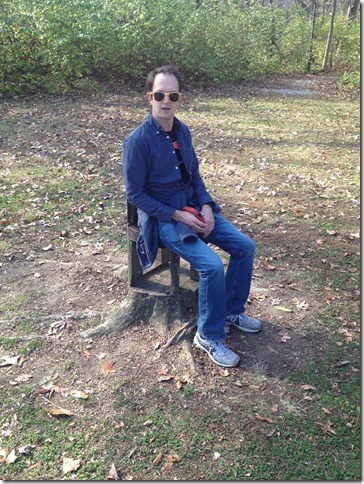 A cat mosaic sculpture. It was gorgeous to look at with all the different kinds of materials. Very shiny.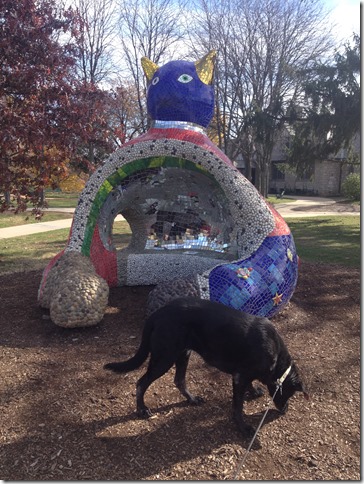 I'm glad I got to do some exploring this weekend and enjoy some new activities. It definitely helped my mindset. It's easy to feel like life is just on repeat, and that each day is the same as the day before (or in my case, each Monday is the same, each Tuesday, etc…) so seeing a new park and eating a great meal at a new restaurant were great activities for me. Even if I'm still physically a bit tired, I am mentally and emotionally a bit more satisfied, which is good.
One more full week until Thanksgiving! This week will be a bit stressful too, as I've got another quartet concert AND a student recital, among other things but there is light at the end of the tunnel and that light is a bright one