Does your brain ever make really random connection in your head? Often I'll hear or read something that will make a connection to something else I read in a book or perhaps, happened in real life, and then (here's where the mistake comes in) try to explain it to somebody else. You'll get blank stares and possibly start worrying they are sending the men in little white coats for you.
Many of my connections like this come from books I've read many times. I saw something on television the other day about Mallorca, for instance, and I immediately thought of Harry Potter AND other random British Chick-Lit books I've read. This set off a bit of internet searching, as I realized I knew very little about Mallorca.
Okay, first off, to explain the Harry Potter reference: if you are a bit of a Harry Potter nerd, you might already know, but there are two references to Mallorca (or Majorca) in the books (I cite the Harry Potter wiki here, but I already knew that.) Evidently Mallorca is a "popular tourist destination for Europeans." Unfortunately the Dursleys never made it to Mallorca but I'd like to think that Harry and his family might go for relaxing Mallorca holidays after ridding the world of Voldemort, don't you think? Then again, knowing that the Dursleys wanted to go there…hmm…it's a tough call. I suppose things ended on decent terms with Dudley, didn't they. Maybe they'd all meet up every couple of years and split a villa?
I'm over thinking this, don't you? But I think I'm obsessing over tropical or beach vacations since the weather here has finally gotten cold…it's not like I'm in bikini shape right now (this is a lie, the advantage of a bikini is you have extra room around the middle so your stomach size doesn't matter) but I can certainly imagine lying in the sun, listening to the ocean waves and perhaps drinking a pina colada. Then again, when CAN'T I imagine that?
The thing is, who but the very wealthy would ever go to Europe from the US to go for a beach vacation? We have the Caribbean much closer.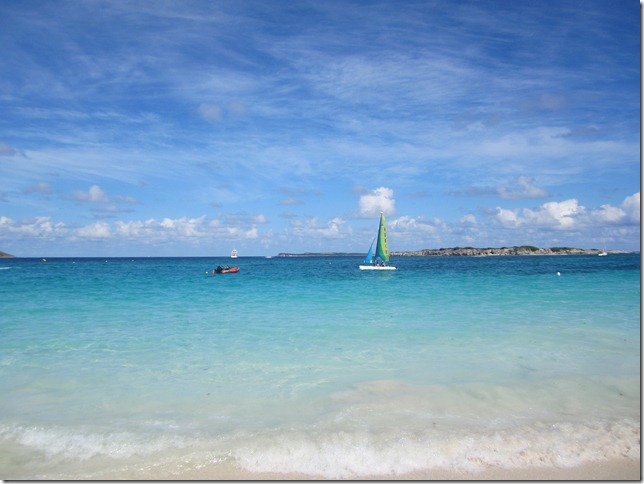 If we are going to fly to Europe we're going to (generally) do something much more standard—visit a great city with lots of culture and museums. Not lie on the beach or go cycling (apparently another big thing to do in Mallorca). I know that people DO these things from the US, but I guess I can't imagine myself ever doing it. This makes a place like this even more exotic (and speaking of random connections, it makes me think of that Matt Damon movie, The Talented Mr. Ripley, and the beach scenes there…European beaches just seem so far away and so…FOREIGN to me. In a good way!)
What about you? Ever been to Mallorca or another European beach destination? Is your brain full of totally random connections where one word sets off a whole bunch of random thoughts and ideas cobbled together from books, movies, conversations, and research?