I'm both excited and terrified about my plans to run a marathon in April. Excited, because I think it'll be a really great thing to do and Leslie (one of my sisters) will be running it too. Terrified because, well, gosh, that's an awfully long way to run and there's a long training plan with really long runs on it TOO. When the mid week run starts to be 8 to 10 miles, I start to get a wee bit terrified. But…you build to that, right? I can do this?!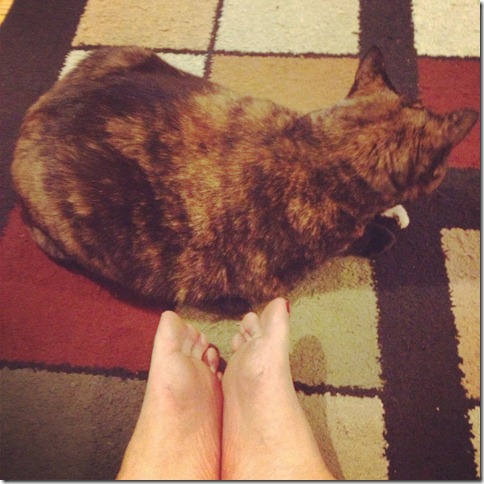 Training starts next week. I have chosen to follow Hal Higdon's Novice 1 Program because this is my first marathon and my goal is simply to finish. (And not die). From talking with people and reading stuff, it seems like this plan will accomplish those things.
Chris and I were talking about running last night…sidebar: now that he has started running he wants to TALK about running all the time, which is just fantastically delightful, because, as everybody knows, talking about running is either fascinating (if you are a runner), or the most boring thing ever (if you are not.) I'm glad we have this now.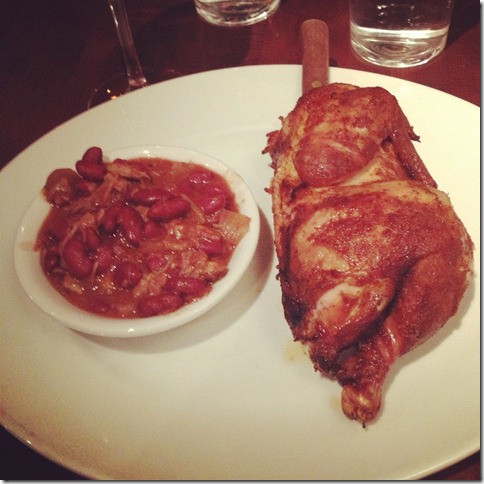 (Oh, and we were having this talk over dinner at The Shaved Duck. We hadn't been in awhile, since it had been featured on Diners, Drive-ins, and Dives, and were delighted by how busy it was late on a Wednesday night. Way to go! We love their food.)
Anyway, he was saying that I should prioritize—sometimes things I do in the gym (deadlifts, usually) make it challenging to run for a few days, and that he feels that is a bad thing. I have decided that my weight lifting is important to me, because I think it helps me in so many different ways, from lifting the cat, to having a stronger back for violin playing, to simply FEELING stronger, and I don't want to stop OR back off.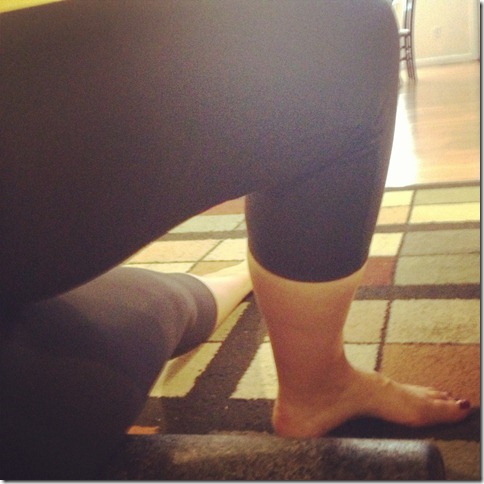 So that means this: I am no longer allowed to complain about the negative effects. If I do dead lifts and that messes up my training for a few days, then so be it. That is the choice I am making. Do you hear that, readers? I am not allowing myself to complain about sore muscles. That being said, I must also completely commit myself to foam rolling and stretching each and every day. I expect you all to hold me to this.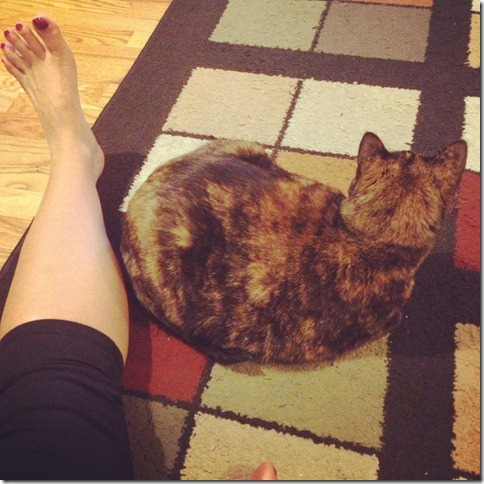 (It's easy to stretch when you have a furry companion nearby!)
I've also booked my ticket and signed up for the Rock and Roll Phoenix Half Marathon in January. This will be part of the marathon training. Leslie and I thought it would be fun to run a half in her neck of the woods while training for the full in my city. I had so much fun the last time I ran this race, and I'm really looking forward to doing it again!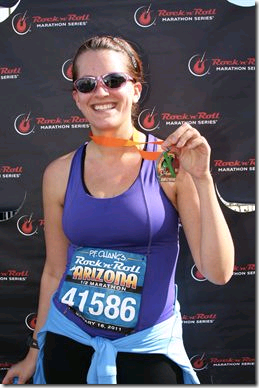 Just saw this on facebook. I've said before, I'm not a huge mantra person, but I like this:
Now I have to eat lunch! How's your Thursday going? Any advice for me? (I don't usually take advice, but I welcome hearing it.)