I am going to take a little break from my Paris recaps to tell you what's been going on in my life right now.  Okay, I realize you probably don't care about my current life, but I'm going to make you wait a little bit longer to hear about the rest of the trip.  (Translation: I haven't quite finished writing the next few posts.)
It will come as no surprise that I've been very busy since getting back.  Well, busy for me that is. Lots of teaching, lots of makeup lessons, and some working out.  Less running than I'd hoped since I've been sick…in fact, in the past two weeks I have run ONCE.  It's challenging to run when you can't breathe… but it's great having that sore muscle feeling again. My legs hurt, my shoulders are sore, my core and back feel tight, I love it!
And…I wanted to share with you my magazine cover! For a race. Half marathon.  Two weeks from Sunday.  *gulp*
(I mentioned this before when the photo shoot took place.)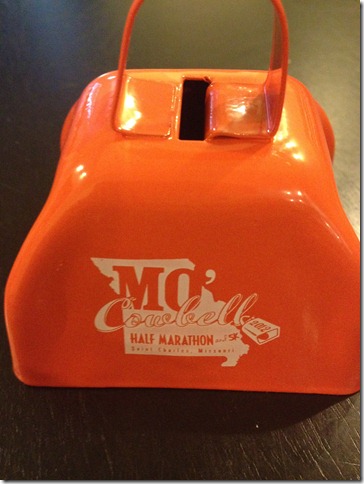 I'm running the Mo'Cowbell Half Marathon on October 7 and you should too.  It's advertised as flat and fast, and that means "for the St Louis area."  It should be a fun race!  I would have been running the Rock and Rock with everybody and their mother here, but I'll be in Phoenix celebrating a little wedding that weekend instead.  (By little wedding, I mean, of course, the second biggest wedding of the year, my sister Leslie's, for which I am matron on honor and will have to write an awesome toast.)
Now, don't get too excited. I'm not the only one on the cover, but this is the first (and only, I imagine) magazine cover I've ever been on.  I was gloating about it to Mike (my trainer if you are new) and he told me that I was an idiot, that he could have been there too and so I should quit gloating, and that I am smart and talented, and have so many other actual successes in my life that he doesn't understand why I am excited about this.  Well, Mike, because it's different from my other successes in life.  Those are all related to my academic success, or my leadership skills, or my writing ability, or my violin playing.  This is related to my running, my friendships, and my appearance.  VERY different!
Plus, there's a picture!  A real picture, glossy, and shiny! Technically, I could frame it, but I won't.  I'll probably just put it in a box.  Oh, and I've got extra copies.  So if you want one, I could sign it for you and stuff.  And then YOU could frame it.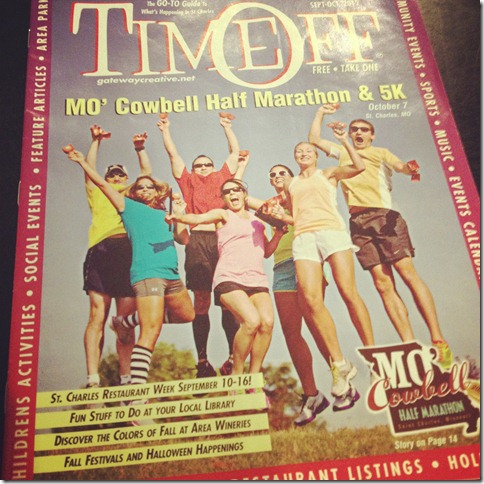 The September issue of Time Off Magazine, picture taken by Sarah Crowder!
That's me in the back row (because of height, really I should have been in the front based on awesome-ness), and you'll note that my feet (the white and purple shoes) are even IN THE AIR.
From inside the magazine—there's a nice article about the race and how much fun it will be.
There are more photos on facebook from the photo shoot.  I think this link will show you the album.  I'm sorry if that isn't true (You might have to like Sarah Crowder photography, I'm not sure.  She's awesome so you should, but obviously don't feel obligated.)
Speaking of Sarah, I know I've shared this before, but in case you didn't see it, check it out!  It's me playing the violin, and my hair looks really good.  Gorgeous scenery as well.
And I promise I will finish writing about Paris:  There's Versailles and Montmartre, and the time I fell down the stairs to cover.  I won't leave you hanging!