You all know that working out, and especially, working out with Mike, is an important part of my weekly schedule (and life).  So I decided that a fun activity for my sisters and I would be to all do a workout with Mike together. 
Originally we were going to meet at the park, but Mike decided it would be easier at the gym in the group exercise room.  We wanted to get fun outfits to wear, and we did!  We found these awesome t-shirts in the kids department at Target!
Now, I hadn't worked out since the previous Thursday, and really hadn't even run due to my cold, so I knew the workout would be challenging for me.  Carrie is a college student with no time to work out, and Leslie is a Jillian Michaels/Bikram Yoga/Occasional marathoner sort of exerciser.
Anyway, Mike was supposed to wear a costume too, but he texted me that morning to warn me to go ahead and be disappointed because he forgot.  I told him I was used to disappointment.
We got dressed and headed out.  Immediately upon arriving at the gym we ran into my friend Jon, who gladly took this picture.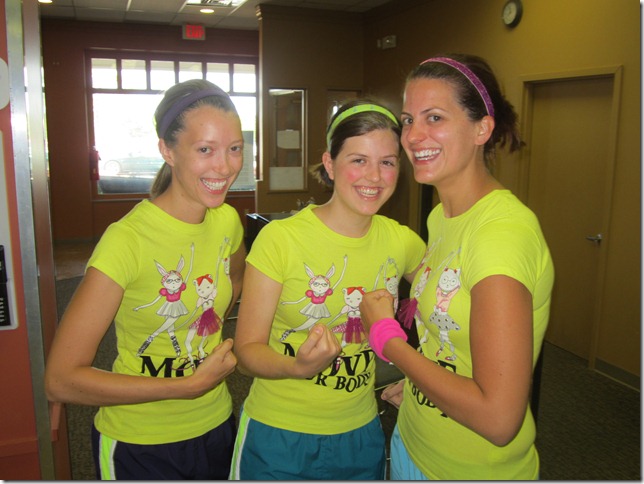 I was wearing a pink headband on my wrist because I figured Mike could at least wear that.
When Mike saw us, he asked, "Where do you find this stuff?"  as if I constantly wear really weird clothes at the gym.  This from a man who owns short bright purple shorts.
Anyway, the workout was fun.  We did squats, lunges, thrusters (squat with shoulder press), planks, threw weighted balls back and forth, and all kinds of other stuff.  Carrie was DYING, which was (sorry!) kind of funny, and I was pretty tired by the end as well.  Leslie had never really lifted 10 pound weights before so she was working hard also.  Mike was his usual self, which (and I was glad to get confirmation from the girls) meant he was very talkative, but in a low-talker way.  Sometimes I can barely hear him, and I had assumed I was simply losing my hearing.  I was glad to know that they could barely hear him too.  Mike, speak up!  Quit mumbling!  🙂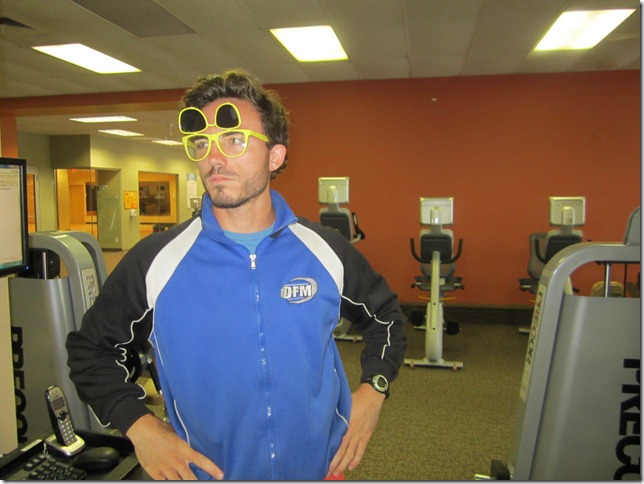 I requested that they look "fierce."  Carrie wasn't quite sure what that was. 
After the workout we went to Sweet Art for lunch.  It's a bakery and sandwich shop that makes vegan stuff.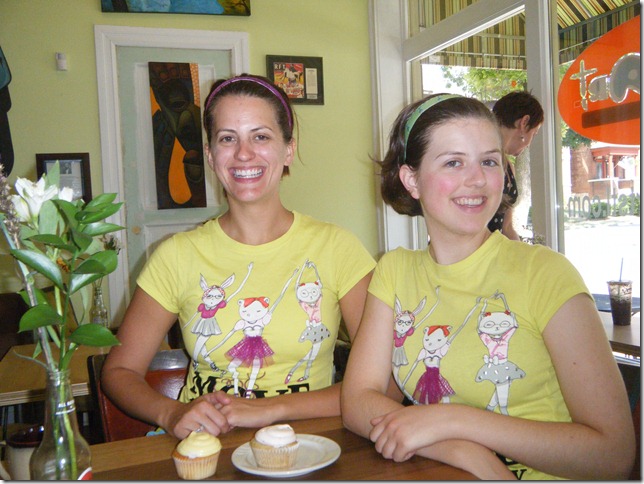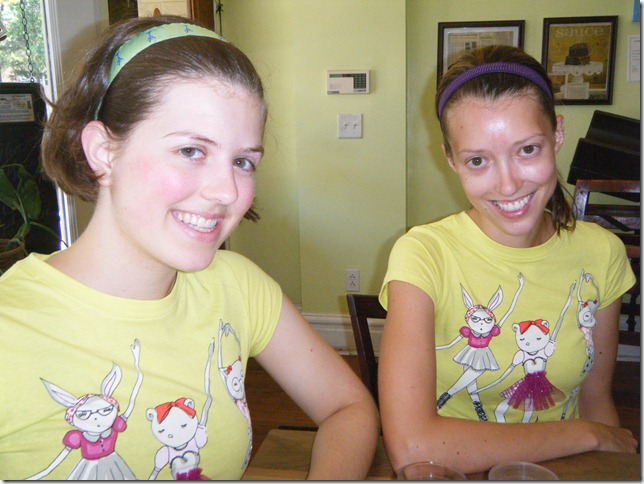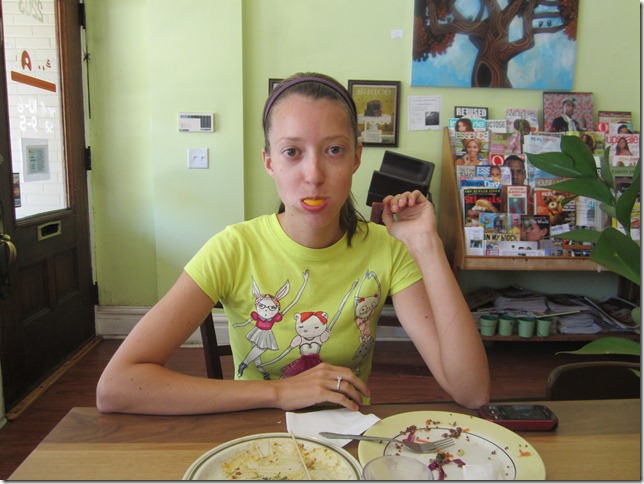 I had a vegan philly cheese steak sandwich.  It was both the weirdest thing I had ever eaten and yet also kind of amazing.  The "meat" was made of seitan.  It really had the texture of meat, which was weird.  The flavor of the sandwich was really good though, but the whole thing was tough to eat, because it was really liquidy, and the bottom piece of bread was completely soggy.  I used a fork.  And I had a lemon cupcake.  Non-vegan.  Love that buttercream frosting! And yes, we were wearing our matching "Move your body" t-shirts the whole time.