Lately the cat has taken to waiting for us at the top of the stairs.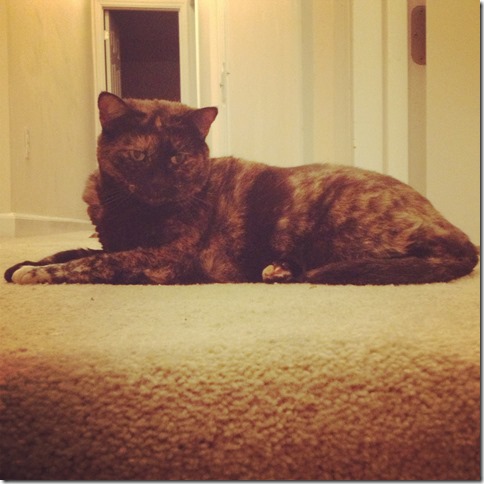 I HAD to stop and pet her for awhile. Then I tried to do that thing you can do to babies—you put your lips on their stomach and "buzz" and they laugh and laugh, and maybe pee themselves a little bit. Well, (and I already knew this) if you do this to a cat the cat just stares and you and then you realize that you mouth is full of cat hair. Oops.
And I knew that already, but I think the whole lips on belly thing must be instinctual and I was powerless to resist my own urges. I'll probably be coughing up a hair ball tomorrow.
Other random thoughts and happening:
1. I was quite sad today because one of my students was observing one of the other teachers after his lesson. This is because my school is closing and I live farther from the school that they are willing to drive, and it was totally out in the open but I still felt sad. I will miss quite a few of my students. I still occasionally miss some of my students from Cleveland, and even from Charlotte, and wonder how they are doing. I'm terrible at keeping in touch for that sort of thing, and honestly I figure people have moved on and don't owe me anything. But still.
2. Yesterday another student's dad asked if they could come every other week for twice as long because the student really loves lessons with me but he is worried driving so much each week would be difficult. I told him we could talk. (Ordinarily I require weekly lessons as too many bad habits can happen, but I make exceptions.) That made me feel really warm and fuzzy 🙂 I love hearing that kids enjoy their violin lessons, because if nothing else, I want violin and music to be a positive experience in their lives.
3. I got asked to play my first Wagner opera! It's with Union Avenue Opera here in August, and it's Die Walkure. I'm pretty pumped.
4. And, really fun news: Chris has been invited to play viola with the Colorado Music Festival this summer, and I will be spending a good bit of time with him in Boulder. We had a great time on vacation there last year so I am eager to go back. I might be able to substitute with the group as well (I was too late to apply for a position myself, but I suppose somebody has to stay home with the cat?)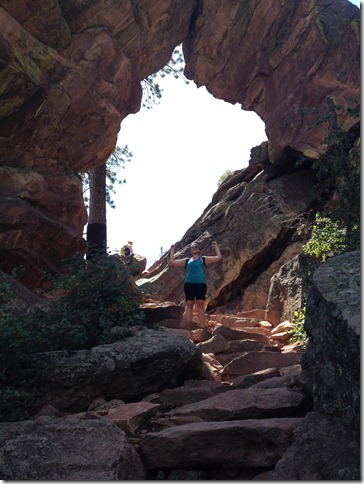 (from a hike last summer in Boulder.)
5. TV: We recently started watching "The Americans." It's really good! I love a good old-fashioned Russian spy drama and I love shows with strong female leads. I'm glad to see that it's been renewed for a second season too. I recommend you watch!