So far this has been the best day in a long time.  I got to sleep as long as I wanted!  (Sidebar:  it's funny how our sleeping habits change over time—as a kid I couldn't wait to get out of bed and start my day.  Then as a teenager I wanted to sleep as much as possible.  That pretty much lasted until a few years ago, when I just sort of gradually stopped sleeping past noon every time I could.  These days it is a miracle if I stay in bed past 9:30, and this morning was indeed one of those miracles.  Over ten hours of shut eye, great for the creative juices, so this should be a better blog post than ever.  Or at least it'll be more positive and less whiny that those from last week.  Goodness I can be a Debbie Downer.)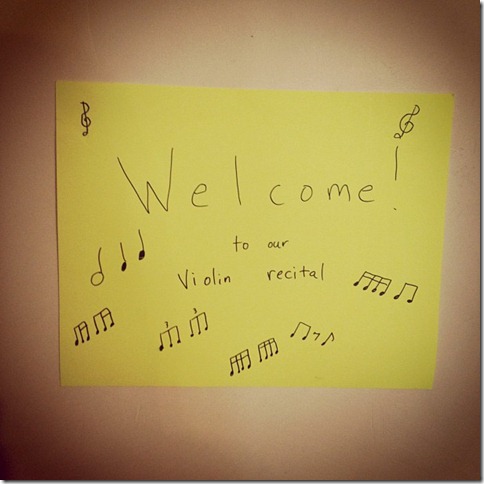 (this sign has been on my wall for the whole year.)
And the rest of the day is going to be just as relaxing.  I have nothing until mid-afternoon (hmm…that's not so far away after all now, is it?) when I have a workout with my trainer (I lead a hard life) and then just under 3 hours of teaching.  ROUGH.  HOW WILL I SURVIVE?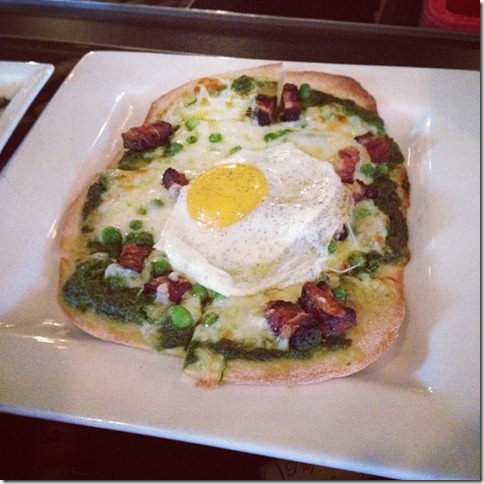 (Pancetta and egg flatbread at Robust last night—very good but I thought the peas were weird.  The pancetta and egg were delicious though.  Then again, when has pancetta ever gone wrong?)
I'm just so glad to be done with the last few weeks.  It's funny—I was so stressed out, I couldn't wait to check stuff off my life (Concert, check!  Teaching, check!  Baby shower, check! Cleaning entire house, check!  Photo shoot, check!  Recital, check!  Gig, check!  ) but once it's done I don't feel any differently.  It's like when you in the car and you have to pee really badly.  Finally you get to the gas station and you pee, and then you just feel normal again.  You'd think that you'd feel really really amazing, and maybe you do for about 2 minutes, but then you are simply back to normal.  The other thing I'm taking away from this is that I hate being so busy I feel like I'm just getting through.  I would prefer to be enjoying life and not enduring it.
So, yes, today is a good day.  But really I just feel like myself again.  I think that's probably good though.  I like feeling like myself.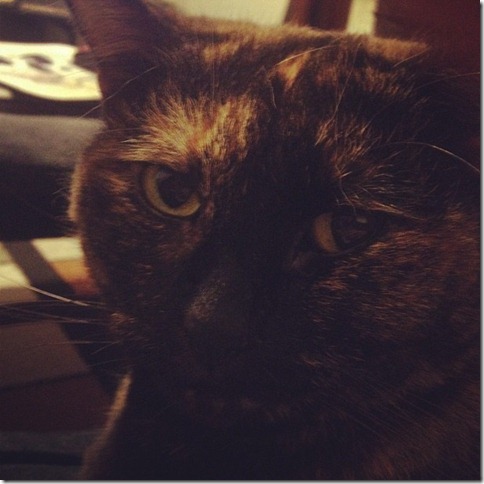 (I also like lying on my couch watching Mad Men with this delightful creature, even though I can tell she was judging me for it.)
Oh, and I got asked to play with the symphony again.  It's a tribute concert to the Beatles called "Classical Mystery Tour."  June 22, 8 pm. 
So what's on my calendar for this week?  Well, some teaching—last week of regular lessons at my school before we go to the summer schedule.  My friend Karen is driving through mid-week on her way from Phoenix to Chicago/Cleveland.  This weekend I have a lot of weddings and a recording session with my new strolling strings group.  And that's really about it.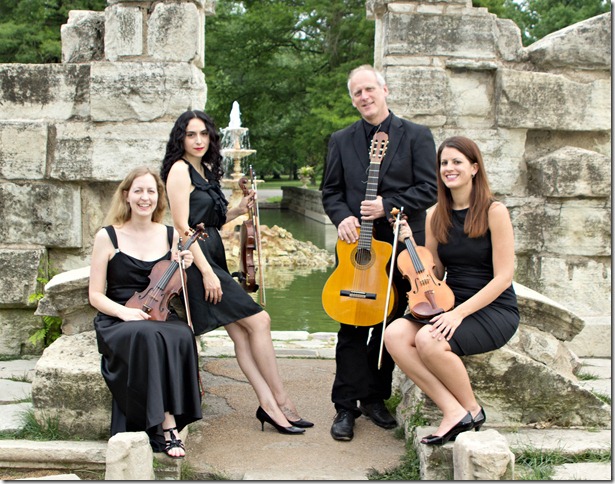 (photo by Kelly Richardson—that's Tanya, Elizabeth, Dave, and me, pre-haircut, at the ruins of Tower Grove Park.  Yes, it's an ancient park.)
Oh, and Thursday is my birthday!  I joked the other night that I would be celebrating my 30th birthday for the third time.  And no, that doesn't mean I'm actually turning 32.  A couple of those birthdays I celebrated my actual age ;) 
Is 34 still considered early 30's?  Or will I be entering my mid-30's?  What's the cut off for this sort of thing?