Okay, so the end of the month has totally snuck up on me.  I didn't realize until this morning after I'd already posted that I was supposed to post my foodie pen pal post today…so I'm doing it late!  Or early, if you consider that technically I could also put it up tomorrow.
What am I talking about?  I'll give you all the details at the end!
This month I was paired to send food to Abby of Abz 'n' Oats.  You can follow that link to her blog post about what I sent!
I received a box of goodies from Molly from Hungry Hungry Runner.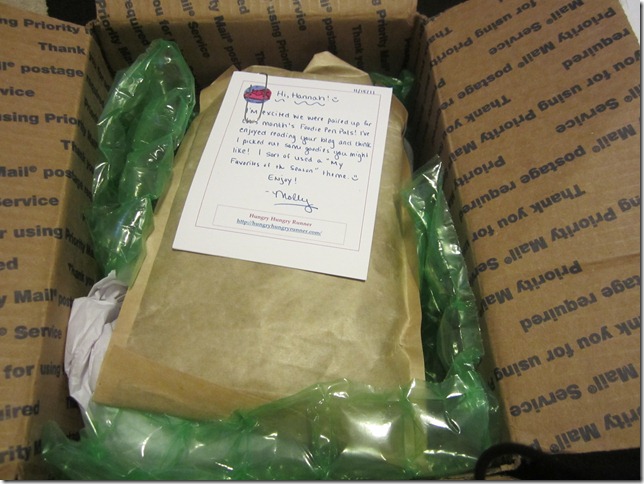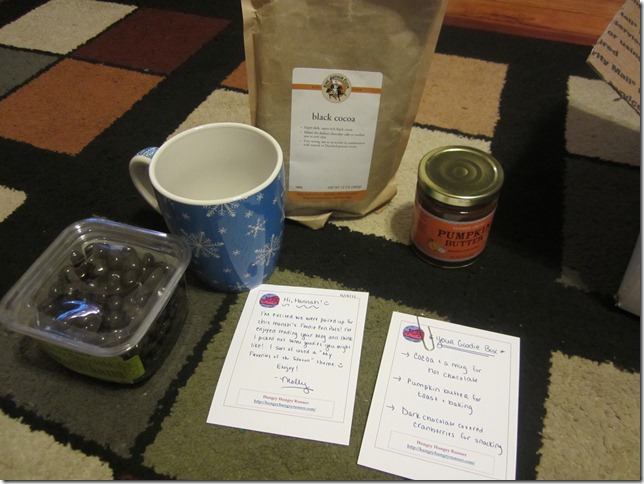 I must not have been in a huge picture taking mood when I got this!  Let me tell you about what she sent:  Trader Joe's Chocolate Covered Cranberries (delicious!! I served them at the Cookie Party), Pumpkin Butter (yum!), and Cocoa and a mug—I haven't actually made the cocoa yet but I keep meaning to…now that it's gotten cold here I'll probably be more tempted.  I'm also tempted to get some cottage cheese and try mixing the pumpkin butter with that—we used to mix apple butter in cottage cheese as children and it was pretty tasty.  (Then again, cottage cheese is good on its own as well.) I love the mug too, it's not edible but very practical and seasonal.  Thanks so much Molly!!
Want to participate next month?  Here's how:
Foodie Penpals
1. On the 5th of every month, you will receive your penpal pairing via email. It will be your responsibility to contact each other and get mailing addresses and any other information you might need like allergies or dietary restrictions.
2. You will have until the 15th of the month to put your box of goodies in the mail. This will ensure everyone receives their goodies in time to post about them.
3. On the last day of the month, you will post about the goodies you received from your penpal! Feel free to write your post as soon as your get your goodies if you want, just don't publish it until the last day of the month. Please also include the basic information about Foodie Penpals and provide my email (theleangreenbean@gmail.com) in case people are interested in joining for the next month. 
4. The boxes are to be filled with fun foodie things, local food items or even homemade treats! The spending limit is $15.
5. The box must also include something written. This can be anything from a note explaining what's in the box to a fun recipe…use your imagination!
6. You are responsible for figuring out the best way to ship your items depending on their size and how fragile they are. (Don't forget about flat rate boxes!)
7.  If you're a reader and you get paired with a blogger, you can choose to write a short guest post for the blogger to feature on their blog to show off what they sent you.
8. If two readers get paired together, no one has to worry about writing a post 🙂