Over the weekend Louie and I went to a friend's wedding in Owensville, Missouri. Neither of us had ever been to the area before, and though it was only about 1 1/2 hours drive away, we decided to make a weekend of it and stay for two nights.
We drove down Friday early evening and checked into the Owensville Motor Inn. We were both hungry and tired, so I checked Trip Advisor for where to eat…there was a nearby Mexican Restaurant that was the Number 3 recommendation in the area. For reference, Number 1 was the White Mule Winery where the wedding was going to be held, Number 2 was something called a Meat Market that wasn't open late anyway, and Number 4 was McDonald's.
Number 2 it was! Though we'd had Taco Thursday the night before after my quartet concert (which was awesome, btw, great crowd, had so much fun playing, I love those women and quartet is the highlight of my week!) it had been at Mission which is a "classier" and more "trendy" Mexican. Dos Primos in Owensville was a little more "traditional". It didn't disappoint. We enjoyed some beergaritas, fish tacos, and had a nice relaxing evening.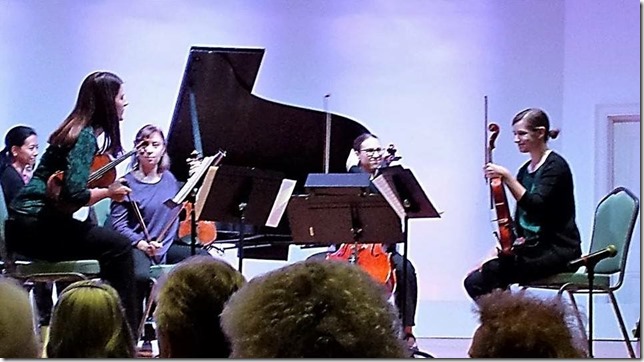 (picture from the concert…not sure what I was doing…)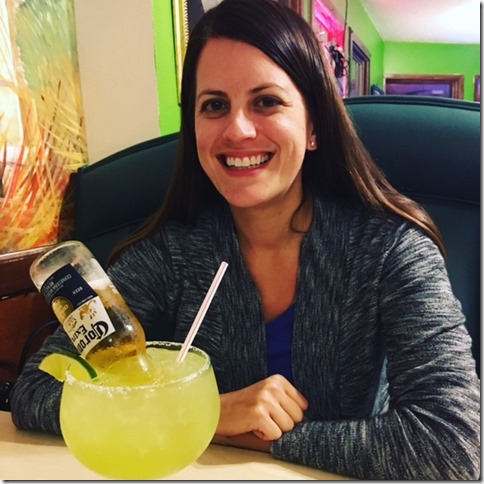 That's a beergarita.
Anyway, Saturday morning we got up and hit up the McDonald's for breakfast and then headed to the Canaan Conservation Area for some light hiking. The weather was beautiful, if not a little warmer than we'd want, and we had a few hours to wander around.
Wander we did indeed, as the map wasn't as easy to follow as we thought, and after an hour or so we ended up in a completely different place than we thought we were! Luckily we talked to a man in a truck and learned that we were totally wrong. We had time though, so we didn't beg him for a ride back to the car, ha! On our hike back through the area we thought we'd already covered but actually hadn't, we were still lost more than we liked (I decided the map wasn't very good, refusing to take credit for being THAT terrible at navigation) but we came across two very old cemeteries, which was pretty neat. They were both old German cemeteries and many of the deaths were around 1880. I'd think that would be on the map too, but I guess not. We didn't dawdle too much since we wanted to make sure to get back to clean up for the wedding! There might have been a point where we weren't sure if we were completely lost or headed in the right direction, but we eventually found our way and found where we'd left the car!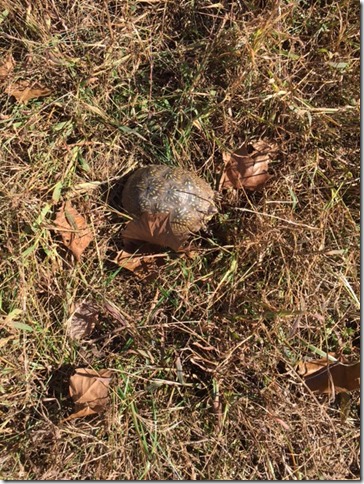 It must have been turtle season.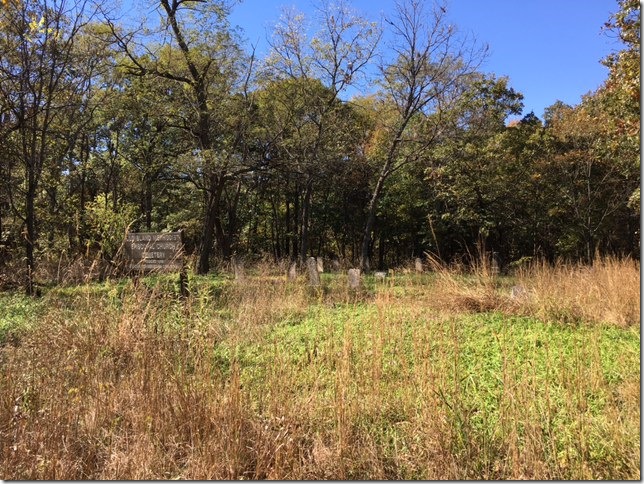 You can kind of see the cemetery here. I guess there probably used to be churches nearby since each one was labeled with a church name.
Then we got McDonald's again..(snack and coffee, which this time was pretty terrible) and cleaned up, then wedding time. The friends getting married were some people I'd only met once who Louie used to work with. They are really nice people though, and we were thrilled for them!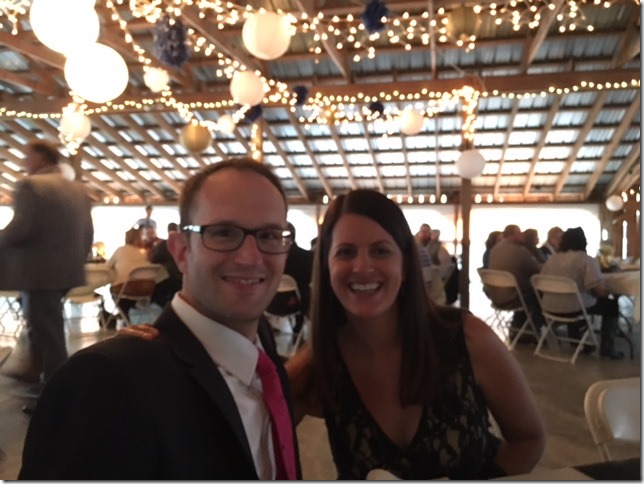 Not the best picture, but you get the idea of the reception area. I didn't take too many pictures, but it was fun. The ceremony was outside and the weather was still quite nice. The cocktail hour and dinner were right nearby and there was plenty of local wine (people knock Missouri wines but I enjoy the Norton varietal) and various (less local) beers. They also had a bowl of buckeyes…(peanut butter with chocolate)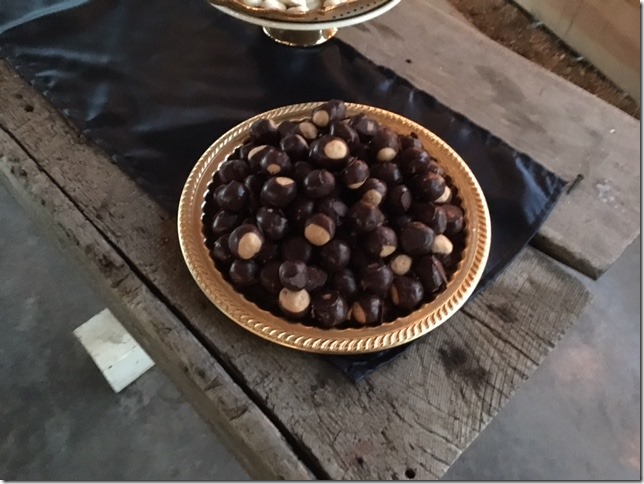 And popcorn, and then dinner was beef, chicken, broccoli, green beans, potatoes, salad, and rolls. I had some meat since it was a special occasion (I have weird rules in my head about these things, don't ask me to explain). The beef was good, I don't care if I ever eat chicken again in my life! Dessert was of course cake, and then there was dancing.
(Am I really that much taller than everybody else? Were those women super short? These are important questions.)
I was exhausted by the end, and then unfortunately I had to get up early-ish the next morning to drive home and then play two Winter Opera rehearsals…so I didn't make it a late night. But it was a nice weekend away!
Even though we were gone only about 40 hours it was good to have a change of scenery. I do love traveling and get antsy when things get too routine and close to home. Luckily the next few months have lots of opportunities for adventure…I suppose that's why I enjoy and thrive on the freelance life while others want a more regular career. I like the diversity and while I love planning and organization, I love the opportunity for change and not knowing what is going to happen next. Of course, I also over plan and then get stressed when things don't go according to plan, or more precisely, I sometimes stop myself BEFORE I plan too much, trying to be more spontaneous, and then often regret not planning as much as I should have. Basically I want really organized adventure where I'm completely on schedule.