I just got back from my fourth cruise.  I've decided that a cruise is most certainly my favorite form of vacation.  Each time I cruise, I learn something new about what to bring or what not to bring.
I am the sort of packer who generally makes a list of what to pack, or at least starts packing a few days beforehand, so I can puzzle over what I've packed, remove stuff, add stuff, buy things at the store, that sort of thing.  Since this cruise was our honeymoon I had some other things on my mind beforehand.  We decided to do laundry and pack the day before, since we had one day in between the wedding and our flight to Miami.  This worked fine, except that I should have made a list in advance.  Oh well!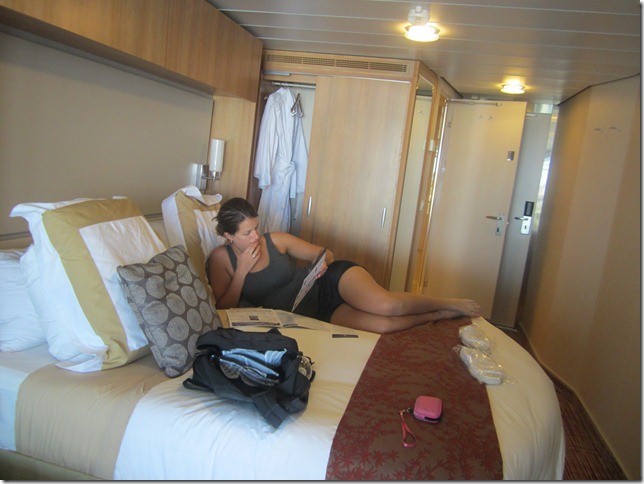 Our stateroom on the cruise.  My outfit is case in point—the shorts were JUST a little too small.
What did I forget to pack that I wish I had?
For starters, a clock or watch.  We're used to using our phones to tell time, but when you are in international waters you either can't use your phone or most certainly have no use for it, plus the ship time may be different than phone time—my cruise did change time zones but late at night, whereas I am sure we actually changed time at some random point during the day.  We ended up having to buy a cheap alarm clock in Miami, but felt silly as we own numerous alarm clocks and each have a cheap gym watch as well.
Next:  more casual clothes to wear on the ship.  I did well packing swim suits (4) and cocktail dresses (way too many) but not enough casual clothes for every day in addition to nicer casual clothes for dinner.  I enjoy dressing up for dinner, and indeed the ship has several nights dedicated to dressing up (formal nights) but I always forget I will really just want to wear a more casual outfit the other nights, like a skirt and top, or even jeans.  My other error was forgetting I won't wear a bathing suit all day long, and might want shorts that fit.  I packed a couple pairs of shorts, but I guess I was a bit thinner (or differently organized) over the summer than now, post holiday time, and they ended up being a bit shorter than I anticipated.  Lesson learned: try on clothes before packing them!  And pack MORE semi-nice clothes.  I have many wonderful tops that I left at home.
Shoes:  I brought plenty of flip-flops but not enough comfortable walking shoes, plus I could have used another nice pair of sandals.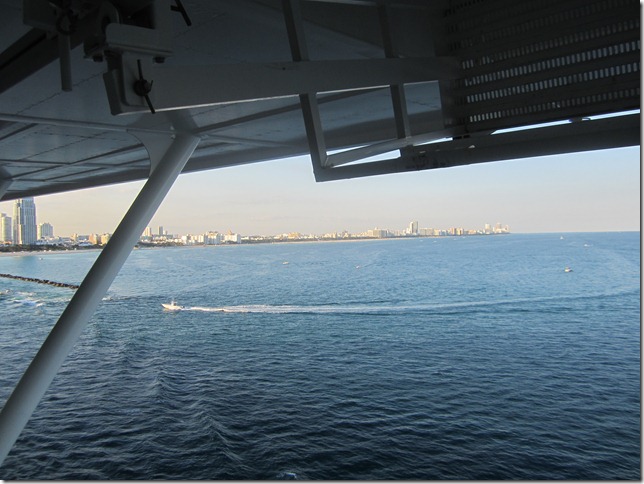 View from our balcony, leaving Miami
What else does one need on a cruise?  I did well with everything else, I think.  I brought the appropriate seasickness drugs, aspirin, toiletries (too many in fact, since our ship provided loads of body wash, shampoo, conditioner, and lotion), bathing suits/cover ups, dresses, a sweater to wear at night when it's cold, dress purse, totes for shore days, camera, camera battery charger, sunglasses, dresses, (suits for men).  And of course the ship sells things (at outrageous prices) should you forget anything important, though you may not be able to get the exact brand you want.  There was a moment I wished we had brought antihistamines and Immodium though, so that will go on the list for next time!
In a nutshell: more semi-casual clothes, walking shoes, sandals, more otc drugs, less cocktail dresses.
I'll try to remember for next time, though I'm sure that won't be for over a year, so I'll likely forget!
(Last cruise, Carnival Legend August 2010)