After I did a few things yesterday (errands and an airport run for a friend), I decided I wanted to be lazy (continue being) and watch TV and maybe a movie, all night long.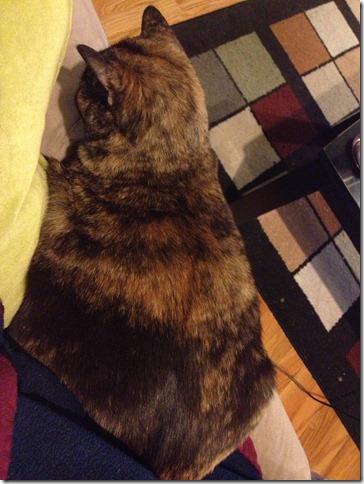 While I was watching I could hear a big storm coming through, but I didn't think anything of it—I was safe and cozy in my home…until the power went out.
NOOOOOOOOOOO!
Step one: locate candles and flashlight. Step two: go out to car to charge phone and bit more. Step three: Annoy people on twitter?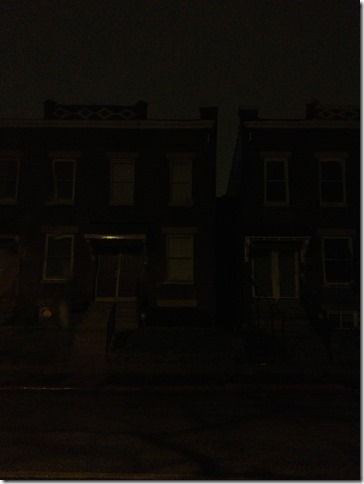 A picture of the houses in the area from my car. You can how dark it is 😉
After about 2 1/2 hours the power did come back on, luckily. I'm more accustomed to extensive power outages, OR power outages where you can't run water either (at my parents' house if you lose power, you lose water too because it is from a well, so you get ONE flush. Use it wisely—) so this really wasn't a big deal at all. And I started rereading the Hitchhiker's Guide to the Galaxy.
Do you guys remember or were you affected by the big power outage in the fall of 2003? I was just moving back to Cleveland, caravaning with my sister Leslie when the power went out. Things that suck: trying to move into a new apartment when there is no electricity or food, and all of the stores and restaurants have shut down because they have to power. We spent the night eating dry "Honey Bunches of Oats" and sweating from lack of fans and having to share one bed since that was all that we could manage to set up in the dark with just a flashlight.
The next day wasn't much better—some restaurants were open so we were able to eat, but the restaurant didn't have fountain Diet Coke! It was a nightmare.
We did finally get our power back on a few days later and in retrospect it was a wonderful adventure. Considering that the day I moved to Charlotte was September 11, 2001, the great Northeast Blackout of 2003 was really no big deal. I think the day we moved to St Louis was really uneventful in comparison though—the key is to have a day that doesn't have a Wikipedia entry on it (the best I can find is it was the day Barack Obama was officially nominated for the Democratic Candidate for President, but that was a fairly foregone conclusion at that point anyway…). And I'm cheating a bit—my move to Charlotte was a multi day process—one day I moved from Cleveland to my parents house, then from there to Charlotte, and I made more than one trip.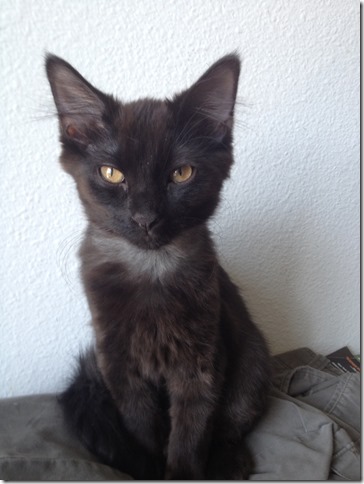 My sister sent this picture of her new kitty, Catalunya. I wanted to just share it randomly. I don't know how her little body is able to support that head…
Were you affected by the blackout in 2003? I probably wouldn't remember it so strongly if I hadn't also been moving at the same time.