After all the excitement of the holidays and getting married and writing about getting married…it seems mundane to go back to regular old blogging.  But if I'm going to keep this up (and I am) I must find things to write about that are less exciting than cruises and weddings.
My mom emailed a picture of the bouquet Leslie and I sent her for her birthday.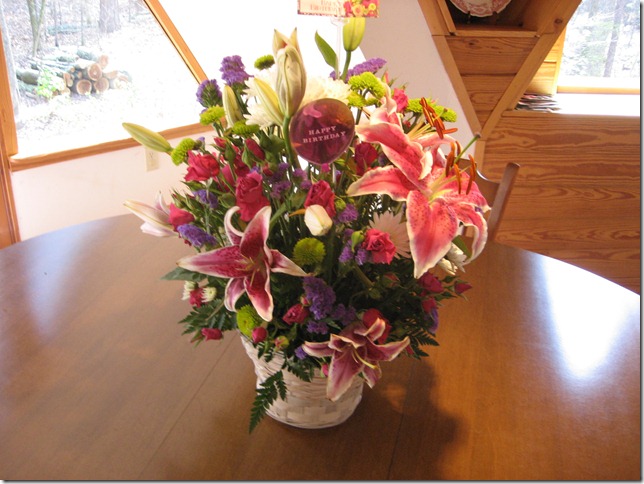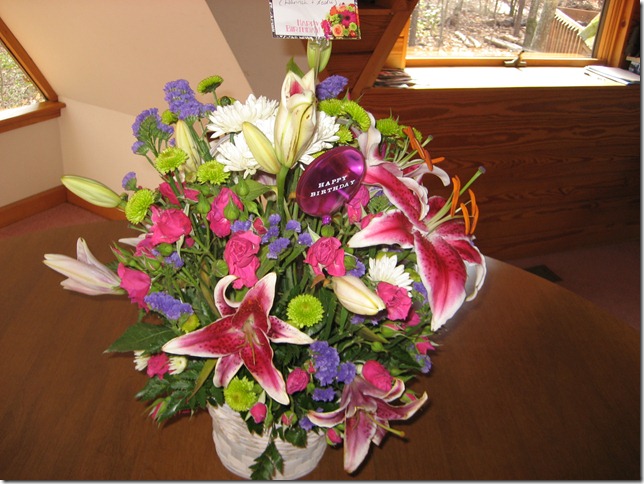 Very pretty, right?  It's kind of a tradition that we send flowers every year.  The first year we tried it (maybe 8 years ago?) we had a bit of a computer error (dial up) and the order ended up going through two times.  We quickly called the company to remedy the situation, but my mom still ended up getting TWO bouquets that year, from two different independent florists.  Two for the price of one!  Since then we've only sent one bouquet total, but I always think of that. 
I think that pile of logs outside the house must be from the other week when they got some trees cut down. (pictures from my Mom's facebook page)
That is where I'll be returning at the beginning of April!  And I got a beautiful dress to wear for the performance—Leslie and I are playing the Bach Double Concerto with the Presbyterian College Orchestra in our hometown of Clinton, South Carolina.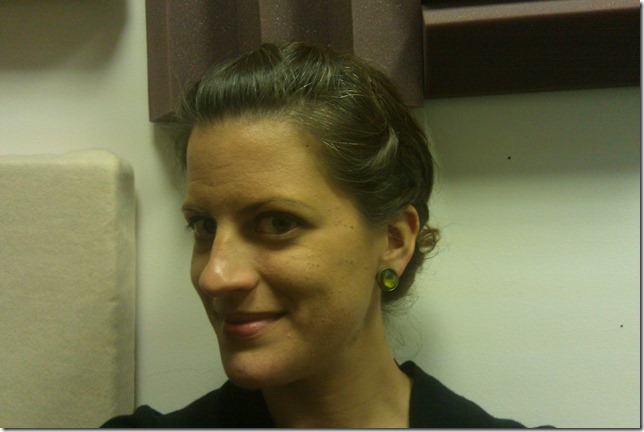 The other night for the opera I thought I'd do something different with my hair.  It's getting too long and is totally annoying me, so I did a little twist/pin thing, and I thought it turned out pretty well.  I should probably practice that sort of thing more often in case I want to do it for some fancier evenings. (Of which you know I have so many!)
In any case, I called to get a haircut—I was trying to make it till March since I'd spent so much money on my appearance in November and December.  I totally forgot my hairdresser was having a baby!  (She was quite pregnant even on my wedding day, so I don't know how I forgot).  In fact, she was in labor at the time I called.  I can't wait 8 weeks for her to get back though, so I'm getting my hair cut with a different hairdresser this week.
I had a workout this morning.  Lots of chest, back, and shoulders.  I was planning to run a bit afterwards but my stomach felt funny so I'll postpone that until tomorrow.
Today is full of teaching.  I'd better stop writing and start getting ready for my day!  I have over 5 hours of students at the school.