Today I slept in then had a rehearsal (for a gig that Chris is playing too, which is fun!) and then hurried off to my students' recital at the St Louis School of Music.
I'm enjoying playing with the Bach Society. I forget how much fun sitting in the back with a hilarious stand partner can be. (A stand partner is someone you share a stand with—string players almost always sit two to a stand and so you share music, and if you are lucky, inside jokes.) Of course we are working hard and not just goofing off, but it's been a fun couple of rehearsals. It doesn't hurt that I'm also hilarious.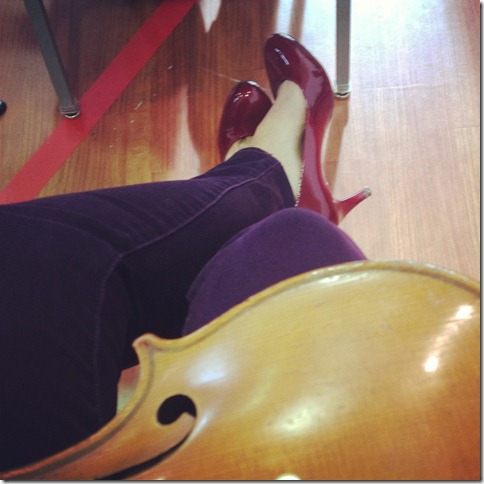 The older I get the more proud I become of my students. They get so nervous and yet get up there in front of everyone and show off their hard work. I was particularly proud of some of my students but of course I love them all the same, right? 😉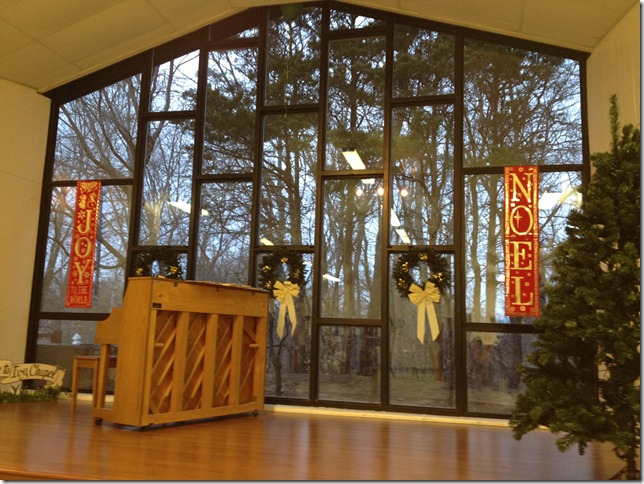 I love the backdrop of the stage. By the end of the recital it was dark and the trees had twinkly Christmas lights.
Speaking of, how weird is this heat wave? I think it got up to 70 today—it's so bizarre to be driving around seeing Christmas lights and decorations while wearing a tank top. It's really hard to get into the "Christmas spirit" while sweating on a run. (Figuratively speaking. I didn't exactly run today. Or yesterday. I'm going to tomorrow, I swear. And I imagine I'll be sweating. Though technically I sweat when it's cold too, so that was a pretty lousy analogy, right?)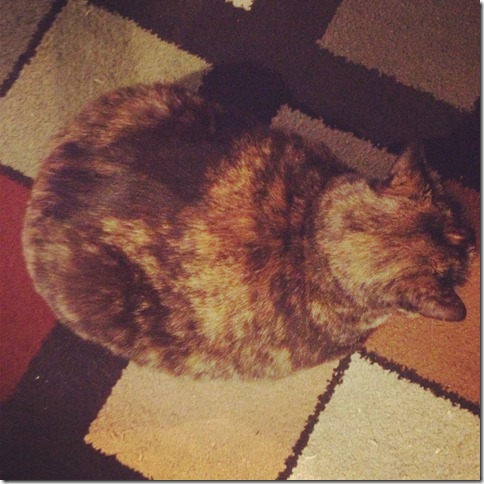 (It is Caturday…aerial view of her Royal Fatness.)
Okay, a couple more random thoughts before I leave you to your Saturday night. Does anybody have a Direct TV DVR? Ours has been randomly recording stuff and I don't understand why. I looked on the "To do list" and none of the shows it's recording are on there, but yet…then they show up. It's very annoying. We don't wish to record "Adventure Time" or "The Rachel Maddow Show" and we're not really sure why the DVR is doing it. Unless the cat has developed an ability to use the remote? Weirdest of all is a half watched recorded episode of "Real Sex" …and both of us assumed the other had watched half of it. I know I did not, and I believe Chris when he said he didn't…but that doesn't really leave anybody. (Are we haunted? Is somebody breaking in to watch and record stuff on our DVR? Is this is truly a first world problem?)
Oh, and I registered for the Castlewood Cup today. Figured I wouldn't have enough to do with marathon training and perhaps an audition in addition to, you know, work…plus I haven't done enough trail running lately. (I ran it last year too!) Plan: do some trail running while training rather than just showing up and trying not to die. Who else is running?
I'm off to hang out with friends! Lots going on tonight—wine at my friend's house and then meeting Chris and another couple at Franco for drinks and appetizers. Yeah, yeah, rough life 😉