The sun was out this morning when I got up, but by the time I had finished breakfast the radar didn't look good for running.  We had a ton of phone calls to make anyway so I had to go to the gym instead.  Had to call dell to get my serial number (PSA:  write down your laptop computer's serial number), had to call the police to update the police report with a couple more items I had noticed missing, and had to call the insurance company.
State Farm is my hero.  My agent checked to see if it made sense to make a claim, and it did, so we made the claim.  (Another PSA:  have renter's insurance.  Mine costs approximately $8 per month.  There is no excuse.)
I haven't had an insurance claim in some time, but I've had two car related ones in the past.  Once my car was stolen–that was a real pain in the butt.  Another time my car flooded (was in a flash flood.)  When I called State Farm to tell them my car was in a flood, they asked "is anybody in the car?"  No.  No, I would likely be calling 911 then instead.
Both times they were quite prompt with their payments.  I remember when the car flooded, State Farm had my car towed away within 24 hours for inspection.  I had the money within a week or two.  I didn't even have to sing the tune from the commercials (though I gladly would have as I love to sing.)
In any case, evidently the claims department is a bit backed up due to the tornadoes on Friday night.  The author of another blog I read sometimes had a great summary of the carnage.  I can't believe Chris and I were at dinner, knowing it was storming a bit (the sirens actually WERE going off on my way home from work but I decided the radar was on my side and tried to get ahead of the storm), but completely unaware of the extent of the damage inflicted.  Later than night I heard that tornadoes had hit the airport, but didn't really believe it until the next morning when I saw the footage.  My understanding is that no one was killed or seriously hurt, miraculously.  I guess everybody heeded the warnings!  It just reminds you that life is most important and that you shouldn't attach to your belongings that much, I guess.
My landlord has been "improving" the property a bit today.  By that I mean putting some latticing/bars on the back window and a lock for the back yard.  I should probably be more concerned that I am about future break-ins, but I feel that it was a one-off/lightning strike type of occurence and could have happened anywhere (in the city) as it certainly seems that enough of our friends have been affected by similar incidents.  Remember to back up your important computer data also!  Mine is all backed up online and I am SO glad I have that.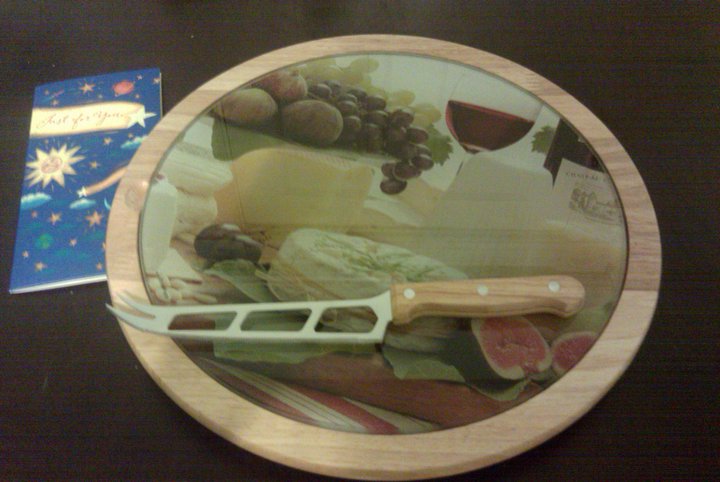 Speaking of materialism (haha) I was so excited today to receive our first engagement gift.  It is a cheese plate (with spinner on the bottom) and matching knife, and is from some good friends of Chris's parents.  It's VERY italian, and I love it!  Perhaps this (awful) month is about to take a new turn…or maybe May will be better.