Today I went for a run.  I'm trying to start wearing shorts for this activity (today was actually a skirt I had gotten at Target).  I ran for 2 miles really fast (for me), averaging a 9 minute mile for the first 1.5 miles.  Then I realized I was dying, and really needed to slow down as I have a half marathon this weekend where I need to average 11:20 miles…and that's pretty fast for me.  Why was I running so fast?  Well, I realized I was using a bigger stride.  And using it somewhat naturally.  Huh.  Except my lungs started killing me.  Oops.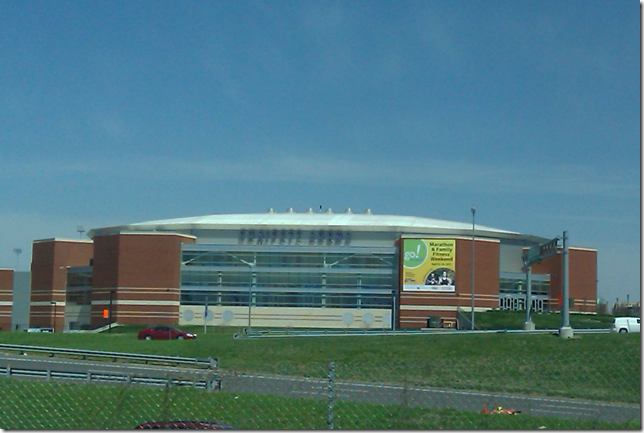 Sorry for the blurriness—took this from my car window (while stopped at a light)—that will be the location of the race expo.  You can see the go! Marathon and Family Fitness Weekend poster.  Plus, how gorgeous is that sky?
Stuff my trainer and I talked about yesterday:
The weather on Saturday and its awesomeness
How he rolled his ankle stepping off a treadmill the other day and almost cried
***note to readers:  I find that people often say to me, "hey I thought of you the other day when I"(choose one)…"fell down the stairs," or "tripped over my own feet in front of a crowd of children" or  "fell off a table" or  "fell really slowly while holding a violin and crying out the entire time".  I am not sure why this is…***
How he's much happier now that he's single (even though she dumped him…he claims he was passive-aggressively bringing that on)
Chuck Norris jokes such as: Chuck Norris wears sunglasses not to protect his eyes from the sun, but to protect the sun from Chuck Norris…and maybe some that aren't fit for this blog.
Time to teach the children!