Evidently I have food on the brain recently ;)  Or I've just been trying to organize my recipe collection, and thusly, my blog recipe collection as well.
Here's some more recipes I've mentioned on my blog:  Enjoy!  (All pictures are my own!)
Goat Cheese Grits
from Cooking Light
Ingredients
4 cups water
1 cup uncooked quick-cooking grits
3/4 teaspoon salt
1/2 cup (4 ounces) goat cheese
2 teaspoons finely chopped fresh parsley
1 teaspoon finely chopped fresh basil
1/4 teaspoon freshly ground black pepper
Preparation
1. Bring 4 cups water to a boil in a medium saucepan. Gradually add grits and salt to pan, stirring constantly with a whisk. Reduce heat, and simmer 5 minutes or until thick, stirring occasionally. Remove from heat; stir in cheese and remaining ingredients.
(from the runaway spoon)
2 eggs
1 (16-ounce) can creamed corn
1 (16-ounce can) whole kernel corn, drained
½ cup (1stick) butter, melted
1 cup (8-ounces) sour cream
1 (8 ½ ounce) package corn muffin mix (I prefer Jiffy)
1 ½ cups grated mild cheddar cheese
¼ cup finely chopped fresh chives
Salt and pepper
Preheat the oven to 350 degrees.  Grease a 9 by 13 inch baking dish.
In a large mixing bowl, beat the eggs, then add both corns, butter and sour cream and mix thoroughly.  Fold in the corn muffin mix, cheese and chopped chives.  Add a pinch of salt and a few grinds of black pepper and mix completely.
Scrape the mixture into the prepared pan and smooth the top.  Bake for 30 – 35 minutes until puffed and golden and firm in the center.
Serve immediately,
Serves 8 – 10
Parmesan Roasted Broccoli
(from Barefoot Contessa)
Ingredients
4 to 5 pounds broccoli
4 garlic cloves, peeled and thinly sliced
Good olive oil
1 1/2 teaspoons kosher salt
1/2 teaspoon freshly ground black pepper
2 teaspoons grated lemon zest
2 tablespoons freshly squeezed lemon juice
3 tablespoons pine nuts, toasted
1/3 cup freshly grated Parmesan cheese
2 tablespoons julienned fresh basil leaves (about 12 leaves)
Directions
Preheat the oven to 425 degrees F.
Cut the broccoli florets from the thick stalks, leaving an inch or two of stalk attached to the florets, discarding the rest of the stalks. Cut the larger pieces through the base of the head with a small knife, pulling the florets apart. You should have about 8 cups of florets. Place the broccoli florets on a sheet pan large enough to hold them in a single layer. Toss the garlic on the broccoli and drizzle with 5 tablespoons olive oil. Sprinkle with the salt and pepper. Roast for 20 to 25 minutes, until crisp-tender and the tips of some of the florets are browned.
Remove the broccoli from the oven and immediately toss with 1 1/2 tablespoons olive oil, the lemon zest, lemon juice, pine nuts, Parmesan, and basil. Serve hot.
(from the runaway spoon)
Use a good egg nog from the dairy case, and please, it's Christmas, spare me the "light" version.
1 cup (2 sticks) butter, room temperature
1 ½ c granulated sugar
3 cups all-purpose flour
3 teaspoons baking powder
1 teaspoon salt
1 ½ teaspoons ground nutmeg
1 cup milk
2 teaspoons vanilla extract
2 eggs
1 (14 ounce) can sweetened condensed milk
1 (12 ounce) can evaporated milk
1 ½  cups dairy egg nog
1 cup heavy whipping cream for garnish (optional)
Preheat the oven to 350 degrees.  Butter and flour a 9 by 13 inch baking dish.
In the bowl of a stand mixer, cream the butter and sugar until light and fluffy, about 4 – 5 minutes, scraping the sides of the bowl occasionally.  While the butter is creaming, use a fork to mix the flour, baking soda, salt and nutmeg together in a bowl.  Add the vanilla to the milk in the measuring cup.
When the butter and sugar are creamed, add the eggs one at a time, mixing thoroughly after each addition. Add the flour and milk mixtures alternately in three additions, beating well after each addition and scraping the sides of the bowl down a few times.
Scrape the batter into the prepared pan and spread it out evenly.  Bake the cake for 30 – 35 minutes until a tester comes out clean and the cake is firm.  Bake this cake a few minutes longer than you would normally, as it will soak up the egg nog mixture and soften up. Leave to cool completely.
In a spouted bowl or large measuring jug, whisk together the condensed milk, evaporated milk and egg nog until thoroughly blended.  Poke holes all over the cooled cake with a skewer.  Slowly pour one half of the egg nog mixture over the cake, then leave it for a few minutes to soak in.  Pour over the remaining egg nog, cover the pan with plastic wrap and refrigerate for eight hours or overnight.
Cut the cake into squares and serve chilled.  If you'd like to, you can whip 1 cup heavy cream and spread it over the top of the cake like a frosting before serving, or dollop some whipped cream on each piece.  Sprinkle a little nutmeg over the cake as well.
Serves 12
From the Smitten Kitchen
Upside-Down Cranberry-Caramel Cake
Adapted from The Perfect Finish (previously from this book)
If you don't like molasses, I'd use honey or light corn syrup instead because although just a tablespoon, you can taste it (though we found it delicious against the tart berries). If you're thinking, as I was, that there was no need for a parchment paper circle in the bottom (and later, top) of the pan, you can probably skip it. The "probably" is there because I didn't get to retest this without it but see nothing to worry about; if a berry sticks, just scoop it and plop it on top of the cake. The cake itself is a little on the shortcake side — sturdier than your average plush layer cake but still quite moist. Still, if you want a more traditional upside-down cake base, I think this one is phenomenal (you might even swap the pineapple juice for white cranberry) as is this one.
Unsalted butter or cooking spray for the baking pan
2/3 cup (5 ounces or 142 grams) packed light brown sugar
12 tablespoons (1 1/2 sticks, 6 ounces or 171 grams) unsalted butter, melted
1 tablespoon unsulphured molasses
2 cups (8 1/2 ounces or 242 grams) all-purpose flour
1 cup (7 ounces or 198 grams) sugar
2 teaspoons (9 grams) baking powder
1 teaspoon salt
3 large eggs, at room temperature
1 cup (8 1/2 ounces or 242 grams) sour cream
2 cups (8 ounces or 230 grams) fresh or frozen cranberries (you could add a half-cup more, if you, too, can never have enough cranberries)
Optional flavorings: 1/2 teaspoon vanilla extract, 1/4 teaspoon almond extract, 1 tablespoon orange or lemon juice or 1/4 teaspoon zest, 1/4 teaspoon ground cinnamon, few gratings of fresh nutmeg or a combination thereof
Whipped cream, optional
Preheat oven to 375°F. Grease a 9-inch round cake pan with butter and cover the bottom with parchment paper (see Note above). In a medium saucepan over medium heat, combine the brown sugar, 4 tablespoons (1/4 cup) of the melted butter, molasses and 1/4 cup water and bring to a boil. Stir well and pour into prepared cake pan. Set pan aside.
Sift the flour, sugar, baking powder and salt together into a bowl or onto a sheet of waxed paper and set aside. In the bowl of an electric mixture fitted with the whisk attachment (eh, I just used a handmixer with standard beaters) beat the eggs and sour cream together at medium speed until well blended. Add optional flavorings of your choice. Scrape down the bowl and add remaining melted butter (1/2 cup) and beat until combined. Add flour mixture and beat until smooth.
Add the cranberries to the prepared baking pan and gently press the fruit into an even layer. Dollop the batter on top and use an offset spatula to gently nudge it into place without disturbing the cranberries underneath. Bake on the center rack (with a tray underneath to catch drips… just in case; mine did not overflow but came stressfully close) until golden and a tester inserted into just the cake comes out clean, which took 30 to 35 minutes in my oven but is suggested to take 45. Please,please check yours on the early side. Remove from the oven and let cool in pan for 15 minutes. Run a thin knife around the inside of the pan then insert over a flat platter that is (Learn From My Mistakes Alert!) larger than your cake pan, to catch any puddling or jumping cranberries. Remove the parchment paper.
Serve warm, with freshly whipped cream. However, this cake wasn't half bad two to three days layer, kept covered at room temperature.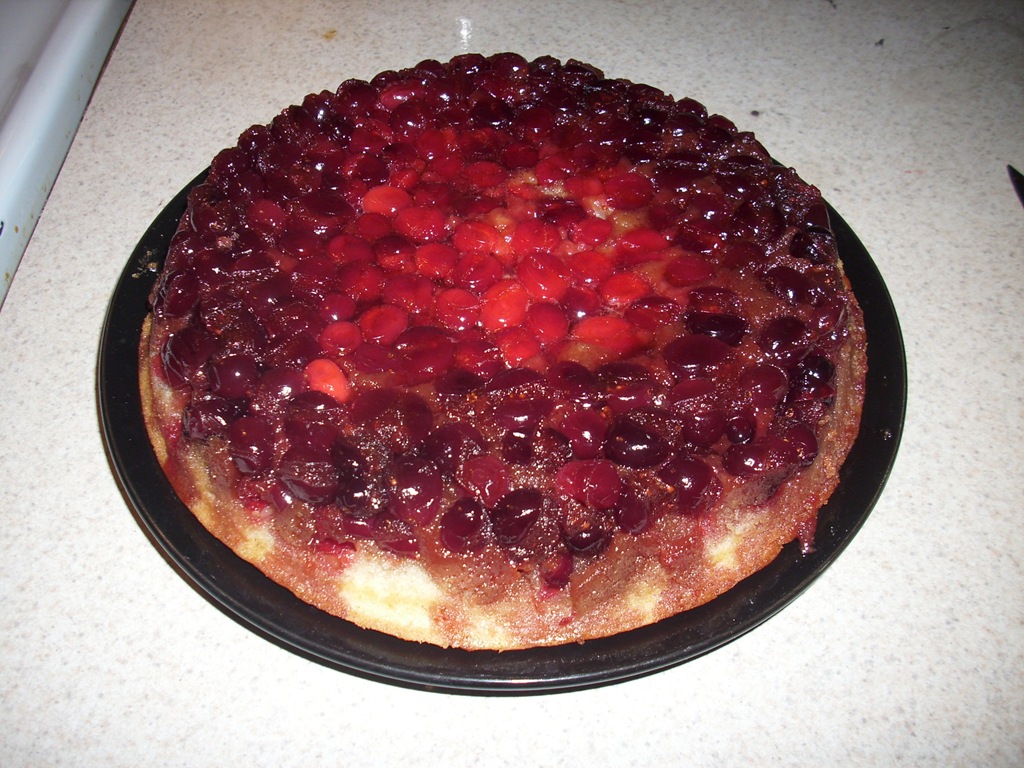 Peanut Cole Slaw
from allrecipes.com
Ingredients
1 cup shredded cabbage
1/4 cup thinly sliced celery
1/4 cup chopped cucumber
2 tablespoons chopped green onion
2 tablespoons chopped green pepper
2 tablespoons mayonnaise
2 tablespoons sour cream
1/8 teaspoon salt
2 tablespoons chopped salted peanuts
4 teaspoons grated Parmesan cheese
Directions
In small bowl, combine the cabbage, celery, cucumber, onion and green pepper. In another bowl, combine the mayonnaise, sour cream and salt if desired. Top with peanuts and Parmesan cheese.
from culinary in the desert
6 ounces center-cut bacon
1/4 cup grainy mustard
1 garlic clove, minced
1/4 teaspoon cayenne pepper sauce
1/4 teaspoon fresh ground black pepper
pinch salt
16 ounces prepared whole-wheat pizza dough (I used our favorite recipe) (see below!)
4 hard-cooked eggs, chopped
6 ounces (about 1 1/2 cups) shredded sharp white cheddar cheese, divided
1 egg, lightly beaten
In a large skillet, cook bacon until crisp – transfer to a plate lined with paper towels to drain. When cool enough to handle, crumble.
In small bowl, stir together mustard, garlic, cayenne pepper sauce, pepper and salt.
On a lightly floured surface, roll dough out into a 12" wide by 14" long rectangle.
Add mustard mixture on top and spread over the top, leaving a 1/2" border. Scatter the crumbled bacon, chopped eggs and 4 ounces (about 1 cup) of the cheese over the top. Starting at long side, roll dough up jelly roll–style. Pinch seam to seal. Place roll, seam side down, into a 10" tube pan coated with cooking spray. Cover pan with plastic wrap and set to rise until puffy about about doubled in size, about 30 to 60 minutes.
Meanwhile, preheat oven to 375 degrees.
Brush loaf with beaten egg. Using a serrated knife, cut a few slashes into the top of the dough. Scatter the remaining cheese over the top. Place pan into the oven and bake until the loaf pulls away from the side of the pan and is golden, about 45 minutes. Remove from the oven and set pan on a wire rack to cool for 10 minutes. Carefully turn bread out onto a wire rack and continue to let cool for 20 more minutes to allow the cheese to set before serving.
Whole Wheat Pizza Dough
1 cup whole wheat flour
1 cup all purpose flour
2 1/4 teaspoons instant yeast
1 teaspoon salt
1/2 teaspoon sugar
3/4 cup warm water
1 tablespoon olive oil
Combine flours, yeast, salt, and sugar in a food processor; pulse to mix. Combine warm water and oil in a measuring cup. With the motor running, gradually pour in enough of the liquid until the mixture forms a sticky ball. The dough should be quite soft. If it seems dry, add 1 to 2 tablespoons of warm water; if too sticky, add 1 to 2 tablespoons flour. Process until the dough forms a ball, then process for 1 minute to knead.
Lightly coat a large bowl with cooking spray. Place dough inside, turning to coat. Cover with plastic wrap or a damp towel and let rise about an hour, or until doubled in size. Punch down and let the dough rest for about 10 minutes before rolling.
*If you want to knead by hand feel free – knead for about 10 minutes. As made, this recipe makes about 1 pound of dough.
If you would like to make about 12 ounces of dough, here is the ingredient list to follow – the directions to prepare the dough is the same.
3/4 cup whole wheat flour
3/4 cup all purpose flour
2 1/4 teaspoons instant yeast
3/4 teaspoon salt
1/4 teaspoon sugar
1/2 cup warm water (may need slightly more)
2 teaspoons olive oil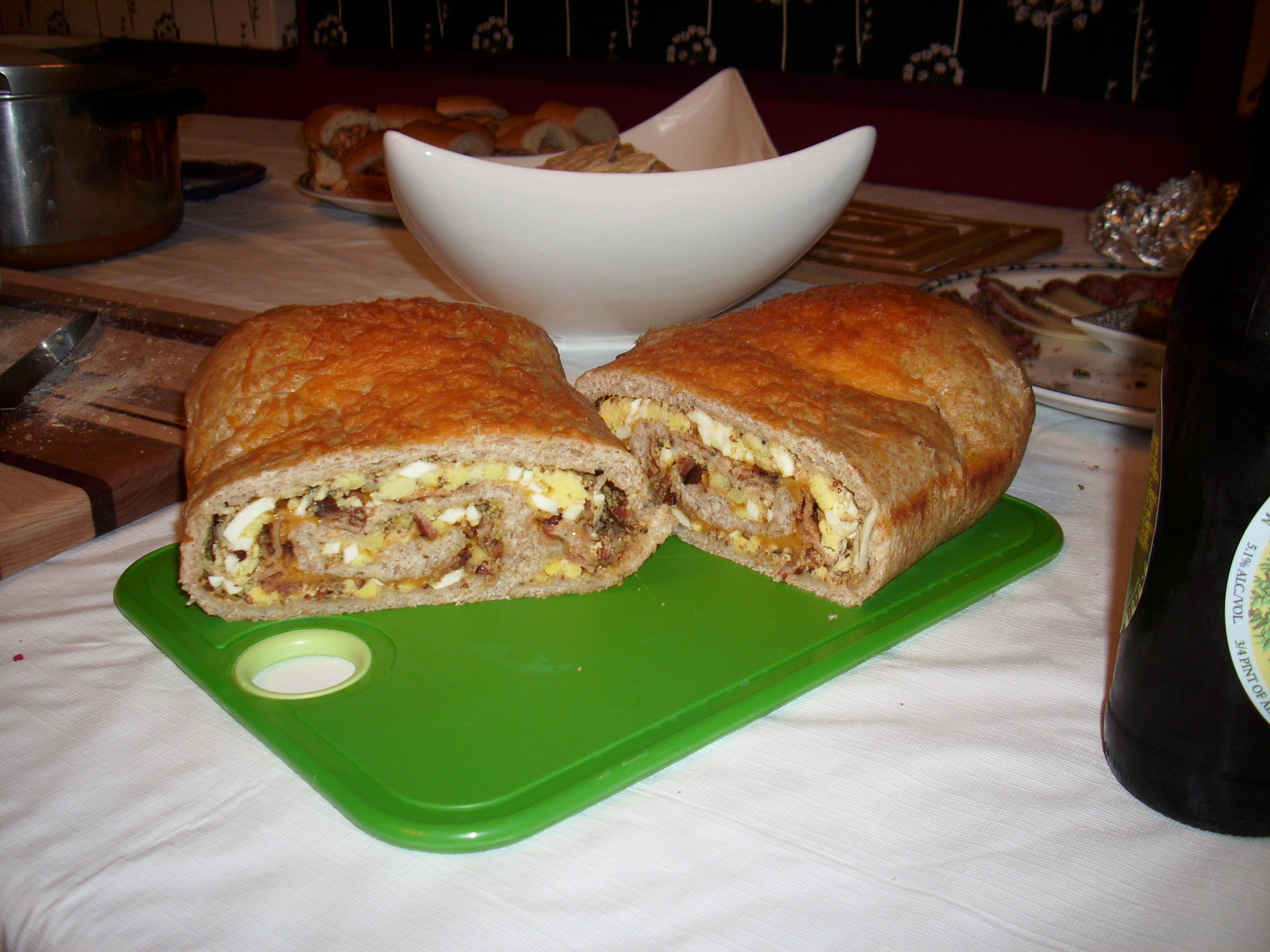 Peanut Butter Brownies
from allrecipes.com
Ingredients
2 cups white sugar
3 eggs
1 cup butter, melted
2 1/2 teaspoons vanilla extract
1 1/4 cups all-purpose flour
3/4 cup unsweetened cocoa powder
1/2 teaspoon baking powder
1/4 teaspoon salt
1 cup milk chocolate chips
2 (8 ounce) packages cream cheese, softened
3/4 cup creamy peanut butter
1/4 cup white sugar
1 egg
2 tablespoons milk
Directions
Preheat oven to 350 degrees F (175 degrees C). Grease a 9×13 inch baking pan.
In a large bowl, beat 2 cups sugar and 3 eggs together until foamy. Stir in the butter and vanilla. Combine the flour, cocoa, baking powder and salt; stir into the egg mixture. Stir in the chocolate chips. Reserve one cup of the batter, and spread the rest into the bottom of the prepared pan.
In a medium bowl, beat the cream cheese, peanut butter, 1/4 cup of sugar 1 egg and milk until smooth and creamy. Carefully spread the peanut butter batter over the layer of chocolate batter. Drop reserved chocolate batter, by tablespoonfuls onto the peanut butter layer. Cut through the batter with a knife to swirl.
Bake for 35 to 40 minutes in the preheated oven, or until brownies are set when shaken gently. Cool completely before cutting into bars. Refrigerate until serving.