Okay, where were we in the wedding recap?  Last time we spoke I told you about New Years' Eve, I believe.
That brings us to the new year!  January 1 I woke up and went for a run with my sister Leslie, who was training for the Phoenix Rock n Roll Marathon.  She left to go back to the hotel, and I got a call from her warning that my parents might be on their way over.  I had invited my family to come for lunch for leftovers if they wanted, but had asked them to call first.  I guess they didn't hear that part, because suddenly there were half a dozen people at my house, including my brother Jesse who had gotten in late the night before.  At the same time my friend Sarah and her boyfriend Sam arrived (from Phoenix, driving).  And yes, I was in sweaty running clothes.
We all chatted a bit and heated up leftovers from the night before.  After lunch I needed to collect my belongings to get ready to check into the hotel!
We were staying (along with our guests) at the Omni Majestic Hotel.  I was staying in a suite the night before the wedding and then Chris would be joining me the night after.  The hotel had given our guests a really good rate, including breakfast as well, so most of our out of town guests were staying there.  The plan was to check into the hotel then go to the rehearsal at Moulin at 4 pm, then back to the hotel to get dressed for the rehearsal dinner.
I had to bring my wedding dress, my dress for dinner, along with toiletries, snacks, and a few other things.  We got to the hotel when we had told them we would be there…and the suite wasn't ready.  I wouldn't have been annoyed except that they knew EXACTLY what time we planned to arrive and should have called us.  I know it was the day after New Year's Eve, and we gladly would have waited to check in, but as it stood, Chris and I weren't sure what to do.  However, we soon ran into some family members and suddenly found ourselves in a  hotel room with my Grandmother and various other aunts and uncles.  It was great to see everybody, and frankly the whole 'wedding experience' was starting to feel both REAL and surreal.  We had been planning for so long, and now it was time!  Our friends and family were here, and we were about to go and rehearse, and it was just crazy!  (We stored my stuff in Leslie's room and the hotel said they would move it to the suite when it was ready, definitely by the end of the rehearsal).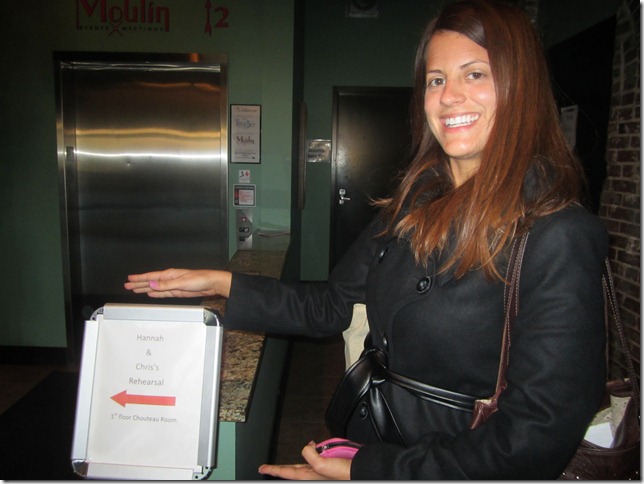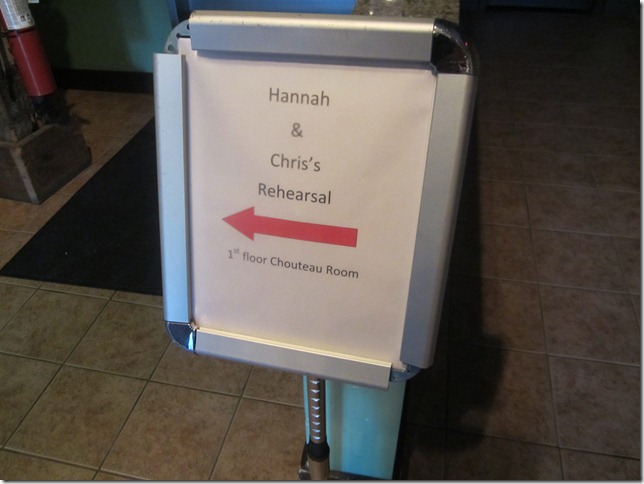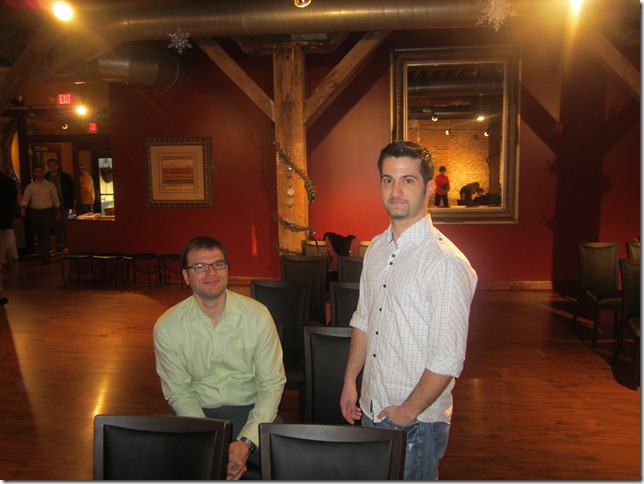 Jon and Chris—Jon was doing a reading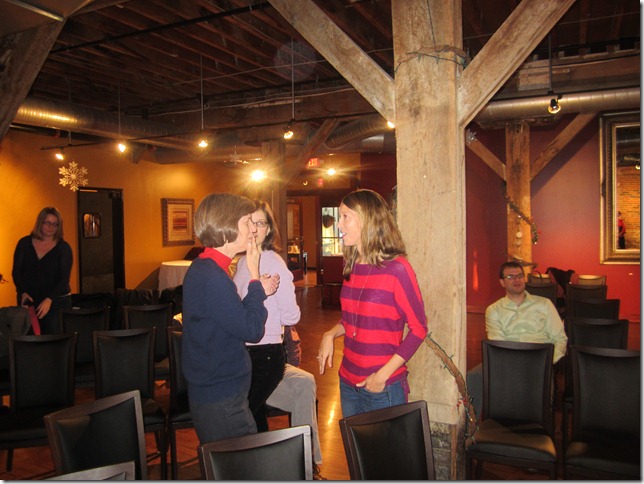 Who knows what they were talking about?  Something really funny, I'm sure!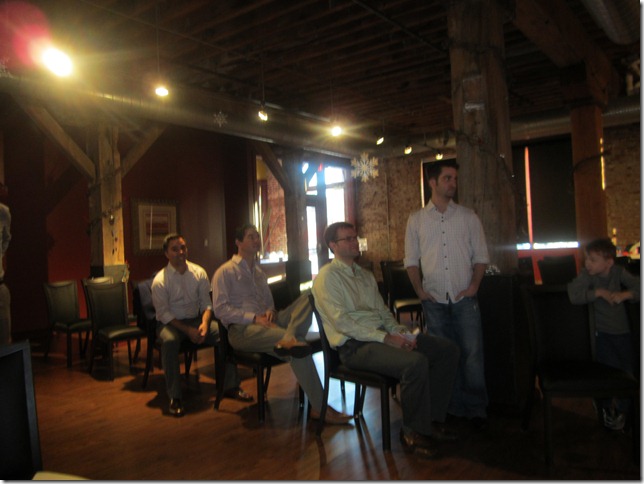 The men:  Dave, Norbert, Jon, Chris, and Ann's (wedding coordinator) son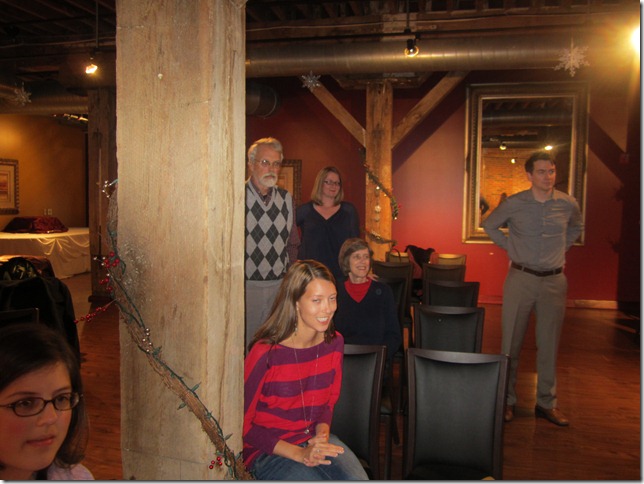 Carrie, Leslie, my parents, Sarah, and John, all listening intently to the instructions (sorry Leslie, but I like the photo generally 😉 )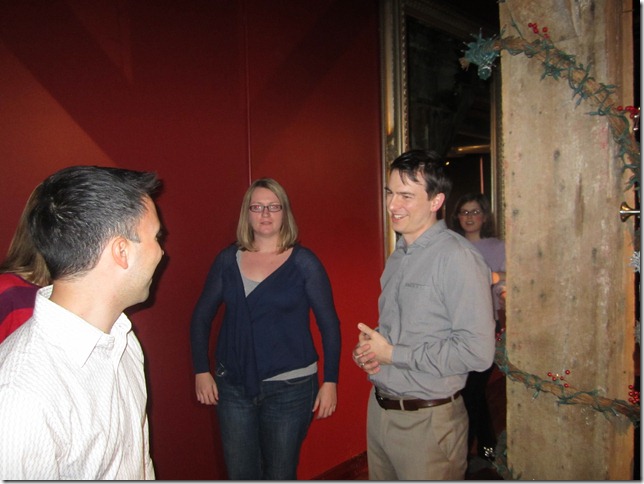 I was getting so excited.  Honestly, I never really thought my wedding day would come…I was not one of those girls who dreamed about her wedding day!  But since getting engaged in February, we had certainly been planning it, and talking about what we wanted it to be like, and here we were, at the rehearsal, preparing to say our vows in front of our loved ones, preparing to join together, all of our family and friends here to celebrate and witness…I was getting a little bit emotional!
We were all lined up and ready to go! That's our officiant, Lamira Martin, in the middle.  We played several weddings where she was the "celebrant" and thought she did a wonderful job, so we were thrilled to have her for our wedding.
This was while Jon was practicing his reading, we tried to look interested.  Just kidding, we were very interested!  I guess Leslie thought it was funny…
Anyway, that was the rehearsal.  Basically we just practiced walking down the aisle, standing there, and walking out.  Seemed easy enough!
Next:  the rehearsal dinner!  Coming soon…