I was going to run this morning, but I figured it probably was a better idea to give my legs, knee and hip a break.  And perhaps foam roll this evening after work.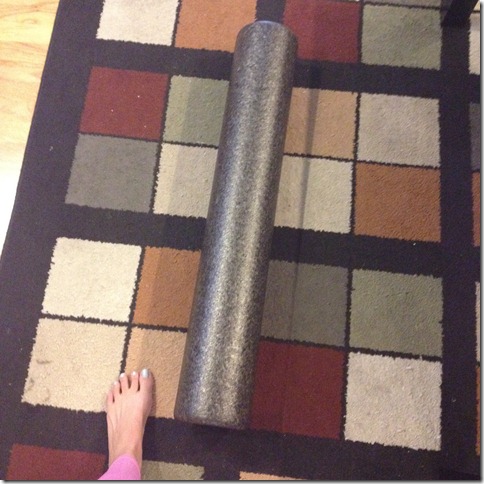 This is my foam roller.  That's my foot.  Yeah, I need to vacuum.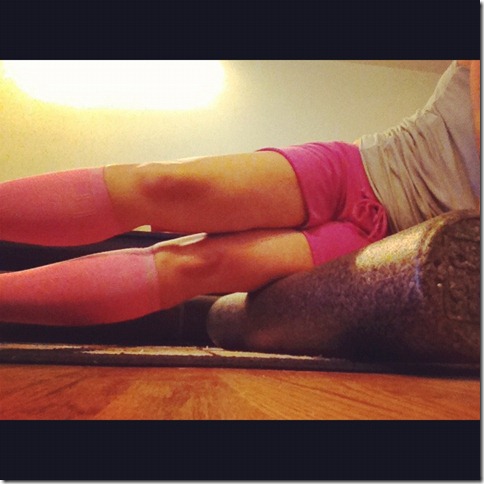 This is me trying to take a picture of myself using the foam roller.  Easier said than done.  And yeah, you already knew I liked purple, but I also really like pink.
Unrelated but since I mentioned purple:  Ended up driving by this guy the other day.  Now he has a blanket!  Also I checked the price tag:  $2300.  Now I understand why no one has bought him for me yet.  I would put him in my backyard and visit every day though.  He probably needs a sombrero now.
Last night I met a blog reader for a walk.  She recently won a contest here and when I got her address I realized we were neighbors.  I figured meeting one another was inevitable so we decided to schedule it.  It was awesome to chat with her and hope to do it again soon—Hi Mandy!  The best part was we got to gossip about all the other blogs we read. And I learned all the dirt on the neighbors (well, some of the dirt, ha!)  Secret to meeting potentially creepy people who read your blog:  grasp phone firmly in hand at all times, ready to ask Siri for help at any moment.
(I imagine it would go something like this:
"Siri, can you call for help?"
"I do not see for help in your contacts."
"Siri, call the police."
"I do not see the police in your contacts."
"Siri, call 911."
*pause, nothing happens*)
Self-portrait before the walk.  I don't usually wear makeup and earrings for working out unless it's at the end of the day.  I didn't see any reason to take them off and then I thought, hey, I look at shiny and pretty and stuff, maybe I should do a self-photo shoot. (I was ready a few minutes early!)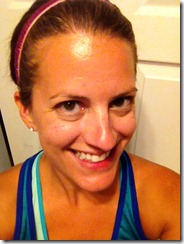 I find the greatest challenge is to figure out where to look.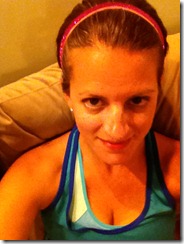 I was trying to make my forehead look less shiny.  At least it looks even bigger here!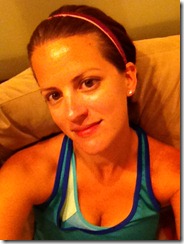 And here I just look like I'm on drugs…nice…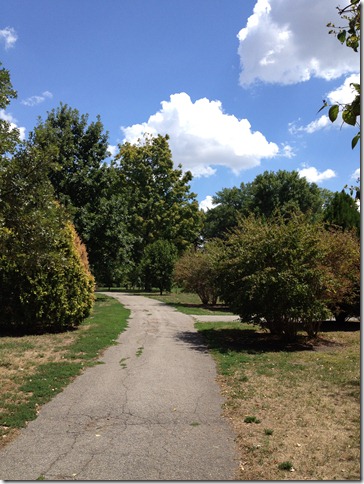 This is not where we walked, but part of one of my favorite running routes—local readers probably recognize it?  Sadly you can see some of the trees are brown from the drought. This is getting ridiculous.
And now I'm off to teach for about six hours.  No big deal.