My second half marathon in as many weeks! This morning was the Rock and Roll Half Marathon in St Louis. (Last week was the Go! Halloween Half Marathon.)
I ran a race the other year with a slight cold, but this morning I ran a race with MORE of a cold. I was nervous about it, and barely slept the night before, but when the clock read around 5 am I decided just to get up and start getting ready. I naturally got to the race too early but I listened to the news in the car and drank a little more coffee…and it's always better to be early than late, in my opinion.
First off, it was really cold. Much colder than I'd hoped for, and luckily the night before I added a long sleeve jacket thing to my outfit. (I wore a hooded thick shirt sort of garment. I don't even know how to describe it, because it's not a jacket, but not a shirt either…) My car had FROST on it! I guess fall is finally here…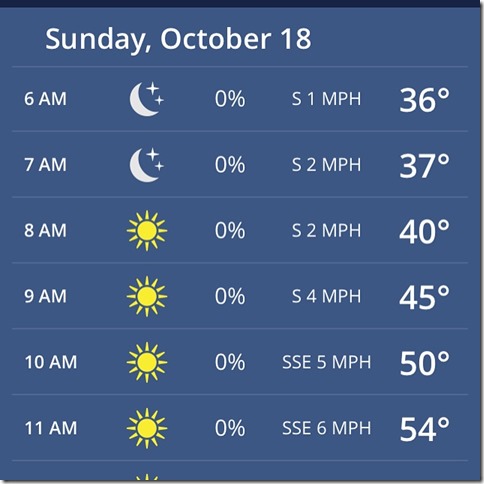 Pretty chilly temperatures. Well, better cold than hot (I'm all about comparisons in this post, evidently) for running!
Rock and Roll races are well organized, in my experience. We had a corral start, which meant that they held each group back for 1-2 minutes to let the field ahead clear out a bit. It's nice to be able to start running right away, and it only took around 20 minutes to cross the start line (I was in Corral 13).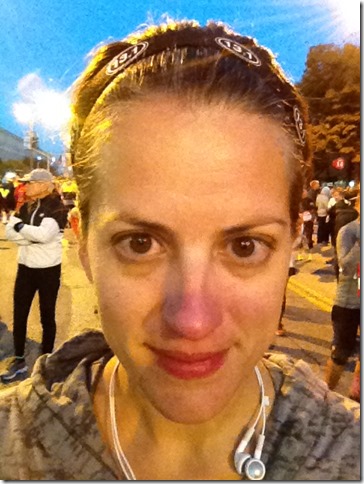 I look like a tired Rudolph. But it's not a proper recap without showing numerous pictures, and not all selfies are created equal.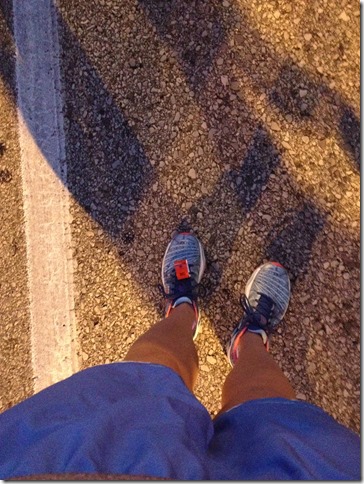 I swear these shoes are blue. I did decided to wear my new running shoes and I have no regrets. But they are BLUE not white! It's like "the dress" back a few months ago. Rock and Roll does their timing through a shoe thing—that's the orange thing you see.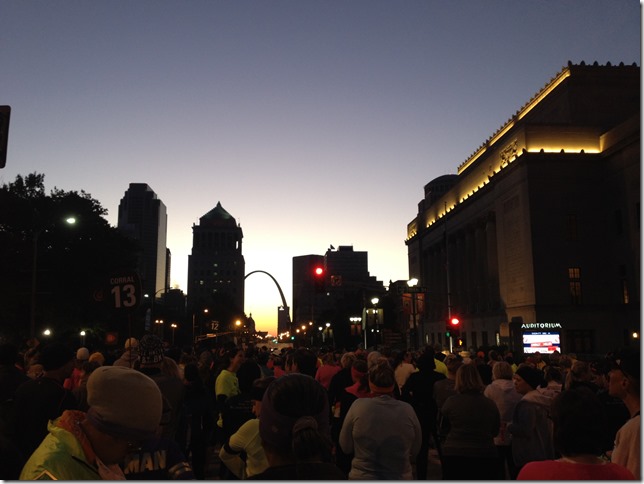 Anyway, I'm not going to go into extreme detail about the race. It was pretty tough…I was exhausted and my nose was running pretty steadily…(LOTS of snot rockets because I couldn't have carried enough tissue to deal with it…gross I know but what can you do? I always looked around first…which slowed me down a bit.) I set my timer to 5/1 intervals and kept to them all the way except the first walk interval I skipped and then again skipped all walk breaks after mile 12.
It took awhile to warm up—my feet and hands and legs were cold! But after a couple of miles I started feeling good, and then after another couple I started hurting, but I pushed on. The course was a lot more fun than the week before and I enjoyed all the neighborhoods. It was a loop rather than more of an out-and-back which is easier mentally for me. The course was decently crowded throughout, which was nice except at the later water station where nearly everybody seemed to stop and walk and then keep walking. The end was the same—once I saw mile 12 I decided to keep running no matter how lousy I felt. Most of the people around me were just walking which made me almost feel silly as I passed everybody and pushed as fast as I could towards the finish.
My goal was to beat last week's time, but I didn't. My second goal was to be under 3 hours and I'm glad I pushed at the end because I made it! I started the race slow because I didn't know how I'd feel (both from being sick and from running last weekend). Maybe I left too much in the tank, but I think overall my pacing worked for where I am in my running. I was spent by the time I crossed the finish line, and had trouble getting some of the snacks. I did miss having a roll or bagel after the race—it was all pretzels/chips/bars/bananas, and I just love a nice soft roll or pretzel or bagel.
2:59:13! Oddly my 5k and 10k times didn't register, so I can't truly tell how my pacing was…(runkeeper is too inaccurate to help, does anybody else have that problem? seriously, it's terribly inaccurate) but I definitely stepped up my pace from the 10 mile pace to the end. I'd love to see how many people I passed in the last mile! Anyway.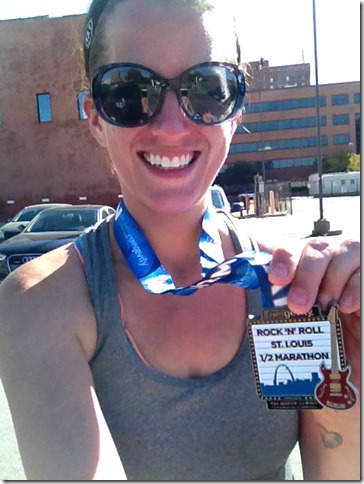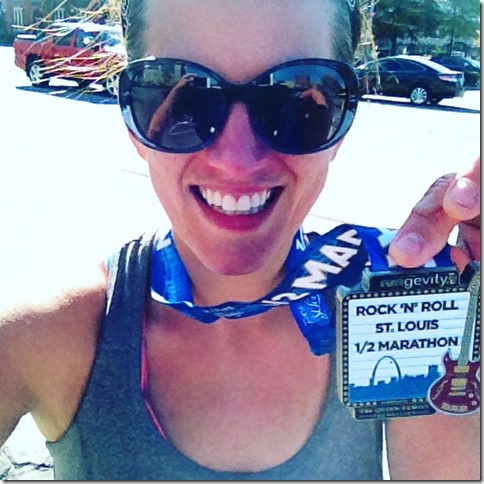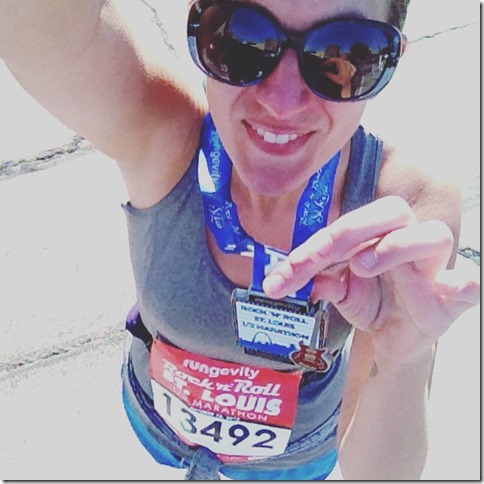 I took my after race pictures in the parking lot…I just kept walking after I finished because I was worried if I stopped to set things down (water, snacks) that I wouldn't want to start walking again! We will see how sore I feel tomorrow, but I feel pretty good right now, only a little achy, and I definitely think the new shoes helped.
Did you run the race? Do you use runkeeper? Or were you reading this hoping I'd be writing about cats instead? Don't worry, watch this space!