Wow!  I just finished my first cross-country 5k.  I didn't mean to run a cross-country 5k…but the race director decided the roads/sidewalks were too icy (true!) so the course was rerouted through the grass.  The race was the "Reindeer Run."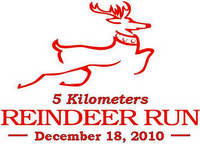 I had signed up to run it because it is literally right across the street from my house and I figured, hey, I'll get in a good run on the morning of a busy day AND have the home field advantage (hoping for a personal record, or "pr" as the "cool kids" say.)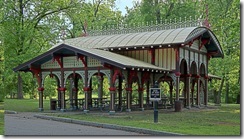 The race started here at the Sons of Rest Shelter in Tower Grove Park (picture not from today—) and took me 38:49 to finish…a very long time.  At least, as I crossed the finish line the clock said 38:49.  Worst 5k time yet…but again, the snow, the grass, not tripping over tree roots, definitely slowed me down so I'm okay with it.
It is REALLY hard to run in the snowy grass and try not to fall.  In any case, I succeeded in not falling, I finished the race (maybe a few seconds faster, it wasn't chip-timed), AND I tried out my new running tights, which were awesome.  It was probably 22 degrees outside and I thought I would feel much colder than I did, so evidently my layers paid off.
PSA:  My race bib (#82) didn't have any sort of tracking device or chip to put on.  There was just a part that I could rip off with my name on it.  I assumed that was for the store to know who to give the bibs to…so I tore it off and left it at home (besides the bib was assymetrical with it on).  Evidently we were meant to leave them on and they were taken at the very end of the race.  Oops!  Other races I had torn that part off.  So, if there isn't a shoe thing-y or a tracking device on the back of your bib, leave the name part on, just in case.  The word bandit was used by the volunteers taking the "toe slips?" (I think they called them that?) for me and several others—I'm betting that we all just didn't know.  I was too exhausted at the time to say anything…I'm sure most people know this, and somehow I missed the memo.
HBBC:   I'm giving myself 4 points for the race/warm-up—it seemed longer, plus took me longer/more exertion, so I deserve it.  I'll edit if I meet the f/v for the day!  total:  4 points