Today is the day.  I have a wedding today that I (for some reason) have been stressed out about for approximately three weeks.  I'll be happy when it's done.  I know it will be fine (they always are) but there is lots of score reading happening, and I am just a little nervous.
Jen and I had plans to run this morning at Forest Park, but when my alarm went off at 6:30, (yes, very early, it was to fit in the rest of the day) I was already awake.  Why?  Because of a gigantic thunder storm that was going through.  We canceled the plans.  I got two more hours of sleep instead.  I can always run after my wedding, as all I have planned for the evening is prep for my trip to Kansas bright and early tomorrow.  (Laundry and packing).
Last night I went to Coco Louco Brasil with Melissa.  We hadn't been before and had been meaning to try it for some time.  The waiter was hilariously attentive—he appeared to be approximately 12 years old, and since the restaurant was suspiciously empty, he had some time to chitchat.  He made numerous menu suggestions and we ended up discussing his future career plans with him.  He's thinking law school, in case you were wondering.
I ordered some sort of mixed barbecue thing that came on a skewer.  Luckily the skewer was not super hot by the time I had to deal with it.  I've had trouble with that in the past.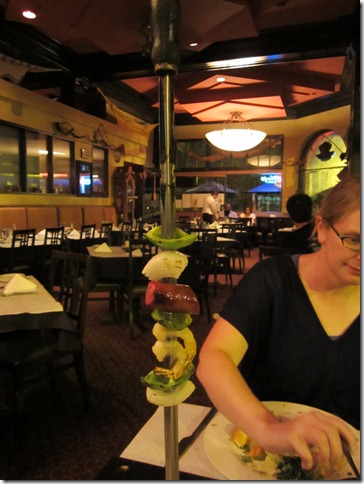 The skewer definitely looked more like a sword than anything else.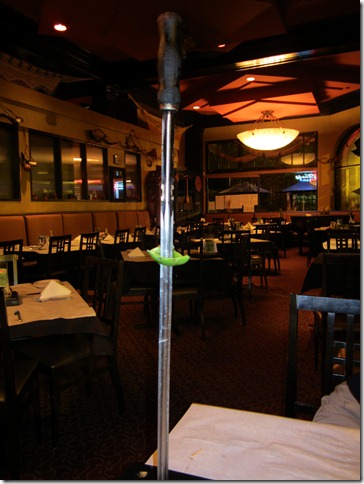 The lone green pepper.  Why would I take that off?  I hate peppers.  Melissa liked that the pepper sat at the golden mean of the sword.
In any case, we couldn't resist the tres leches cake for dessert (weight loss contest be damned!  No, I'm just kidding, it's just that occasionally one must have indulgences, right?).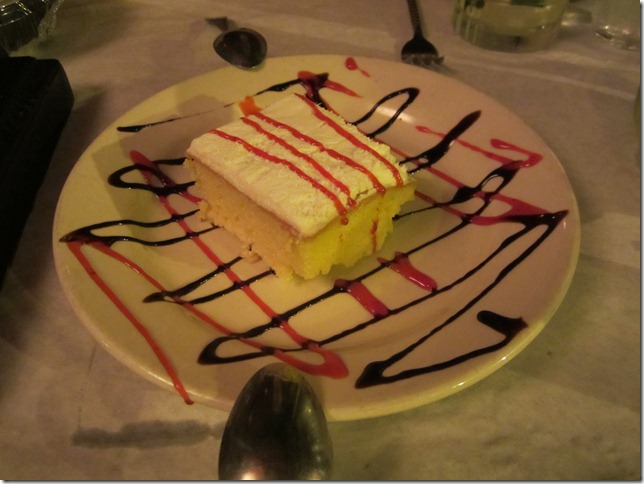 Our waiter did a delightful job decorating this.  He wanted to demonstrate that a philosophy major could have some skills.
It was delicious!
Overall the meal was good, but I think I prefer Yemanja Brasil, which is also closer to my house.  I'm glad we went though.  Oh, and the waiter apparently thought Melissa and I were together.  Like dating.  I guess we have a good rapport 🙂  Can't two ladies go out on a Saturday night and share dessert anymore?  I am pretty sure they can.
Last thought:  I don't know if yesterday's fat post was harsh or not.  I hope I didn't offend anyone.  I guess I was pretty mean to myself.
Really last thought:  I think my new camera is taking better pictures, can anyone tell?