Friday I won some sort of twitter contest for free tickets to Sauce Magazine's Saucy Soiree.  Since Melissa and I already had dinner plans for Sunday night it made perfect sense to take her as my guest.  My tickets were thanks to @chevystlkeys on twitter.
Interesting fact about the Four Seasons.  Valet Parking is only $5. 
Anyway, we weren't sure what to wear, so we naturally both ended up wearing black dresses.  They took our photo when we entered and the woman asked if we planned it.  Um, no.  We are just that awesome.  I'm pretty sure that a little black dress is always appropriate attire.  Especially if you are a musician.
I had planned to take a bunch of pictures, but I got a bit overwhelmed upon arrival and after that my hands were full.  Basically, we parked, got in line for the elevator, and went up to the 6th floor.  There we exchanged our passes for orange bracelets and got drink tickets.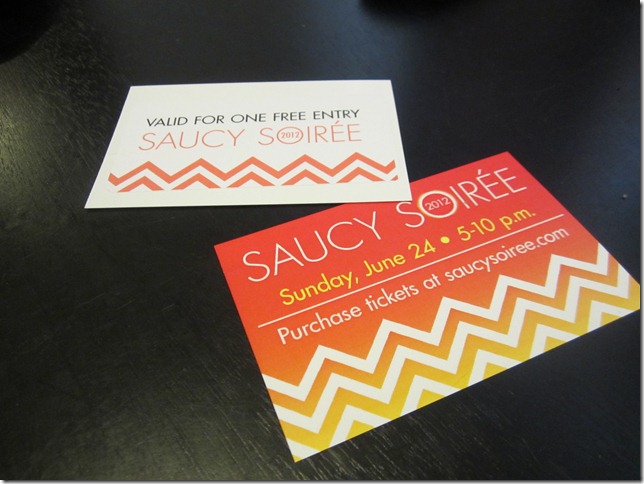 I'd played weddings at the Four Seasons before but Melissa had never been.  The view is awesome—it overlooks the river. 
(Well, it really just overlooks a parking lot.  But there's a river back there, really.)
The food and drink were inside the ballroom though. 
We got wine glasses and sampled some wines from local wineries, and then entered the main ballroom with TONS of tables from all kinds of restaurants giving out samples.  We didn't know how to tackle the room, so we just started going around clockwise, taking a sample from one restaurant, trying it, then getting the next one.  There was a lot of balancing required, what with the wine glass, and then maybe needing a fork or spoon to eat the sample.  After we got about 1/4 to 1/3 of the way through we realized we were going to fail, because we were already super full.  So then we got more picky about our choices…but overall it was very good.
My favorites:  Niche had a delicious lemon artichoke tortellini (yummy!), Milagro had (I think) pork tacos, and Pi had the world's most amazing pudding. Edited to add this tweet from Milagro: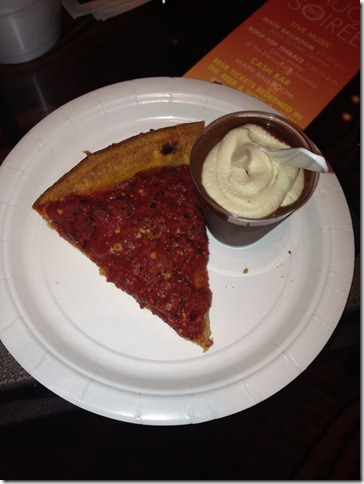 (That is a tiny piece of pizza, a shot glass full of pudding with the world's smallest spoon.  I believe it was the oatmeal stout chocolate pudding and it was to die for.)
Overall it was a great event—fun and delicious, plus the people watching in St Louis is always incredible.  I had already been many of the restaurants, and the samples I tried didn't really change any of my opinions on which are my favorite restaurants, but it was a blast trying all the different foods, and I'd go back next year…at least if I got free tickets again :)  We didn't use our drink tickets—I think the cover price would have been more worthwhile if we had, but the wine and beer samples were already included and that seemed like enough drinking for a Sunday night.
So that's my recap.  Like I said, I kind of wish I'd taken more pictures, but I am not talented enough to hold a wine glass, a plate, and a camera.  I'll work on it :)  I will also work on being a better writer in the future.