How crazy that I haven't blogged since FRIDAY? Who am I? Is anyone even reading this anymore?
*crickets*
I hear bloggers who say, oh I was really busy living life, I didn't have time to blog. But I could use that excuse all the time or never. It's not like I'm super busy, but it's not like I don't live life just because I have time to blog about it.
My real excuse is that I didn't feel like it. 🙂
Anyway. I ran the race yesterday. Finished in 2:36:58. I was happy with it. I'll write more later. I feel less stressed about running a marathon (and training) now, so that's awesome.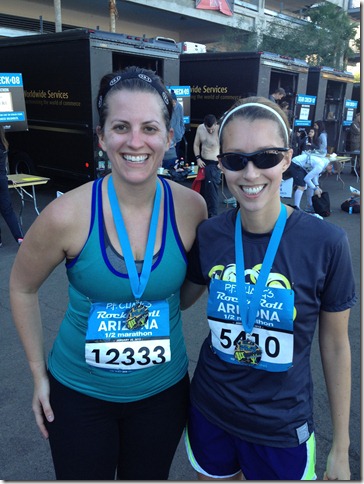 That's me, looking happy. Also with the awkward arm on my hip thing. Leslie was less happy because she'd been waiting around for me and couldn't open a bottle of something she wanted to drink. Luckily I was able to help! I'm strong like that.
I fly home tomorrow!