This month is flying by…the days are short but the hours are long. So much to do!
The truth is I actually had a two day weekend, but I spent it being stressed out. Well, not entirely, we took Mackenzie to the annual Maplewood dog swim for two days in a row. She had a wonderful time swimming and pooping in the pool (not actually allowed, but on the first day it didn't stop her. The second day Louie had a great save…everybody is happy then, because if one dog goes, more tend to follow, thinking it's a thing to do.)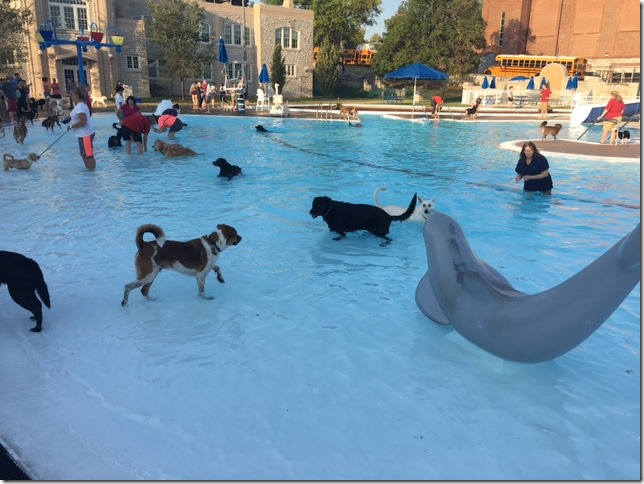 Yes, I already mentioned poop and I was two paragraphs in. Let me backtrack and tell you some other things too.
Saturday night I was cooking dinner and I sliced right into my finger while slicing an onion. Well, my left thumb. So then Louie helped me clean it off and we spent quite some time trying to decide what to do, unable to find an open urgent care in the area other than the ER…so eventually I decided it was okay and just needed to be wrapped really tight. There were tears and blood and probably sweat too, but it seems to be looking okay lately? Where does one go when you need urgent care after hours (8 pm ish) but not emergency? I didn't want to pay ER prices or wait for hours over possibly getting a stitch or two.
In any case, I took a day off from violin and then the next day decided I could try it. I'm able to play, though I can't shift into the highest of positions without difficulty, so I've been on a lighter practice schedule this week. I've got a little concert on Saturday evening with a flute and viola, so I've been working on that stuff, and otherwise mostly just keeping my fingers and bow in shape and trying not to stress out. I'm on a full teaching schedule this week, with all of my college and regular students scheduled and showing up, so we are really IN the swing of things, and things are swinging fast!
I realize that doesn't actually make any sense. I'm tired, I've been going nonstop until I sat down to write this (kind of a lie, I did have a short lunch break) and I even have been getting up early to run! My next day off is October 8 though, so that's how things are going now. Busy busy!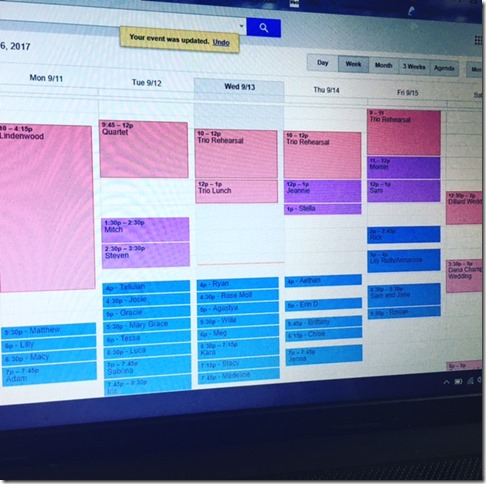 Sample schedule…the white parts are where I can practice and respond to emails and do all the other parts of my jobs that don't get on the schedule.
I have to admit, after having a two day weekend I starting thinking about how life would be if I didn't work weekends. I'd have to crunch some numbers to really figure out the difference financially, and otherwise, I'm torn. I love playing concerts, and I wouldn't want to give those up entirely…at least not now! Maybe I'll retire from weddings in a few years, if I can get enough money saved up, or something. I don't know. I just know I kind of liked the two days off (that's what normal people get every week, I hear) and it was nice being able to both be social and do some fun things and also be able to run a few errands and things. But yet, even though this week is nonstop busy, I'm loving the challenge of the flute/viola trio concert music and I wouldn't want to not be playing that! I guess I am just thinking about the future, after all, I've got a milestone birthday coming up next year and I'm always trying to improve my life…or at least try to make sure I'm doing what I think is best.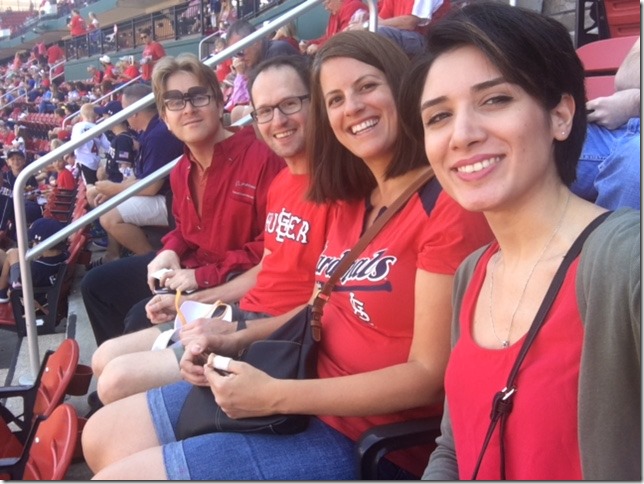 At the Cardinals game over the weekend. One of the fun/social things I mentioned. The weather last weekend couldn't have been more beautiful. My heart goes out to everybody who was affected by the recent hurricanes while we were so lucky. It makes you really try to appreciate what you do have!
Anyway, I'm off to practice. I'm still doing the #100daysofpractice challenge on Instagram. Even though I haven't had 100 in a row due to vacation and then a cut thumb, I will still do 100, and I'm doing every day otherwise. I think I'm following the spirit of the challenge. And it really does give me extra incentive to practice, even just a little bit, because so often that little bit turns into a much longer practice.