Let's continue along the road.
(Previous blog posts)
Camping can be a lot of work. It's all the little things that start to add up. Sure, putting up the tent isn't really hard, nor is taking it down, but it's just harder than say, not doing that. Then you add in all the bedding set up, especially the therma-rest mattresses, and making dinner, setting up camp chairs, and then doing all this out of a Corolla where one of the doors is basically taped shut…it can be a pain. Once you are sitting around by a crackling fire, enjoying the outdoors, drinking a delicious Colorado craft beer…it's definitely worth it. Or when you are sitting there and a small fox walks through your camp…worth it. But other times, gosh, it seems like a lot of work, and for what?
My last post reminded me of all my doubts and uncertainty during that segment of our trip. But anyway, lest you think I am ungrateful, I am not. I am fully grateful for being able to take 3 weeks off with Louie and travel! Sure it'd probably be nicer to be staying in hotels mostly, but since that's just not in the budget, camping it is. And some of these campgrounds are better than being indoors anyway! (You need to realize, if you are reading this and saying, how can they afford to travel, that gas is really inexpensive now, camping is $18-30 a night, food costs the same as not traveling since we mostly cook, and our National Parks pass is still good from last year when we bought it for $80. So each day of the trip is costing $50-70 for the two of us, as a rough estimate.)
Okay, all that being said. Not sad, as I originally wrote. We woke up and packed up the tent, the bedding, all of that, and got on our way. We drove through Estes Park on the way out of Rocky Mountain National Park and took a quick walk around the lake there. We took the Peak to Peak highway through Nederland as we had done the previous year though this time we continued through Black Hawk and Central City. It was a gorgeous drive! Then we headed west on I-70.
We ate a late lunch in Frisco at a mexican restaurant. I wanted to visit Breckenridge where I'd spent a few summers (at a music festival) but I didn't want to just pop in for an hour, so we skipped it. I will return. Frisco is nice in its own way, and we had a decent meal. Then we picked up some beer for later at a liquor store. In Colorado you can't buy regular percent beer at the grocery store, you have to go to a liquor store for that. Looking back, we should have stocked up more but we didn't realize that all the beer in Utah was going to be watered down. Religious freedom!
The drive across Colorado is a beautiful one. After we passed Glenwood Canyon we were on a new part of the road for us. I'd found a few mentions of Colorado National Monument in my research and decided we should pop through. I made a reservation at Saddlehorn Campground(site 36). We got to the Monument around 5 pm, and started on the east/Grand Junction side (you can enter through Grand Junction or Fruita). The Rim Rock drive goes all the way through the monument and the campground is at the west side.
Right off the bat we took a short hike called the Devil's Kitchen. The weather looked potentially raining for a bit but it passed. We LOVED the monument right away because it was deserted and so different than anything we had seen!
After the short hike (1.5 miles round trip) we continued along the Rim Rock Drive. This was a windy road at the top of the canyons, and I was a little terrified at times. We did lots of stopping and looking and taking pictures, and it was great. I think we'd finally left our bad moods behind (well, briefly at least) and were just enjoying being tourists.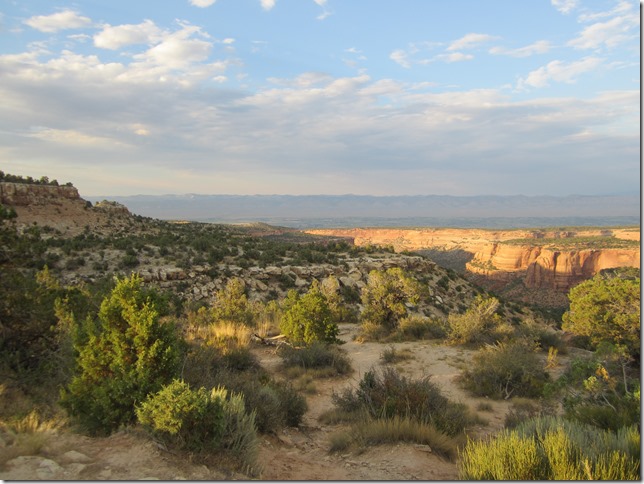 It was about 20 miles along the windy road to get to the campground and we kept stopping. The sun was setting and it was simply beautiful!
As amazing as the sunset was (pictures naturally don't do it justice) we wanted to get to the campground before dark, and we just managed it. Our campsite was beautiful and we realized we could set up our tent quite a way from the road and enjoy the solitude and night views! The campground is high up and overlooks the town of fruita and the monument. It was absolutely gorgeous and probably my favorite of all our campgrounds…at least one of them.
And we were delighted that we didn't need to worry about bears! There were no bear boxes, no signs about bears, and the trash cans weren't bear proof! We always keep a clean camp, but a bear proof camp is much more challenging.
The next morning we didn't have too much time, but decided to do a short hike before seeking a shower and heading to Moab, Utah. We ended up at the visitor's center just as a ranger led hike was getting started so we tagged along. It was really informative: we learned about the geology of the area and the stratigraphy—it seemed overwhelming at the time, but I'm so glad we went on the walk as the next two weeks were spent learning about similar things and the original ranger talk really helped us understand! Basically all the formations were created by land being pushed up and then eroding away over time.
I did have a little fall towards the end of the hike, after Louie and I had left and were heading back. Luckily it wasn't near the edge and I only cut the palm of my hand a little bit and skinned my knee.
We found showers at a nearby RV park for $7 each (pricey, but we hadn't showered since Aspen) and washed up—it felt fantastic! And then we headed to Moab, Utah, for our next stop. The ranger at CNM had recommended a particular scenic route so we headed that way.
I think that's enough for now. I've got a bunch of things to do today but I wanted to write something! I keep feeling like I don't sound like I enjoyed my trip…I did. I also am grateful for all we got to see and do! It wasn't a relaxing vacation though, I keep saying that, but I keep thinking about it. I am tired, I'm back to work and I'm tired, and I'm not really sure what that means.
More soon!
(We want to return to Colorado National Monument and do more hiking! And stay another night at Saddlehorn: it was breathtaking, and we'd love to do more. The bathrooms were very nice and clean, the campground was quiet. We had trouble finding the trash cans but otherwise it was great. Oh, and the rangers were really helpful and friendly, the best we met on the trip.)
Nights camping: 5
Hiking miles (best estimate): 26