Next up: Arches National Park!
Previous posts:
Day 9 of our trip, according to the itinerary. We finished up looking at Canyonlands National Park and Dead Horse State Park and hit the road back towards Moab. It's about 30 minutes to Moab, which is right near Arches National Park. We decided to make a quick coffee/gelato stop in Moab first before heading back into the wilderness. We also wanted to check email and things like that. In this day and age, it's hard to go 3 weeks without responding to people, so at least every couple of days we needed to check in! And honestly, after a few straight days of only talking to each other, it's nice to look at other stuff

We had an "incident" later where we'd asked a restaurant if they had wi-fi and the woman said, somewhat self-righteously, "no, we don't, you'll just have to talk to each other." Haha, right? Except get over yourself, we'd been doing nothing but talking to each other for 3 days, and you work in a deserted tourist area where maybe people need to check in for work or just to let their friends and family know they are still alive. But I digress.
We finished up our gelato at a delightful shop that DID have wi-fi and then drove up to Arches. We needed to stop by the visitor's center to pick up tickets for a ranger led tour we were doing the following day, and whoa, the center was packed! It was a definite change from Canyonlands and Colorado National Monument. We knew Arches was more popular (I guess the beauty is more obvious and you can see more within 10 feet of your car?) but it was still a bit of culture shock.
We had a reservation at Devil's Garden campground, which was at the very back of the park, about a 20 mile drive, so our plan was to slowly head there while stopping and seeing what interested us. We had the whole day in the park the following day so we knew we'd get to do most of things we wanted.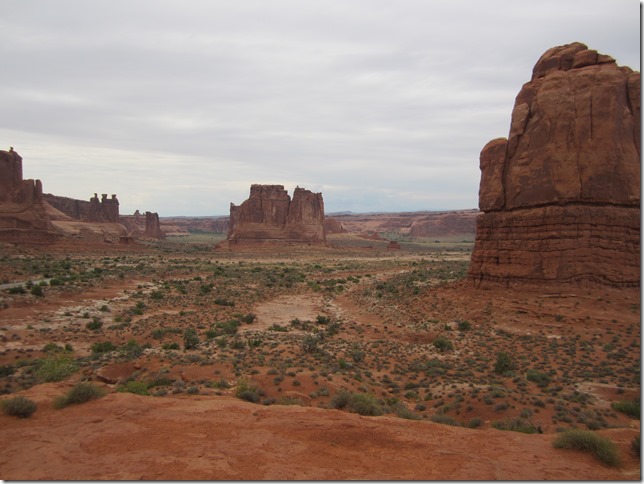 Since blogging about this trip has, more than ever, become entirely ridiculous and overwhelming YET I know that I will want this all down in writing to look back at in the future…I'm going to do a lot of photo sharing!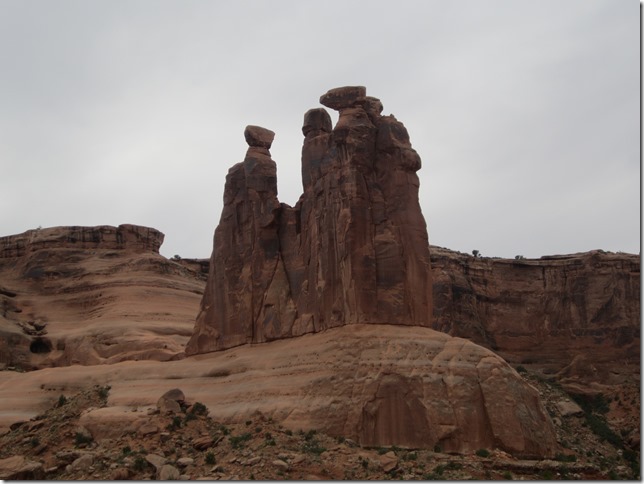 Many of the rock formations are named. This was called the Three Gossips.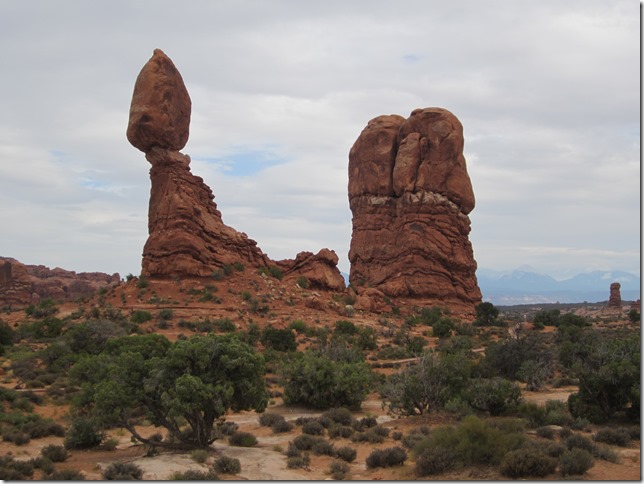 We took a short walk to get closer to Balanced Rock. The mountains in the background are spectacular. Another thing that really struck us both was how different Arches looked than Canyonlands and Dead Horse even though they are relatively close to each other. What a crazy planet we live on!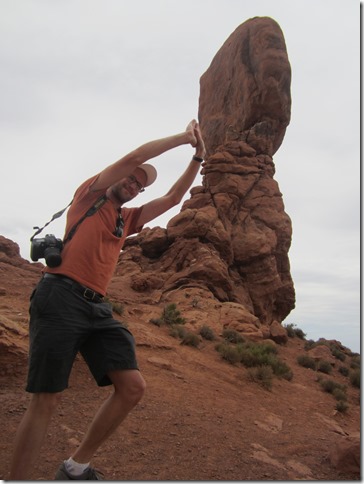 The advent of digital cameras makes this sort of ridiculousness easier. Louie, holding up Balanced Rock.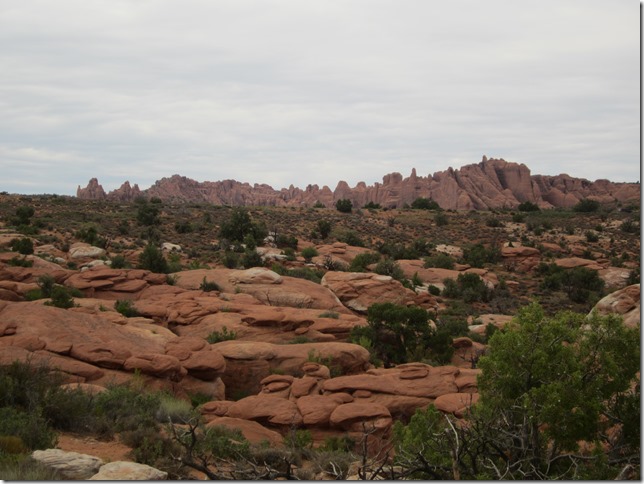 Seriously, what is this madness??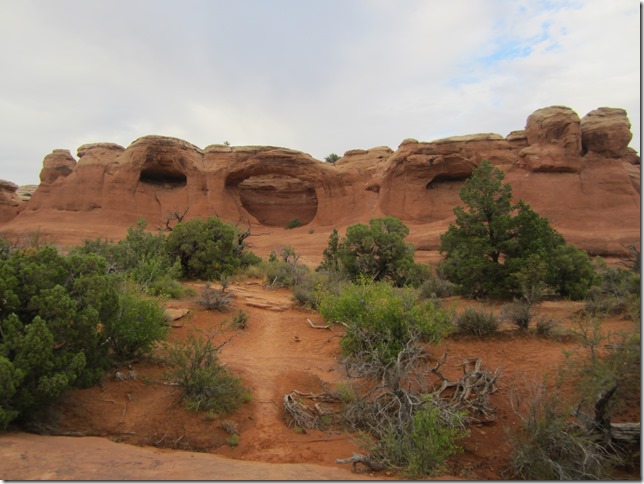 Various arches. After checking into the campground we set up the tent and then went on a hike that left from the end of the campground. Oh, we'd hoped to buy firewood to have a fire since we hadn't been able to for a few days, but they were out! The camp hosts were really great though and told us we could stop by their site and have a few pieces, so we did that. We also found out the campground had had lots of flash flooding the night before, just like at Dead Horse and we were warned to be aware of where we set up our tent. Apparently this was "monsoon season" and flash floods were somewhat common, though the night before had been much more than usual, and some campsites were washed away. We made sure to stake our tent carefully.
Every arch had a name, but I am bad with names. I think this was Broken Arch though. We also might have seen Tapestry Arch. The hike was a little hard to figure out at first, because it was lots of cairn following, but we managed! We almost got lost at more than one point, but did I mention that it was a lovely cool day in the desert so we probably wouldn't have died. Just kidding, we only weren't sure which turn to take and were never too far off from being correct.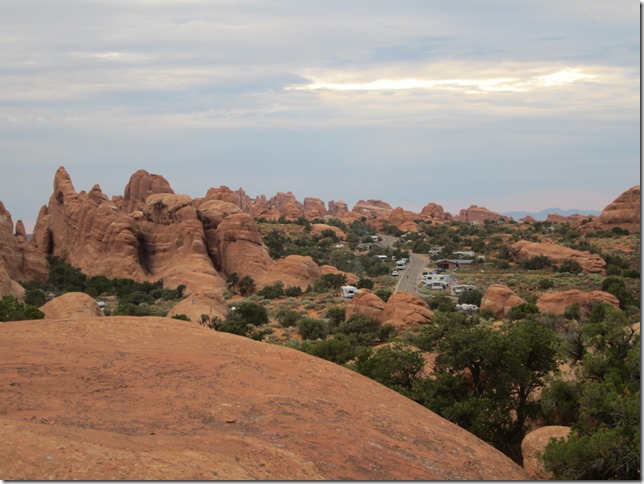 This is the view of our campground. Devil's Garden Campground is one of the most beautiful National Park Campgrounds that I've ever seen. Our site (Site 018) was gorgeous too, even though we had trouble finding a flat spot to set up the tent.
Anyway, we finished the hike and then went to relax at our campsite and make dinner.
We had a lovely fire and relaxed. At one point a small fox (we found out it was a kit fox) came through our campsite, just like one had at Dead Horse! This time we were sort of ready, and Louie took a short video. It was dark though, and you can't see much. We made a lot of jokes about how the fox didn't say anything.
We decided to try to wake up to watch the sunrise. We had an amazing view from the tent, and figured this was the time!
Even though I hadn't slept great because the tent was more slanted than we'd realized and I kept sliding off the pad (oops) I was happy to be awake to get this picture! We also saw several deer who walked non-chalantly through the campsite. It was a beautiful site, but unfortunately we had to move to a different one for the next night (same campground) so after watching the sunrise and breakfast, it was time to pack up. As usual…
Next up: Fiery Furnace, Delicate Arch and more storms!
Nights camping: 7
Miles hiked (estimate): 37