Day 9: We were sad to leave RMNP. On our way out of town we wanted to stop by a donut shop that had been highly recommended, called the Donut Haus. We waited in a long but fast moving line and ordered. I was totally unimpressed…I got a nutty cinnamon thing that tasted a bit stale 🙁 I guess St Louis may not have the natural scenery, but it has better donut shops! Seriously, people had been raving about this place…maybe I ordered poorly but I hate when baked goods look far better than they taste. ANYWAY. Louie's fritter was a bit better but I'm still annoyed that mine wasn't as good as I imagined it would be.
Our plan for the day was to drive to Grand Teton National Park. That's it. It was around a 8 1/2 to 9 hour drive and we wanted to enjoy the drive too.
Let me just tell you. Wyoming is perhaps the most beautiful state on earth. I thought Colorado was great, but from the moment we entered Wyoming until the moment we left we were surrounded by the most beautiful natural scenery I have ever experienced in my life. Some parts of the state are very desolate and sparsely populated, so it might not be the place I want to LIVE but wow, just miles upon miles of unique and beautiful mountain ranges. All day long our jaws were dropping, and we hadn't even gotten to the Tetons. We took a few scenic byways to get off the highway, which I'm sure added to the beauty of the drive.
And then…after hours of driving, and wondering, hmm, are we seeing the Tetons, we did, and they were unmistakable, towering above the horizon. We had a reservation for a tent cabin at Colter Bay (in Grand Teton National Park) for two nights. What they call a tent cabin is a cabin of sorts with two canvas walls and lightly padded bunks. (We stayed in the tent cabin because regular campgrounds here were first-come, first-served, and I was worried they would be full by the time we arrived.)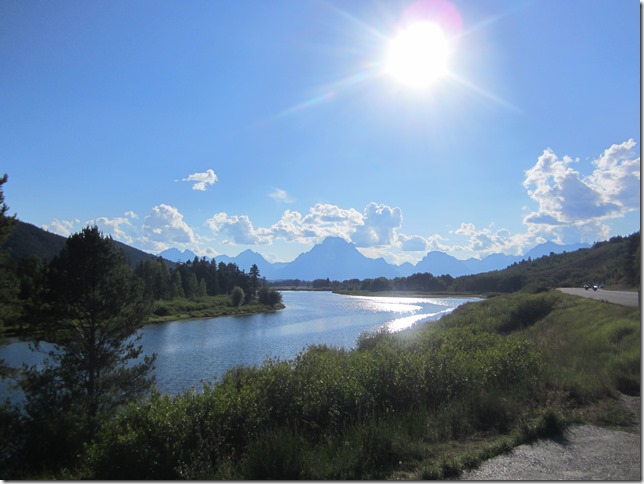 We drove to Colter Bay from the entrance of the park and gasped at the beauty of the Tetons. We checked into our cabin and then headed out to explore the Bay.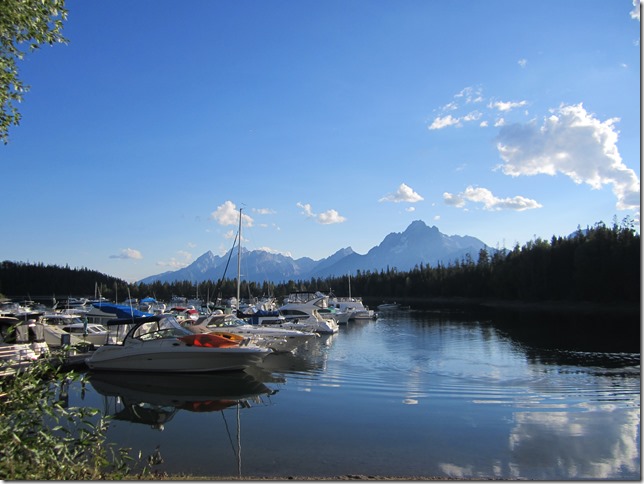 None of my pictures of the Tetons really show their scope. They were overwhelmingly large and just incredibly beautiful.
We took a short hike/walk around the Colter Bay area, trying to get a better picture. We saw a bald eagle dive towards the water to catch a fish, and what might have been a beaver or maybe a muskrat swimming along the shoreline.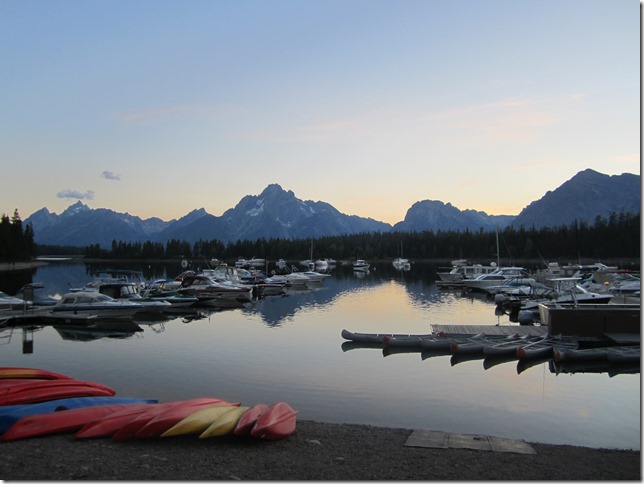 After the sun set a bit further, we decided it was time to go shower and make dinner. SHOWER. For $4.25 you could get a shower as long as you wanted with hot water and everything. Since I hadn't showered since Boulder it was definitely money well spent. And then we made dinner outside of our tent cabin. It was much like camping since we had to walk to the bathrooms and we had a picnic table AND our own bear box, but inside the tent cabin there was a wood burning stove, so Louie made a lovely fire to warm us up. We had rice and beans and canned veggies I believe and then went to bed.
Day 10:
Really we had one full day in the Tetons and we wanted to make the most of it. We decided to do what was called the "signature hike" in the Tetons—Jenny Lake to Cascade Canyon. We woke up around 6 am hit the road for Jenny Lake, which was about 20 to 25 minutes away. These parks are so big! There weren't shuttles like in RMNP and I'd read that the parking lots could get completely full by mid-morning. Since we were so early naturally we had no trouble, and we got on the ferry to Jenny Lake around 8 am. I did have a minor breakdown involving a vault toilet and a stuck giant roll of toilet paper, but I managed to persevere without too many tears.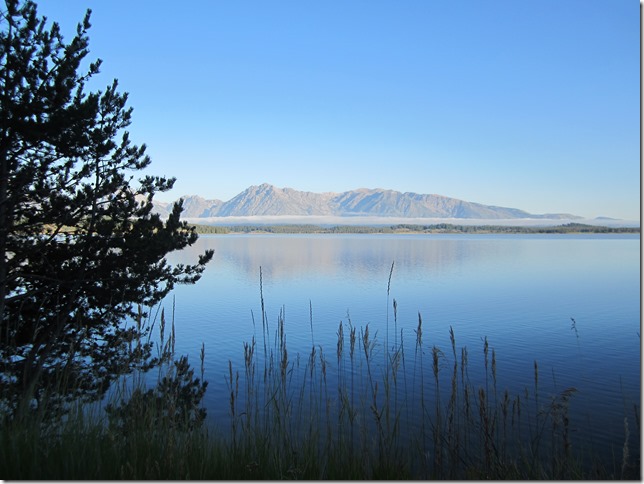 A brochure said that the ferry across Jenny Lake cost a "modest fee" and I'd forgotten in the meantime what that would be. It was $15 round trip for each of us, which in my opinion is hardly a "modest fee" and is actually a "giant rip-off" but the ride saved us about 5 miles so we had to pay it or waste two hours of the day wandering through the forest rather than hiking in a more awesome place.
On the ferry ride over I was sitting next to a fellow who was with a group of people preparing to rock climb on Mount Moran the next day. That didn't sound the least bit fun to me!
Once we got off the ferry it was straight uphill for us. Our first stop was Inspiration Point, and within minutes we were both shedding our outer layers and getting down to short sleeves. It's amazing how cold it could be overnight and in the morning and then hot during the day.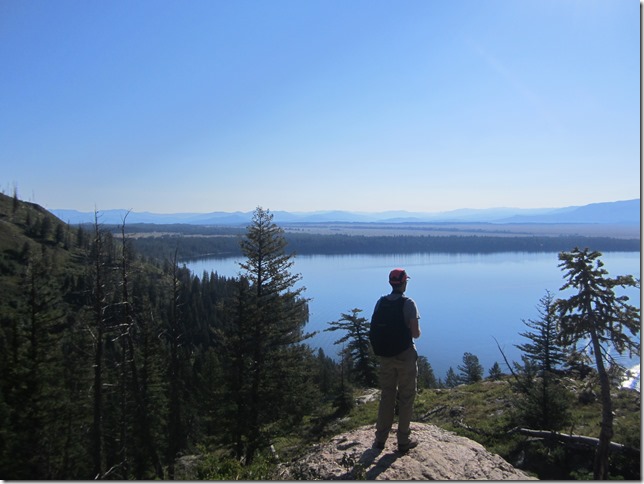 After the initial steep uphill to get to Inspiration Point, the trail leveled out quite a bit as it went the several miles to the Forks of the Cascade Canyon. We were enjoying quite a bit of shade and some lovely views.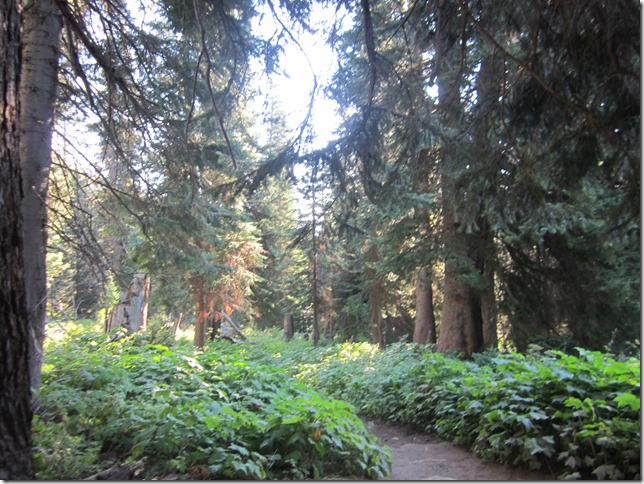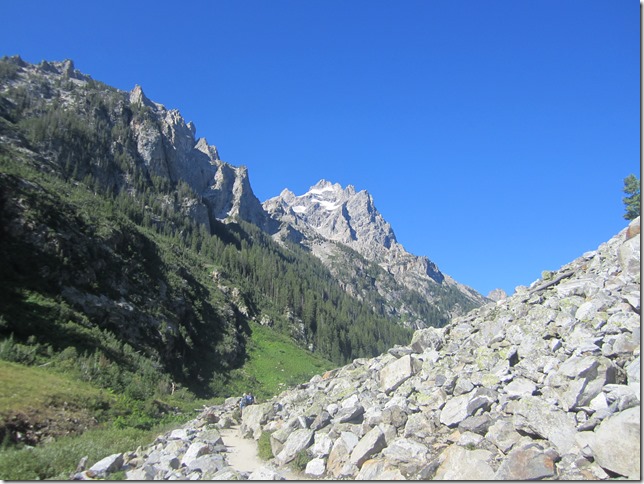 We did see some bear scat along the trail, and though it didn't look particularly fresh we kept our bear spray handy and tried to keep up conversation as to not sneak up on any bears!
We'd kept up a decent pace on this portion of the hike and when we sat down for a small lunch at the Forks of Cascade Canyon, we decided to continue on to Lake Solitude. Partly because we felt great, and partly because another couple of hikers had been encouraging us—we joked that nothing gives you inspiration like when complete strangers tell you that you can do it! Going to Lake Solitude would make our trek over 15 miles but we thought it should be possible with our timeline, and the reviews said that each step past the Forks was more beautiful than the last. Spoiler alert: this was true!
The trail was pretty busy overall even for such a long and intense hike. We passed very few people, but quite a few passed us! When we finally arrived at Lake Solitude..it was filled with people, including at least one person who had done the hike with a toddler on his back the whole way.
But it was beautiful, and even though the last bit of the hike was a real challenge for me due to the incline and the sun, I was so glad we'd continued.
After relaxing and resting a bit at the lake, it was time to head back. Our return trip took even longer, I think, but mostly because we saw so much wildlife! We were constantly on the lookout for bears, because of the scat and also because we'd heard that a ranger had seen a mother and cub earlier in the day. We didn't see any bears, but we saw marmots, several pika, lots of chipmunks or ground squirrels, and then…a family of moose. A male, female, and a young one. We watched them eating and playing in the water near the trail for a very long time!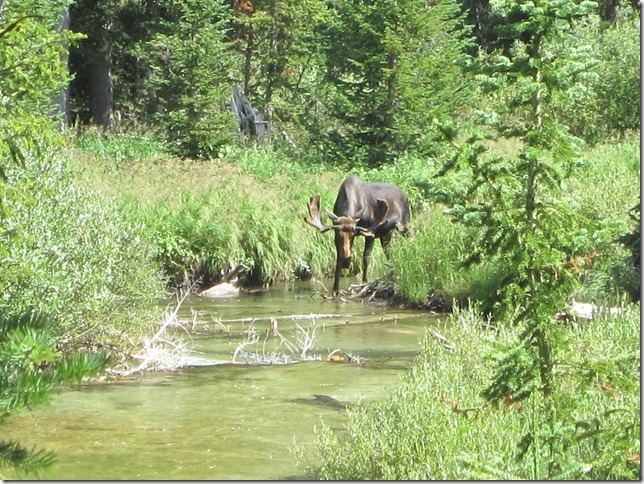 I didn't get a good picture of them, but here's the male moose.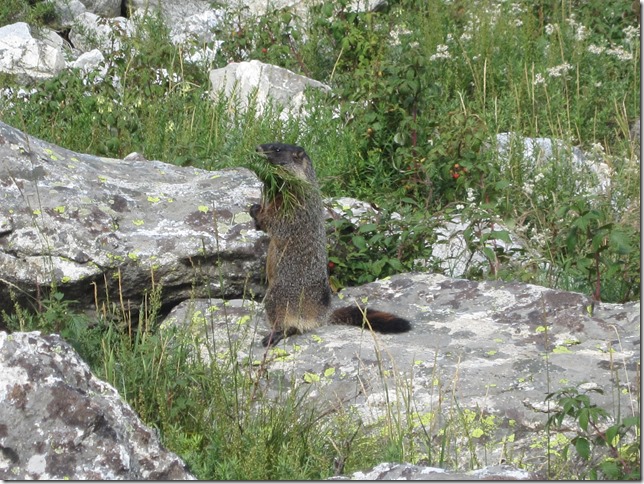 And a marmot.
We finally made it back down the trail to catch the ferry back. We had about 30 minutes to spare—the ferry stopped running at 7 pm and I believe we boarded around 6:30. What a day!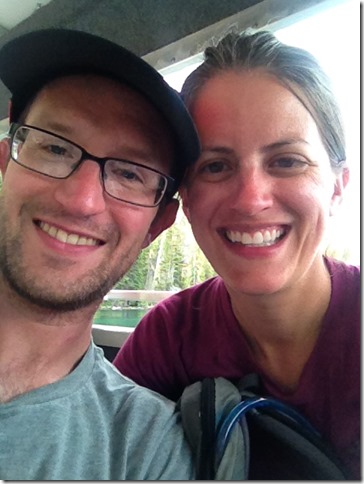 Ferry selfie.
After that day of hiking, we didn't feel like cooking, so we decided to check out a place called Dornan's. Louie's stepdad told us that back in the day when he had visited it was a neat little cafe down by the river where you could get really good pancakes. Well…when we got near the place the road was packed with cars pulled over on the side and loads of people walking. We didn't realize how packed it would be, and we also didn't realize there were a variety of restaurants, a grocery store, a gas station, and more. We found a parking spot with only a little trouble, and then had to decide where to eat—at this point we were pretty tired and overwhelmed but I thought we were too far away to try anything else. We considered the chuckwagon but were a little nervous about that so we ended up at the Pizza place. Rather than having to wait in line to order, since we were both over 21 we were allowed to sit at the bar and order there, so we got some beers, tons of water (I was really dehydrated…I never seem to drink quite enough while hiking) and got a pizza and a salad. It all really hit the spot!
We had a little bit of a drive back to Colter Bay then—I think nearly 45 minutes! The good news was that then we could sleep. The bad news was that we had to get up at 4:45 am in order to drive back south to Jackson in order to go whitewater rafting on the Snake River! Louie made a fire in the tent cabin again so that we were pretty warm going to sleep.
Day 11:
The alarm went off around 4:45 am and we got coffee going. We had to pack up and leave, and we decided since we had an hour drive to wait a bit to make breakfast. We drank coffee and loaded up. I should say—that morning I was annoyed that people had stacked trash next to the trash bins, which is a huge no-no because of bears. We worked so hard in these campgrounds not to leave anything out, and then we'd run into things other people did who obviously just didn't care or at least, didn't think. Luckily these incidents were few and far between and most people had a good respect for the rules.
I'd signed us up at Dave Hansen Whitewater for a scenic float trip and whitewater trip. We'd start with 8 miles just floating down the river enjoying the scenery and then 8 miles of white water rafting in an 8 man boat. It was quite cold in the morning and we got wet suits to wear.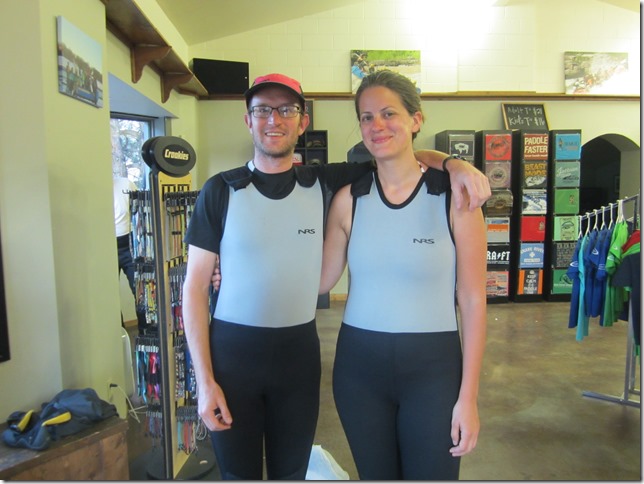 Obviously wetsuits are a great look for everybody. We took a bus to the river and then met our guide, Lily. Louie and I had the raft to ourselves for the first segment of the trip, which was really neat. Lily rowed and we just relaxed and looked for wildlife. We saw a bunch of bald eagles, juvenile and fully mature, other birds, ducks, river otters, a beaver, some deer, and more. It was a really neat way to spend the morning, and we also enjoyed chatting with Lily and learning about how she had ended up living in Jackson and being a whitewater guide.
Next we loaded up the raft for the hard part. I was a little nervous about the rapids, but it ended up being pretty straightforward. We did get soaked, but they weren't too bad and it was a nice introduction to whitewater rafting. Lily was a great guide and we always knew what to do. Louie sat in the front as one of the leaders and did a good job setting the pace—I sat right behind him and let him try to block the water from me. Overall the trip was a blast and I would totally recommend it!
Afterwards we wandered around Jackson for a bit, and then drove up to Teton Village to look around.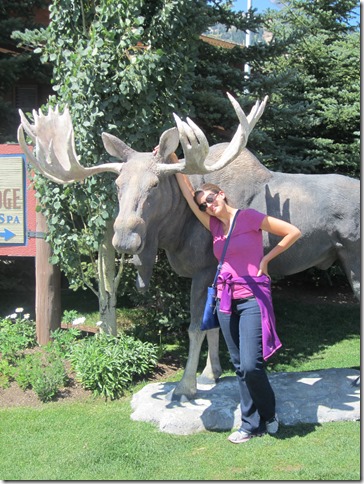 There was a tram there that was highly recommended but once we saw the ticket price (nearly $40 a person) we just couldn't bring ourselves to do it. We'd been gouged enough in this area, so we decided instead to just head off to Yellowstone, with some stops along the way. Yellowstone is north of Grand Teton NP so that meant we would have one last drive through the Tetons.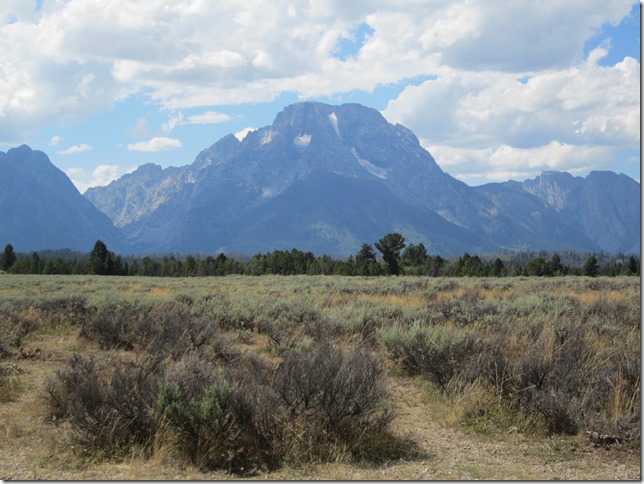 We saw there was a road up to the top of Signal Mountain and so we did that. It didn't take too long and the views were really beautiful.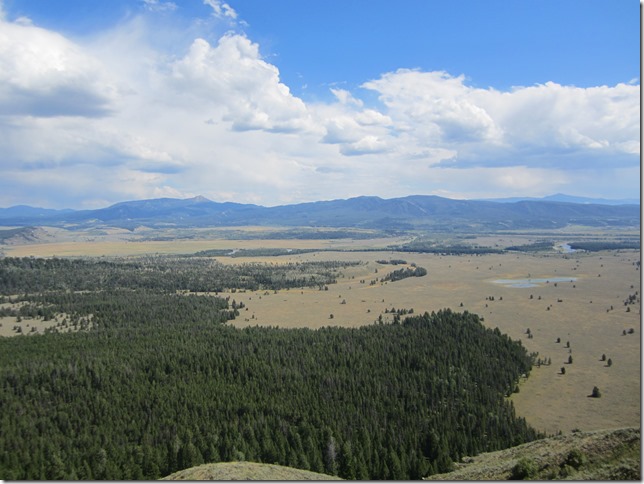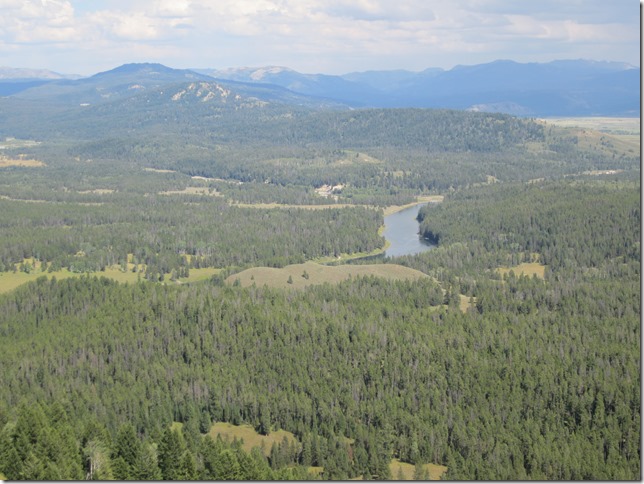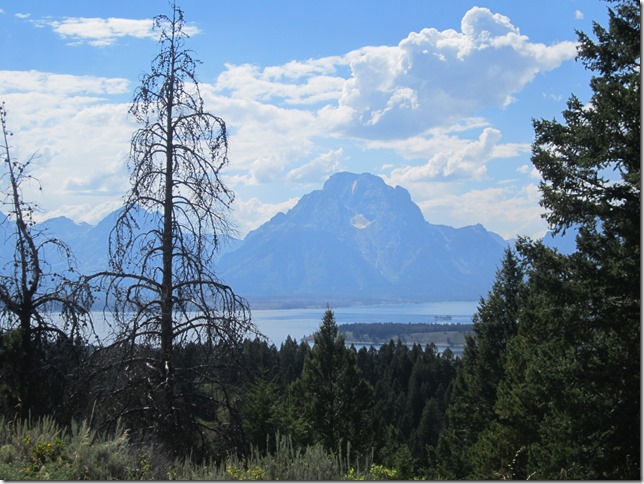 I'm sad looking at these pictures though—as wonderful as Yellowstone was, the Tetons were just amazingly beautiful, and I wish I still had that view all around me. We were sorry to leave, and took a million pictures on our way north.
Next: Yellowstone National Park!