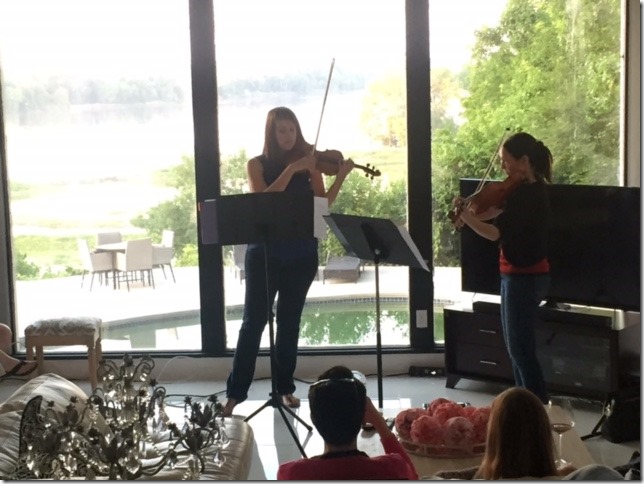 Do you? It will be an awesome experience for you and your guests! My friend Amy and I just played our first one and we learned a lot.
Here's what we would want in the future.
You: Invite your friends and family. Have them bring wine/apps or provide for them, along with providing the normal party things such as glasses, plates, napkins, etc. Have chairs and space set up for the concert. You'll want to be able to have 20-30 people (or more, depending on your space) be able to attend and see/hear the concert.
We: Show up. Bring our own stands and stand lights. Mingle with the guests. Play a concert, interact with the audience. You'll learn about our music and enjoy it too. We will play for around 1 hour to 1 hour 15 minutes, with a short break. We'll also get there beforehand and stay after and answer questions! This is a way to get up close and personal with musicians.
You: Provide a basket or jar for musician tips. We did our first one at a friend's house for fun and to learn. The next one we will need to make some money or we can't keep playing! If you find that gauche, talk with me. We can work it out. I'm sure your guests would be happy to chip in $10-20 each for a unique and enjoyable evening!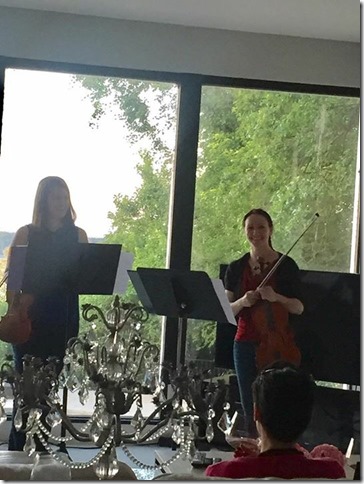 Here's how the first one went. Woke up the morning of and worried that no one was attending (we helped out with inviting more than we will in the future, because it just added too much worry and stress, and honestly, you can't keep inviting your friends over and over, we need MORE audience members, that's also where YOU come in!)…decide it didn't matter. Panic that everybody would hate the concert. Decided it didn't matter because the hostess would love it and we'd have fun playing and whatever, it didn't matter, who likes classical music anyway? (Spoiler, YOU do, you just might not know it yet.)
The evening arrived: We got to the house. We'd told people 7 pm, and by 7:15 there were probably 25 people. People showed up! Lots of people. They loved it! We started the program around 7:30 and went until close to 9 with a short break. We had a blast playing and talking with the audience, and loved the setting and the gorgeous house and the up close and personal interaction with everybody. Chamber music the way it was meant to be! And the audience was wonderful and attentive and friendly, and of course it's more fun to play for people like that. These were friends! New and old friends. I had so much fun performing and talking with everybody.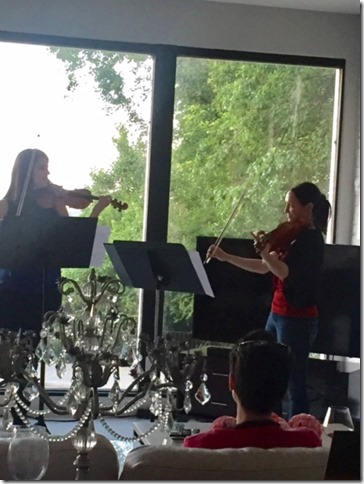 I'd love to do it again! Look at how much fun we are having! Imagine having two musicians play in your living room. Impress your friends and family with your culture and connections! You can make an ordinary night extraordinary.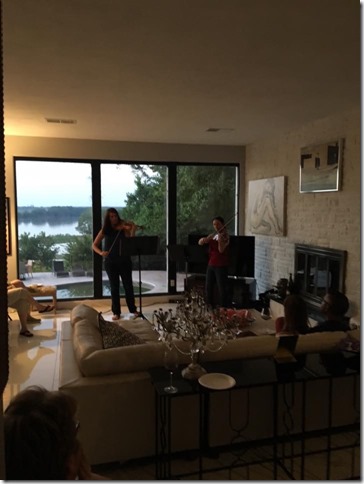 I'm sure I'll learn more if I play another house concert, but that's where I am right now. Advice? Interest? Suggestions? Comment or contact me.