I suppose I shouldn't have a dislike of Aspen, but I do! First off, before even going, so many people said, oh, why go to Aspen? Well, we had our family reasons, but UGH after the bear attack…
Read those first!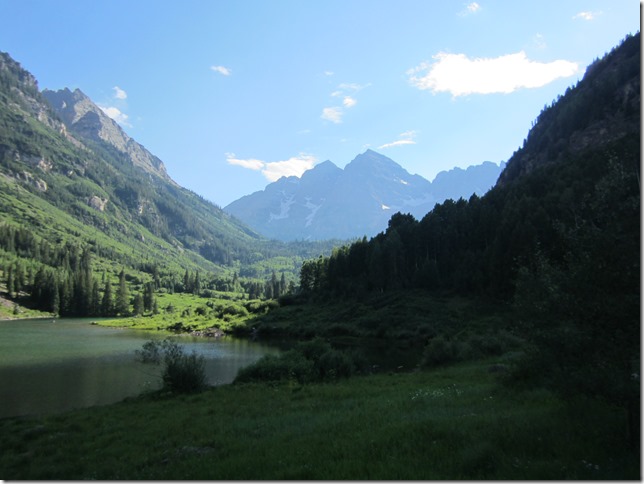 So we spent the day of the bear incident cleaning up. At first we'd thought we'd camp another night and then we realized that was crazy…the bear KNEW our car would have food and now it was even less secure. So we managed to crash at Louie's dad's place for a night, but frankly, we were cranky and tired and ready to leave.
The next morning we did, after loading up. We had breakfast at the Main Street Bakery, which would have been really nice except I suddenly wasn't feeling well and ended up sitting outside on a bench for most of the meal. Altitude sickness? Definitely not morning sickness, which was what a woman at the "community table" suggested to me.
Louie and I were headed to Rocky Mountain National Park next. Yes, it was backtracking, but that's how we did it. Don't judge. We had a reservation for two nights at Moraine Campground, which was a different campground than we stayed at the previous year. We decided to leave Aspen via Independence Pass which is a pretty fantastic drive!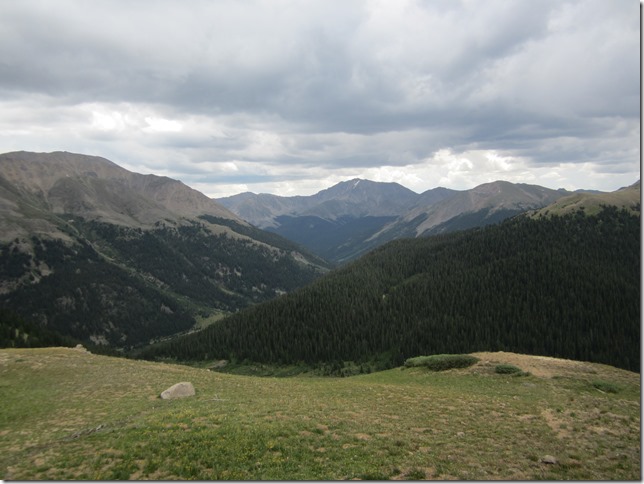 Things that are truly awful: the vault toilets at the parking lot for the top of Independence Pass.
I was starting to feel a bit better, but not great. Louie drove since I am terrified of mountain driving and he loves it. I won't lie, some of our fun and excitement was gone. We were tired and stressed, we couldn't use one of the doors of the car, and we were worried that another bear would attack the car. And now we were driving several hours back east to go somewhere that we didn't even know if we wanted to go.
We'd been to Rocky Mountain National Park the year before and we'd figured why not return for another short visit. We'd really only have one full day there, but it seemed worth it in the planning stages. Naturally everything took longer than I planned (things to remember) but I think we were still happy, deep down

We came into the park from the West side. The scenery was absolutely gorgeous. This was on the Trail Ridge Road, in case you are trying to recreate our trip. Oh, and I should mention, before getting to the park, we made a few stops along the way to try to get a new cooler, since the bear ruined ours. The day before we'd looked around Aspen for one, but everything was super expensive. We ended up buying a $4 styrofoam one to tide us over, figuring we'd easily find a cheaper one. That was a mistake. We saw a $350 cooler at Bed, Bath and Beyond…made the $75 cooler at the hardware store in Aspen look like a bargain! We finally found a reasonably priced one at a Target, but it was small. Oh well.
So we came in on the Trail Ridge Road from the West Side, like I started to tell you a minute ago. Most visitors enter the park on the East Side, so this was definitely the less crowded way to do it! The entrance gate was closed when we arrived so we didn't get to flash our season pass. I guess probably we were supposed to show it somewhere but it was pretty unclear.
I wanted us to immediately get into tourist/photo taking mood, but it was hard. Louie was tired, I was tired, and we were just worried and stressed. We stopped and enjoyed the views (the Trail Ridge Road is the highest paved road in the US, I believe) but mostly we wanted to get to the campsite and possibly just go to sleep.
By 6:00 or so we got to the Moraine Campground. I'd booked us a "walk-in" site, which seemed like a good idea at the time—the description said you would have to walk a bit from your car to the campsite, which I figured gave more privacy and quiet. What we didn't realized was that it was up a hill, not terribly private, and that there wasn't a very convenient bear box (metal box bears can't open for you to store your food.)
On the one hand, we had a great story. On the other hand, we didn't want to leave any open food or scented items in the car and we were stressed. We managed to organize things and make room in a nearby bearbox, and we set up our tent, and finally relaxed a bit. Our plan was to get up very early and do a hike out of the Bear Lake Trailhead. Bear Lake is a very popular Trailhead, so we wanted to get there by 7 am or so.
So, we got up, had a quick breakfast, and got moving. People tend to get up early in campgrounds and this one was no exception. I'd slept okay, except I could hear a nearby person snoring! The privacy was not great. We were on the top of a little rocky hill, which was cool, but hard to get to the car or the bathroom!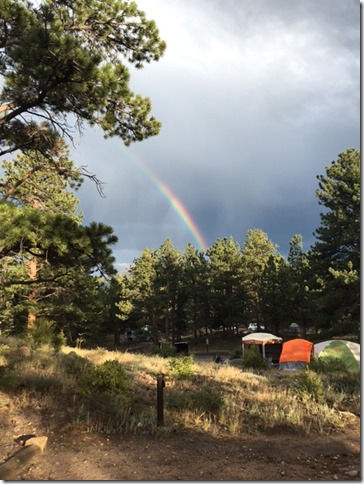 There was a rainbow shortly after we arrived though, which was very pretty.
Oh, and a raven or magpie ate one of our sandwiches! I'd packed two and put them in baggies on the table…and when we weren't looking a bird knocked one on the ground and pecked at it! So I had to pack another, but that was okay.
We got to the parking lot at the Trailhead quite early, maybe by 6:45/7 am. It was only 1/3 to 1/2 full, but by the time we were "geared up" and got our boots on the lot was full! There is a shuttle system you can use, but it didn't seem terribly convenient from our campground so we wanted to drive if possible. And here's where blogging a month later (almost) makes you forget things! I recall Louie drove in his pajamas to the trailhead to save time, but I don't remember what time we got up, nor did I make a note of it. Oh well.
I'd selected the "4 lakes loop" for our day hike. It seemed like it covered a good bit of ground that we hadn't hiked in the past and would be a gorgeous way to spend the day. We weren't disappointed!
We "warmed up" by walking around Bear Lake first. It was very pretty and the air was nice and cool.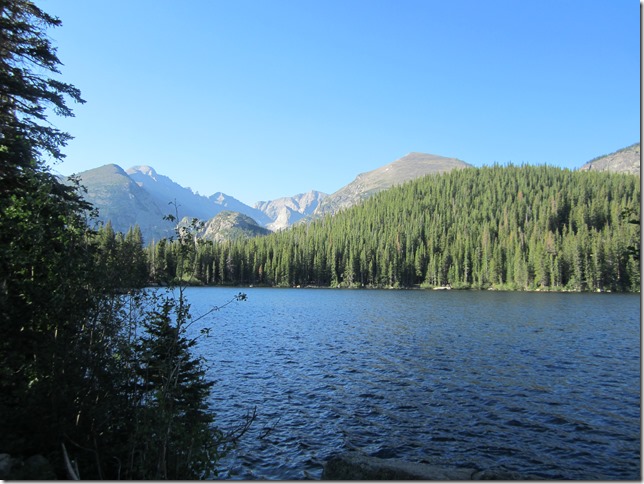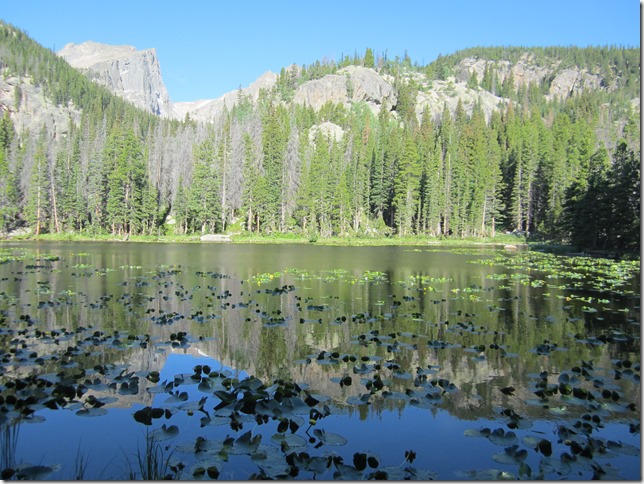 We had to do a bit of climbing to get to Nymph Lake, but it was very pretty with all the lilies. This part of the hike was pretty crowded with people, but we knew that would be the case. We did all the add on portions of the hike too: Bear, Nymph, Dream, Emerald (had a lovely snack in a private area near Emerald lake and rested for 20 minutes or so—it was nice to avoid people for a bit!), then Lake Haiyaha-the hike up to that lake was absolutely gorgeous with amazing views! After Lake Haiyaha we went to Mills Lake which was my favorite and went to Jewel Lake too, which was a little anticlimatic. We had lunch sitting by Mills Lake and rested for awhile. Louie walked around to an island nearby but I wasn't up for going off path. After a long rest there we headed back down, past Alberta Falls (we'd been there the year before) and then a long uphill from the Glacier Gorge Trailhead back to Bear Lake and our car, which was still there and not re-attacked by Bears!
Looking down on Nymph Lake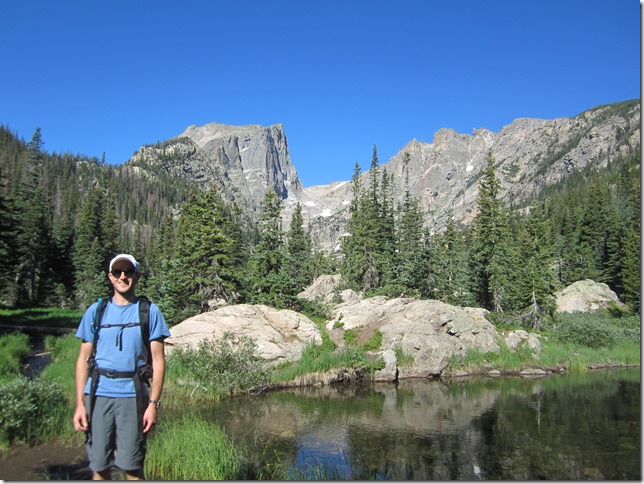 I believe this was Dream Lake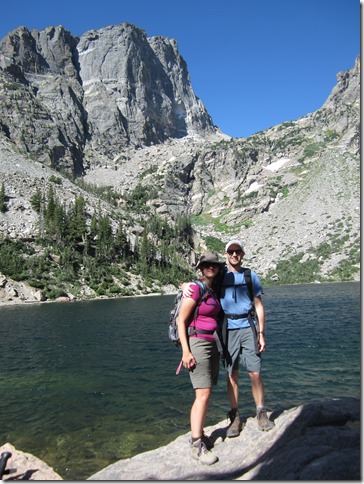 And I believe this was Emerald Lake.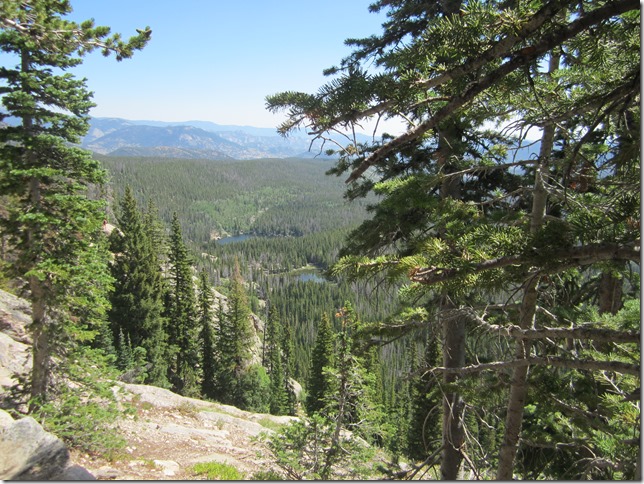 Hiking towards Lake Haiyaha. Lots of lakes in view!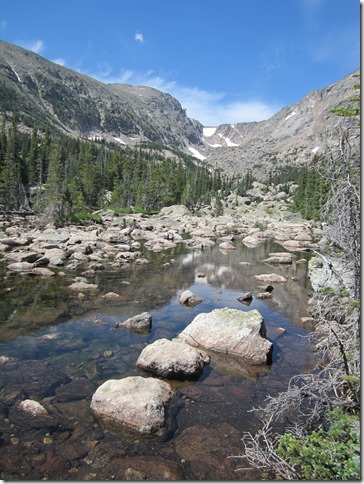 Almost missed this amazing view which was just a little ways off the trail.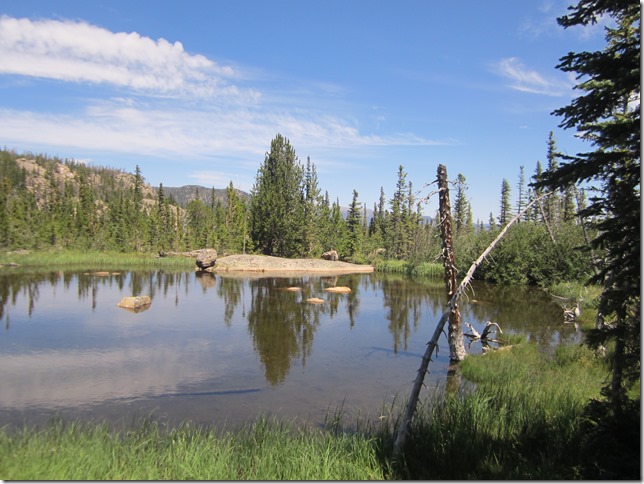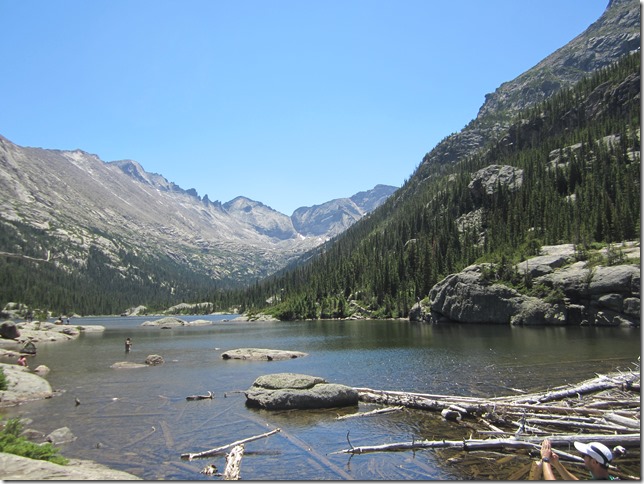 Mills Lake…just gorgeous.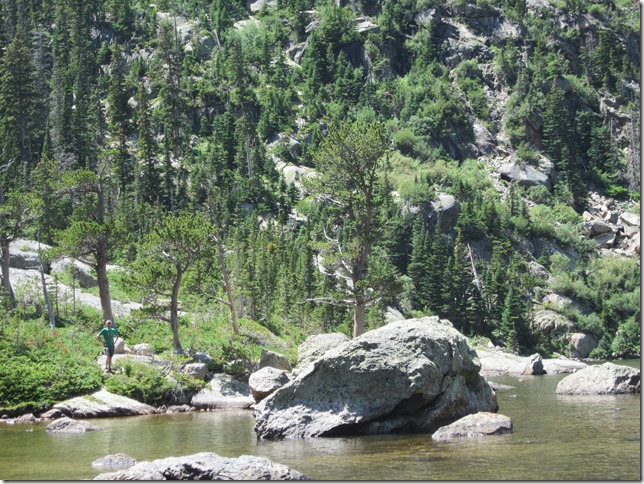 Louie exploring the island—can you see him? We could hear each other talking the whole time. Alpine Lakes are seriously the best. He said there were lots of cobwebs.
Anyway, as much as I'm terrible at describing hikes (or just not in the mood

/already forgot) it was a great hike! I think it took us about 7 hours with lots of stops, and we had a great time.
We got back to the camp and just relaxed for the rest of the day. One thing we didn't see much of was WILDLIFE. The previous year we'd seen ton, but we just didn't see much. (of course we'd had quite a lot of evidence of wildlife, but very few sightings.)
The next morning we got up early to head out. We were heading west to Grand Junction and Colorado National Monument. In the early hours of the morning we woke up to the sound of whooping and howling—we realized it was a bunch of coyotes making a lot of racket!
Anyway, it was a nice but short visit to Rocky Mountain National Park. I think I preferred our campground the year before (Glacier Basin) but it was nice to try something new. The bathrooms were pretty dirty and the dumpsters were overflowing! We had a nice fire each night though, and Colorado is just gorgeous.
This part of the trip was emotionally difficult for me. I felt like the bear had really stolen our excitement and happiness, and we were just worried what else would go wrong. I felt tired already and that I hadn't planned well enough (it might be true, but still, I should have been enjoying the moment!) and that I was just worried more things would go wrong. 2016 has been one thing going wrong after another…but this was a vacation! No time for complaining, time for fun! (And rolling thermarest mattresses, so much rolling of mattresses.)
Camping days: 4
Hiking miles (best estimate): 22