Who hasn't heard of Frank Lloyd Wright?  I know I have…but I really didn't know anything about him until my recent tour of Taliesin West.
Located in North Scottsdale, Arizona, Taliesin West was Frank Lloyd Wright's winter home and school.  The wikipedia article is very informative.  Leslie and I took a guided tour—the 90 minute "Insights" tour.  I could recap what our guide told us, but I'd probably give some misinformation.  Suffice it to say that Wright and his students built the house and grounds together and his architecture is unique and WAY ahead of its time, in my opinion.  I really enjoyed this tour, though it is a bit pricey for the amount of time.

It was an absolutely gorgeous day!  The weather was just perfect…gotta love Arizona in January.
How gorgeous is the landscaping?  We weren't allowed to take pictures inside many of the rooms, so I primarily took photos of the outside.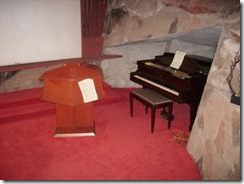 That is a four sided music stand with a light in the middle.  Evidently Wright was an accomplished pianist, and invented that stand for a quartet.  It even has room for a plant in the middle.  Brilliant…except once the musicians sit down they can't see each other over it, which, contrary to popular belief, is very important for chamber music!
After visiting the house I am definitely interested to visit more of Wright's buildings.  I know there are many in the Chicago area.  There is also a house in Kirkwood, Missouri that I am definitely interested in visiting.  Has anyone been?  Would anyone like to go?