Happy Thursday morning everybody!  I'm writing this post the night before, but delaying its production because I can.
How was my Wednesday?  Overall great.
It was "wear your camp t-shirt day".  My roomies and I decided to go with it—after all, when else WOULD we wear our camp t-shirts?  (There was a group picture, but we skipped that.)
That's Maggie with the evil look spearing the delicious (ha!) breakfast sausage.  The others are Holly and Michaela (left to right) and of course me.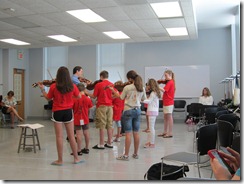 8:30 am group class as usual, then to Terry Durbin's class too.  (There is a little bit of a shortage of different classes to observe for book 5 at 8:30 and 9:30, but oh well.)  Terry told the story of the Seitz concerto (5/1) which involved Don Quixote and windmills and such.
10:30 I went to Carol Dallinger's for the first time.  She is just wonderful!
Lots of great technique stuff happening.  I really need to bug my students more than I do. 
Snippets of information from today:
Get in the habit of looking at the notes before big shifts and string crossings.
The body is made to move.
Children that sing and participate in music acquire language sooner, faster, better, and remember it more than children that don't.
Teach what is best for the student.
In music, there is no equivalent to an eraser.
Unrelated to Suzuki institute:  my wedding save the dates are SO close to being done.  I'm just working on getting all the addresses exactly right.  I am SO pumped.  They look awesome and I can't wait to share them with you readers, but I will wait until my guests receive them to put them on the blog, because I want them to be a surprise.  It's funny that I am here at Suzuki training but also working hard planning my wedding (minus my binder because I left it at home) and also being an awesome diligent blogger and keeping up my running.  I wear so many hats!
I wish I could run my July 4th race in these, but I can't:
(from a student in a class today!)
I'm off to run!  And then technically, happy Thursday—today we are teaching each other in class, which, as you all know, freaks me out (teaching other people in front of people who are judging me teaching.)