I just got home from a fantastic prix fixe menu at Frazer's.  Bacon wrapped chorizo stuffed dates, caesar salad, Salmon Frazer, split the creme brulee.  Delicious!  And sufficiently full enough to run in the morning.  We went with our good friends Jon and Laura and his aunt Janis.  By the way…Jon and Laura are expecting a baby boy in April!
I spent all afternoon baking, or preparing to bake.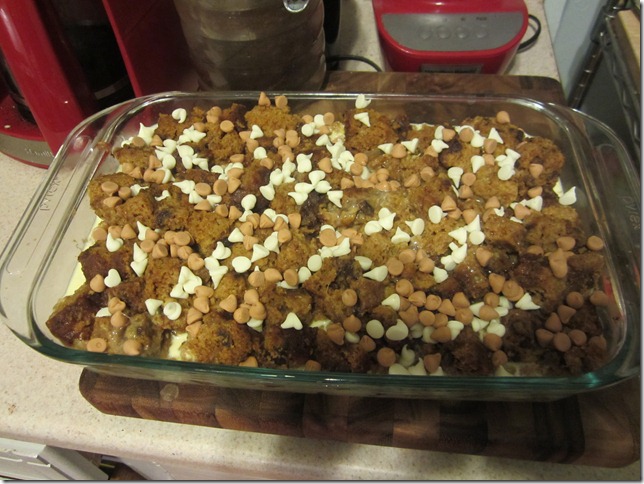 Bread pudding, prepared for the oven.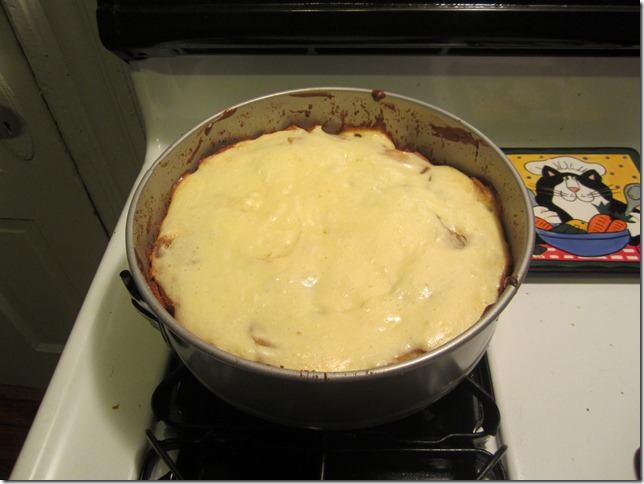 Caramel Apple Cheesecake Pie.  Not super pretty, but let me tell you what's under that so far.  Graham Cracker crust, caramel, pecans, apples, and cheesecake topping.  Sounds pretty now, doesn't it?  I'll top it with whipped cream, more caramel, and more pecans.
Tomorrow is the big day!  I am doing a six mile Turkey Trot in the morning, and then will spend the rest of the day eating and hanging out with my friends.  Yes, I put eating first.  I don't know if that signifies a disordered relationship with food, but yes, I look forward to the food on Thanksgiving because it is amazing and delicious and we come out guns blazing:  full butter, full fat, cream, butter (did I mention butter?) and it is going to be the greatest day ever.  Then the day after we'll be back to not using butter and using Pam and using skim milk and we'll look back fondly on Thanksgiving…and how before that day our pants fit and hopefully will again.
Today was also the day we realized we might should add a few folks to the wedding invite list.  We've gotten more "no's" than we hoped for—it's understandable, it's a tough time of year to travel—so we can add a few more in-town friends.  Guest lists are a real challenge!!
30 days of Thanksgiving:  I'm thankful for stretchy pants.  Hahahaha.  I'm also thankful for Salmon Frazer.