How was your Thanksgiving? Did you have a wonderful meal with friends and family?
Louie and I headed to visit my grandmother, my parents, and other various and sundry relatives in NW Ohio. It was about a 7 hour drive each way, and we stayed for two nights. We had Thanksgiving dinner and a birthday party in honor of my grandmother's 90th birthday.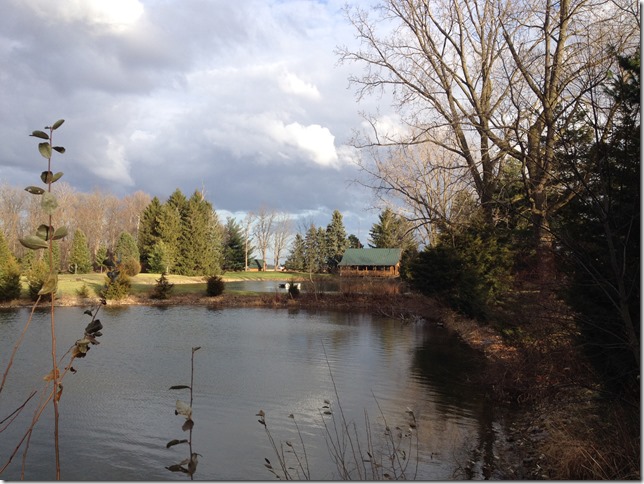 I often forget how beautiful it is where my family lives. My dad grew up there also…it's farm land, small town, but very beautiful, especially on the land where my grandparents lived for years, because they worked hard to make it so.
Anyway, dinner was delicious. Salad and rolls to start, turkey, mashed potatoes/gravy, stuffing, corn, sweet potatoes, and baked apples. For dessert we had pumpkin, mincemeat, or pecan pie. I had mincemeat which is my favorite, and also some of Louie's pumpkin, and a bite of pecan too. My relatives are great hosts!
The nice weather only lasted one day—the second day we were there it rained the entire time. Boo.
We took pictures of the cousins who were there, plus a picture with significant others.
I should have taken more pictures, but the rest that I had turned out pretty horrible! Lots of pictures with eyes shut or blurry. Maybe my mom got some better ones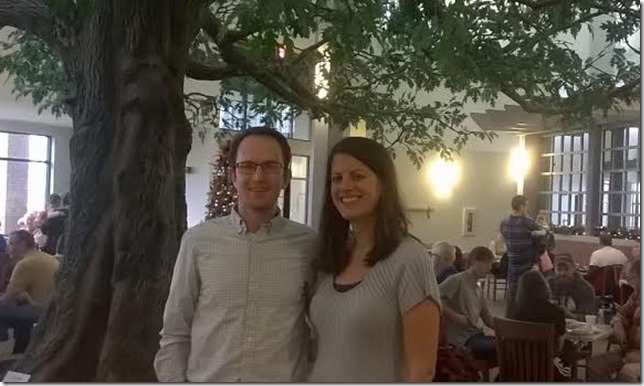 This was at breakfast in the hotel. We stayed at the Heritage Inn in Archbold, Ohio and one of the defining features is a giant fake tree in the breakfast area.
Anyway, today I've been puttering around the house, catching up on email and calendar scheduling (constant!), running various errands, and generally getting ready for the next few weeks. It's been nice to have a day to get ready—I hate traveling and getting back at the last minute. I think that's one of the things that made November hard was having a trip and not being able to have a day to recover. Or maybe I'm just a bit lame?
All my relatives seem to think I work too hard. I think people imagine violin teachers as people who teach a few hours a day, handing out candy while covered in cat hair. The reality is that if you want to make a decent income you have to really hustle and cram those students in! There is only so much time each day that people can come for lessons (unless they are home schooled, retired, or have flexible work schedules) so it means eating dinner late and working into the evenings. And I don't think I work too hard…or if I do, at least Louie works hard too. We aren't the sort of people to sit around, and I want to be making a difference in the world..and be making a decent living teaching violin!
I'm trying something new this week and scheduling some tasks that I normally do unscheduled. I've been reading Gretchen Rubin's Better Than Before (I finished Happier at Home recently too) and got some ideas about how to improve my life. Sometimes I will sit down at the computer to send some emails and before I know it several hours have passed. I'm going to try to have specific wake up and get to work times, and really make sure I'm using my time wisely. The goal is to have free time where I am truly free rather than constantly working or feeling like I should. Self-employment is not for the faint of heart.
The other thing people always suggest is to check email less often. I did set my phone so that it only pulls email every hour. I wonder if looking at email less often truly does save time? Will people just call instead (this is absolutely what I don't want, nothing takes more time than phone calls, or causes me more stress) if I don't respond to emails quickly? I would probably prefer texts in some cases, but emails are often easier to keep track of. Anybody have thoughts?
I'm off to practice for a bit before dinner now. I read a friend's facebook status recently that referred to his violin practice, and I've been thinking about that lately…practice as a constant, something you do, rather than practice as something result-oriented. I should go more into depth with that thought in a future blog post!