(The premise is this: sign up. Receive the addresses of three other food bloggers. Send each of them one dozen delicious homemade cookies. Receive three different boxes of scrumptious cookies from other bloggers. Eat them all yourself (or, you know, share. If you want. No judgment either way.) Post your cookie recipe on your blog. See everyone else's cookie recipes. Salivate. Get lots of great ideas for next years' cookie swap. Rinse and repeat.)
I have to say:  by the time I got started on these cookies I was super "cookied" out.  Originally I had planned to send my tri-color cookies for this swap, but there ended up not being enough of them.  The problem was, after slaving over the tri-color cookies and then hosting a cookie party, I really didn't want to bake anymore!  If I had been able to wait until the following weekend I would have been up for it, but goodness I was busy. 
So I found an eggnog cookie recipe that I had been meaning to try for a couple of years, and since I had eggnog in the fridge, it seemed appropriate.  It also seemed easy enough…
I decided to add a little extra eggnog and use less nutmeg since the reviewers seemed to recommend that.  The dough was very sticky and tough to work with, and the cookies are NOT pretty.  I also didn't package them pretty, sorry guys.  I just stuck them in freezer bags.  I had originally thought I'd get little holidays tins to put the cookies in…nope.  None of that happened.  I forgot to take a picture too(that's how you can tell I'm not really a food blogger!) but I posted one that looked pretty similar to my cookies.  (Forgive me, I'm planning a wedding!)
Even with the crappy presentation, I hope my swap buddies enjoy them.  My fiance thought they were quite tasty, very mild flavor, but unique.  (He is a huge eggnog lover, but I think even if you don't care for eggnog you'll enjoy these!)  I don't have a single cookie left at home, which makes me sad and also makes me want to make another batch!
Eggnog Cookies, originally from Allrecipes.com
Ingredients
1 1/4 cups white sugar
3/4 cup butter, softened
1/2 cup eggnog (I used 2/3 cup)
1 teaspoon vanilla extract 2 egg yolks
1 teaspoon ground nutmeg (I used 1/2 teaspoon)
2 1/4 cups all-purpose flour
1 teaspoon baking powder
1/2 teaspoon ground cinnamon
Directions
Preheat oven to 300 degrees F (150 degrees C).
Combine flour, baking powder, cinnamon and nutmeg.
Cream sugar and butter until light. Add eggnog, vanilla, and egg yolks; beat at medium speed with mixer until smooth. Add flour mixture and beat at low speed until just combined. Do not overmix.
Drop by teaspoonfuls onto ungreased cookie sheet 1 inch apart. Sprinkle lightly with nutmeg. Bake 20 to 23 minutes until bottoms turn light brown.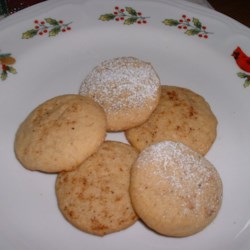 Again, not my picture—the powdered sugar would probably be a nice touch too!  I didn't do that.
Who did I send these to?
Loy at Grandma Loy's Kitchen
Brandy at Nutmeg Nanny
Amber at Bluebonnets and Brownies
Go check out their blogs, they have fantastic photography and recipes!  I will stop beating myself up over my lousy cookie presentation ;) 
Here's what I got in return: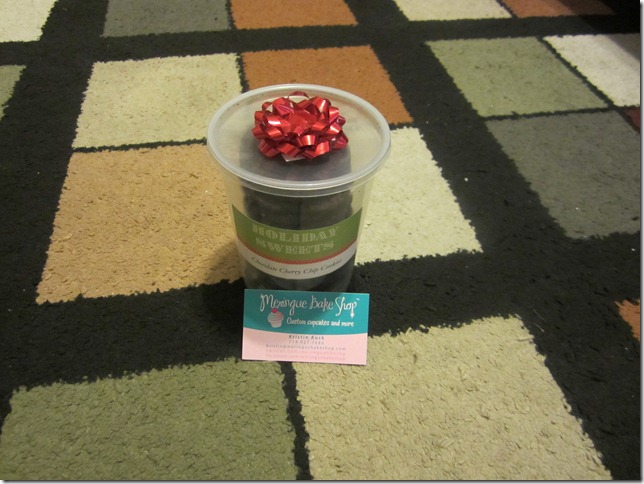 Chocolate cherry chip cookies from Kristin at Meringue Bake Shop.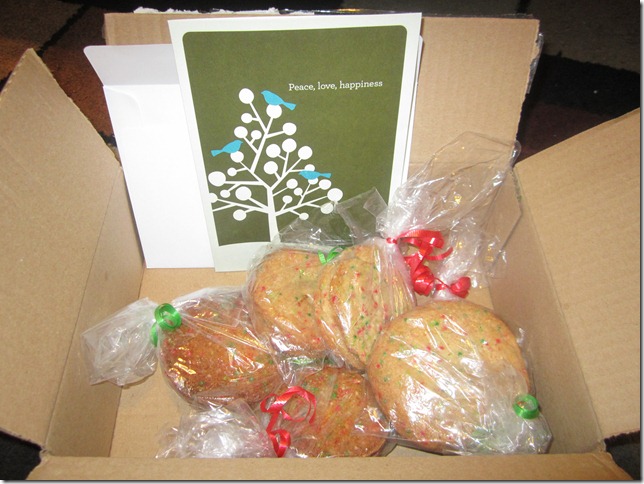 Candy Cane Kisses Cookies from Amber at Bluebonnets & Brownies.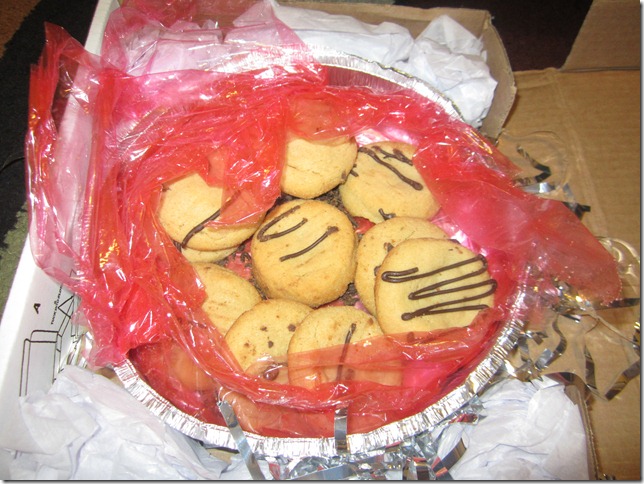 Snickers Cookies from Brandy at Nutmeg Nanny.
All were delicious!
Want to participate next year?  Go here to sign up for an email reminder.
Remember to go vote for my blog for best personal blog in St Louis!! I don't think I'll win or anything, but a girl can dream right?  If you vote for me, tell me in the comments (and you can do this more than once) and I'll love you forever.