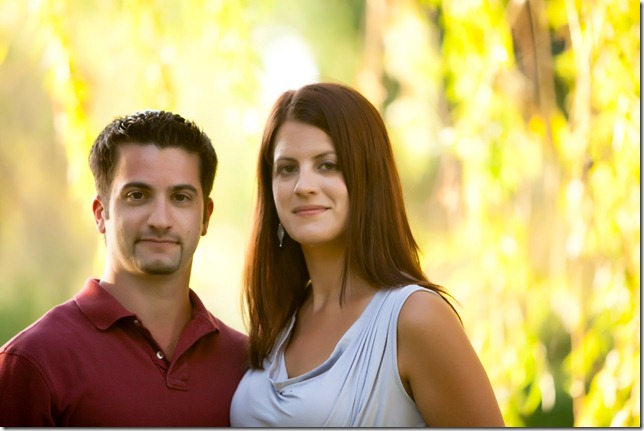 Everybody is weighing in on my makeup pictures 🙂  I notice no one has mentioned my hair… (please don't.)
To put things in perspective, I did this myself (and this photo is edited already, by the wonderful Sarah Crowder).  I'm wearing what I considered to be a ton of eyeliner, and it basically disappears.  Now, Chris isn't wearing any makeup, and honestly, I think his eyelashes and lips disappear (yes, but would I want to marry him if he wore makeup…hrrmmm…).
It's amazing how many different opinions people have!  What that means (to me) is that I can't lose.
Next question:  Should I wear a veil or not?  I have a little hairpiece that came with my dress.  Are you married?  Did you wear a veil?  Do you have pictures to share with me?  (You can email!)  Also pictures of you and your makeup are welcome!
Remember how the other week we ate dinner at our rehearsal dinner venue?  It was delicious.  We learned today that they changed their menu, and neither of the entrees we tried (and loved) are available anymore!  Hopefully the new menu will be as good…we were initially disappointed, but ultimately I'm sure it'll be wonderful.
Do you like bacon?  Do you like peanut brittle?  Click here for bacon peanut brittle!
30 days of Thanksgiving:  (did I already do this today?  I can't be bothered to check—I should stop posting twice a day, huh?):  I'm thankful that tomorrow is Friday and I have a facial AND a Twilight mini-marathon planned (with friends!) after work.  We are going to watch the 1st and 3rd movies.