I came home from my long day (and my Modern Mexican dinner at Milagro with a friend) to an  Amazon box containing two of the greatest things ever.
One, the latest Harry Potter movie on DVD.  SWEET!  I hadn't necessarily liked the first 6 HP movies, but Deathly Hallows Part 1 was great!  I did cry a lot.  I started crying pretty much as soon as I realized it was near the point where (spoiler alert?) Dobby dies.  I'm a cry baby 🙁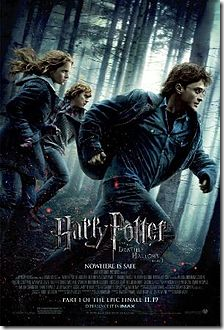 Two, my new Kindle!  (My old one got stolen).  My new Kindle, WHICH as we speak is charging AND downloading all my previous 56 books to it…I am so ridiculously happy about this.  My parents gave me the first one for Christmas and I loved it.  Then it got stolen and I was sad and really missed it.  Now it is back!  Still haven't gotten the insurance check yet, but all in good time I'm sure.  I was IN THE MIDDLE of a book, which I can now finish reading!!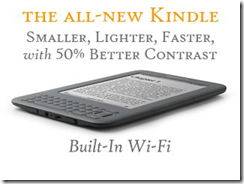 It will be another month before I get the case I had before (and I wanted the same one, I liked it, it was purple) but I'll live.  I'm just thrilled that my life is beginning to return to normal.
Now for my stomach to return to normal.  OMG.  Milagro was delicious, though the service was a bit…overwhelmed?  We split the "street" corn off the cob and some guacamole, and I had the shrimp tacos.  YUM.  What makes it modern mexican?  I'm not entirely sure (I could guess but it would probably just sound racist.)
Remember tomorrow is the internet concert—tune in at 6 pm central 🙂