Nothing better than Chicago in late winter!
So, let me tell you all about our trip to Chicago last week. I'm on a bit of cold medicine right now and I have so much to write about and very little brain power, so…I'd better just get started!
We decided to go to Chicago for a few days over Louie's spring break—this year mine didn't line up as easily as last year and the kids were basically split between this week and last week, but I just took a few days off, because, you just have to! Life isn't just for working. The reason we settled on Chicago for the trip was because Louie's grandfather was being featured in an art exhibit at the University of Chicago, and the exhibit would only be open until June, so we wanted to be sure to see it.
We decided to take Amtrak to Chicago so we could relax on the trip and not have to pay for parking. We also lucked out and were able to stay at the apartment of a relative of Louie's. For two round trip tickets on Amtrak we only paid about $150, which seemed like a pretty good deal. The train left at 6:40 am though, and we took a cab to the station, and…it was really early.
(and glamorous)
I remembered the last time I'd taken the train to Chicago that you get a really great view once you cross the river, so I was ready for it.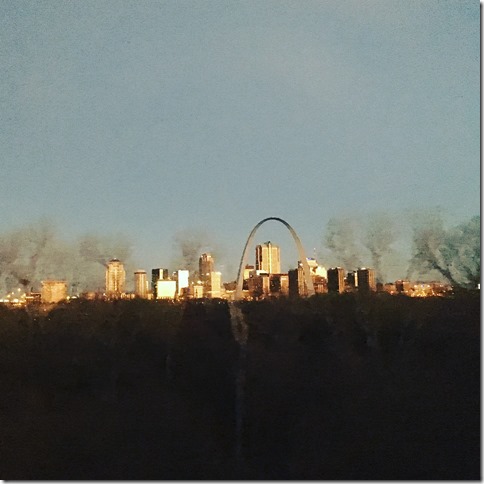 Sort of. At least. Perhaps it's a tough shot to get out the train window.
Anyway, the ride was uneventful. I mostly napped and read, and we talked about our plans for the trip.
When we got to Union Station in Chicago we got a 7 day rail/bus pass and hopped on a bus that (after many stops) let us off right in front of the apartment we would call home for the next few days. There was a doorman and everything! After getting cleaned up a bit, we decided to head further north (we were already on the North side of downtown) to visit Evanston where Louie's grandparents used to live. We took the "L" and it didn't take too long. We walked around for a few miles actually, enjoying the lake views and wishing it weren't QUITE so windy. (I know that's NOT why they call it the Windy City, but goodness, it certainly was windy!)
I miss living near a great lake!
Anyway, after walking around awhile we hopped on the L again and headed downtown for dinner. We figured if we ate early we could get in to a great restaurant and we went to Frontera Grill. It was before 6 pm and we didn't have to wait, but within 15-30 minutes the restaurant was packed! We decided to forgo our pescatarian values and split an order of duck carnitas and also got chips and guac. It was a really delicious meal!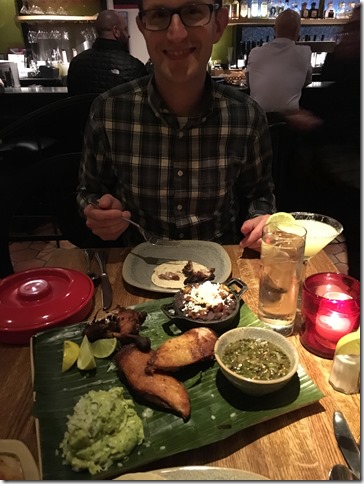 By the time we were done we were ready to head "home" so we caught a bus and headed north again. It was on the early side but I was exhausted from the early wake up call so we called it a night.
The next day we got up and wanted to head south to visit the Monster Roster Exhibit. We grabbed breakfast at a diner nearby then got on the L to head south where we would catch a bus to go to the University of Chicago. This was the only time we realized that blindly following Google Map's public transportation suggestions might not be the best idea, as we found ourselves in the heart of the southside of Chicago…as we got closer to our stop I started thinking about how yeah, that's where the crime was. However, it was broad daylight, people were chatting on their phones and minding their own business, and I figured I'd been in rough areas before. We left the station and got outside to look for our bus stop, which FOR THE RECORD I knew where it was (right across the street) and a bus driver pulled up in front of us and asked Where on earth were we trying to go? We told him, and he said, well, yeah, that's the stop, but looked at us like we were crazy. After that I was a little disconcerted, but we didn't have long to wait for our bus, and nothing happened. Okay, I forgot to mention the weird guy on the train going around selling part packs of cigarettes and the guy sitting across from us who bought one. But nobody bothered us, and we made it to the University safe and sound.
We spent about an hour looking at the Monster Roster exhibit. It was really neat—I never feel like I know enough about art to truly appreciate it, but I enjoyed the exhibit, especially having such a personal connection to one of the artists!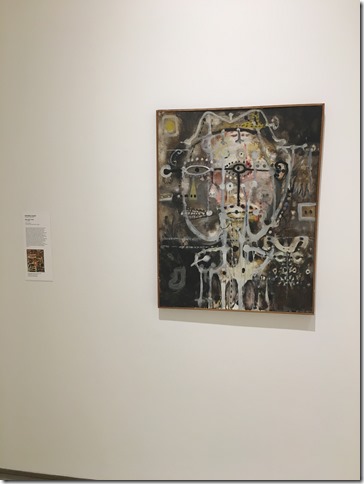 A few of George Cohen's works.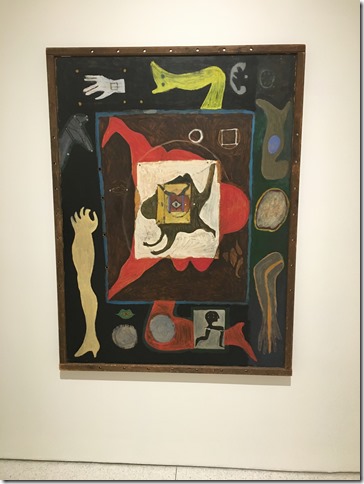 Next we went to the Museum of Science and Industry. We decided to buy a CityPass which gave us admission to 5 different museums/attractions for just under $100, and that meant we had some serious tourism ahead of us. Thought MOSI is more geared towards kids we had a nice time looking at the exhibits for a few hours.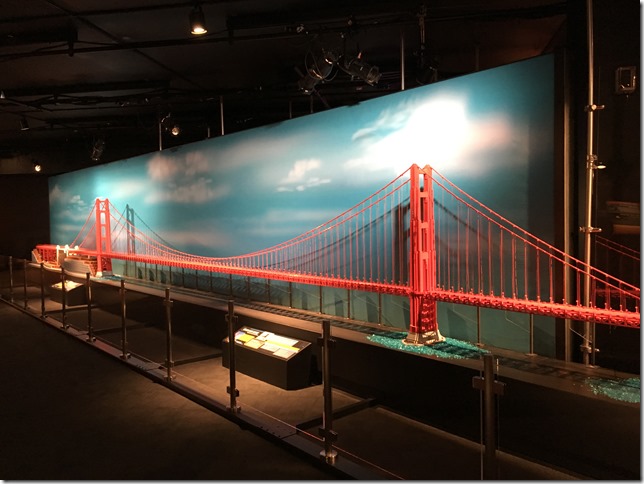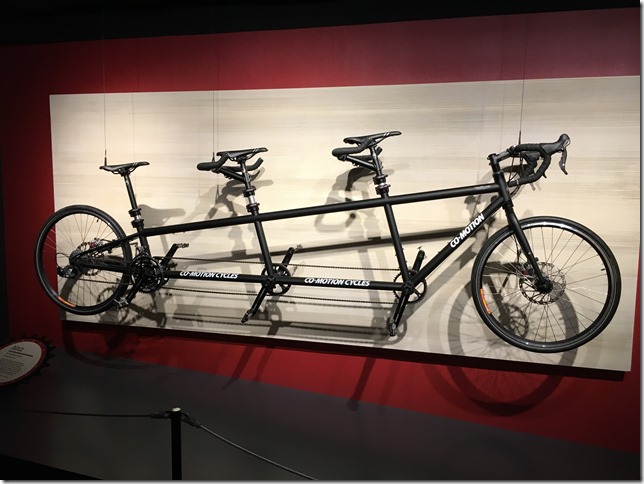 When the museum closed we tried to walk around Jackson Park, the home of the 1893 Chicago World's Fair (the MOSI building is the only building left from that fair) but a good part of it was under construction, and no one was around, and we just gave up and grabbed a bus north. We learned from our earlier incident and took a different route, and ended up in Chinatown! (on purpose, might I add). We walked around a bit and then enjoyed a good dinner—we tried marinated jellyfish as an appetizer and the hostess complimented my chopstick use, which made Louie jealous as he always thought he was the more superior chopstick user.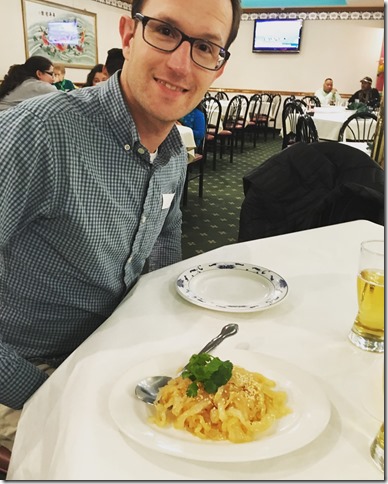 We asked about the jellyfish before ordering, and the server told us that they tasted delicious but had the texture of rubber bands. Sold!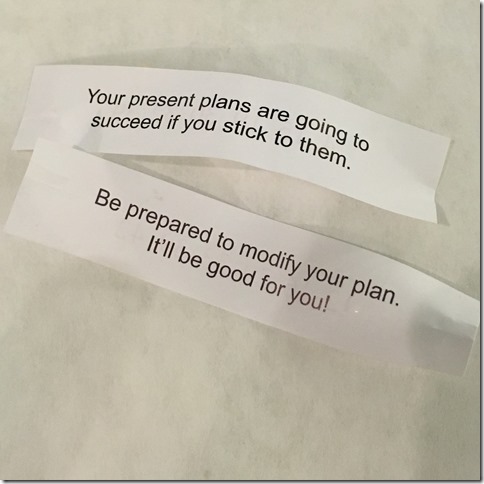 We also got a few Chinese pastries for the next day's breakfast, with red beans, green beans, and other yumminess in them. We decided the day had been long enough and headed home. We picked up a few movies and watched the newest Bond movie before falling asleep—this seemed a little lame, but then again, when do we find the time to watch movies at home? Vacation is all about doing other stuff than the norm, right?
I'd thought I'd make this into one post, but who am I kidding? Obviously this is already really long to read, so I'll tell you about the rest of the trip another time. Miles to walk, more art and stuffed dead animals yet to come! I know you'll be waiting with bated breath…