We didn't go on our honeymoon the very next day—we did wait one day.  We had lots to do—pack, laundry, unwrap presents that my parents had awesomely taken to my house. 
First we said goodbye to a few people—by the time we got up many of the guests had already left, but my parents had waited to say goodbye, and then we went with my friend Emily and Leslie & Peter to eat breakfast at Rooster.
One of things I haven't mentioned that was very delightful was the car that Leslie and Peter had rented.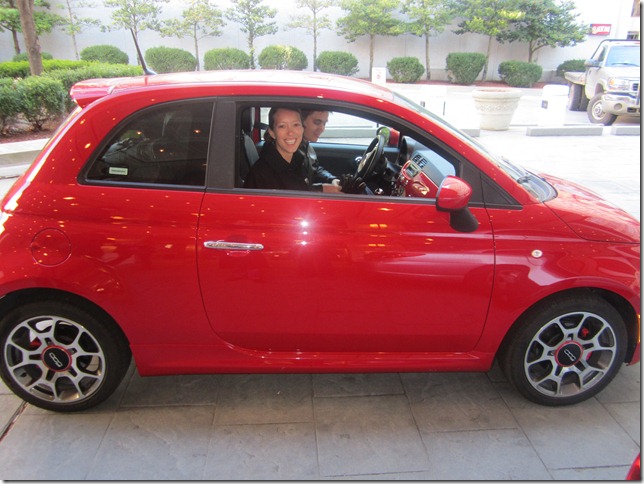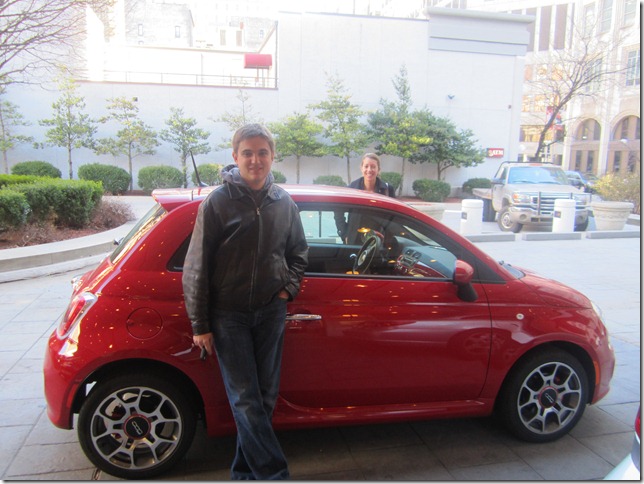 It barely had a back seat at all.
Anyway, after breakfast pretty much everybody had to leave so Chris and I checked out of the hotel and went home. 
The next day we caught a flight to Miami! One of my favorite moments was when we realized we were actually, truly, really, married and going on our honeymoon and we didn't have to talk to anyone except each other for the next ten days!  It had been such a stressful period, with so many people around to talk to or feel guilty for NOT talking to, that it was a tremendous relief not to have to do that anymore.  Don't get me wrong, I loved our wedding and I wouldn't change having had it, but WOW it was a stressful time.
Our honeymoon plan was to spend a few days in Miami Beach and then take a Celebrity Cruise to the Caribbean.  We wanted to stay on South Beach, and it ended up that prices were pretty expensive (naturally).  Since we were spending a lot of money on the cruise we tried to get a good deal, and ended up at the Ocean Reef Hotel on Collins Avenue.  When our cab pulled up we were a little surprised, and so was he, because the hotel wasn't really visible from the street!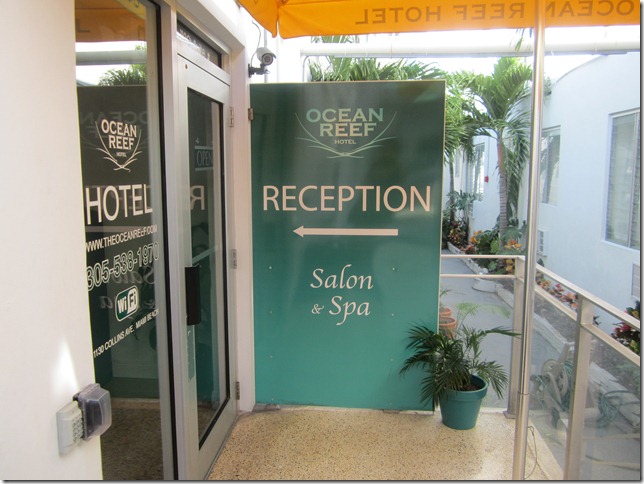 It was a very small hotel, and wasn't great—it had been renovated recently, and in fact was still under construction.  On the surface the rooms were nice (we had a small suite, with a tiny kitchen and living area) but the bathrooms were very old, the a/c didn't work well, and the windows didn't shut all the way.  Miami was in a cold snap though, so luckily we didn't need much air conditioning.  And we figured, whatever, it's our honeymoon and we're going to enjoy it no matter!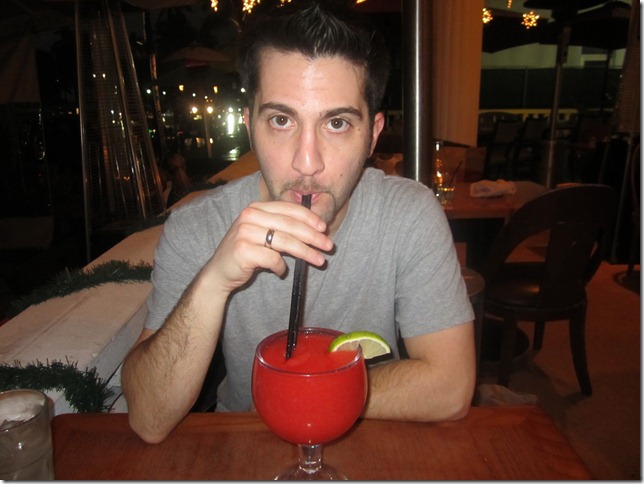 .
We were just a few blocks from the beach, and near all kinds of wonderful restaurants and stores.  We had a great few days, just walking around, eating, drinking, relaxing, and most of all, SLEEPING.  The first night we slept for about 12 hours—I didn't realize how tired I was until I finally was able to relax!  The second night we slept almost the same, and in fact kept up a pattern of sleeping at least 9 to 11 hours a day throughout the honeymoon.
That is the Miami Beach portion of our honeymoon in a nutshell! Finally, the night before the cruise was set to sail…I came down with an awful case of food poisoning.  I was terribly sick all night, up with the shakes, the chills, vomiting, diarrhea, you name it.  I managed to clog the bathroom sink and was terrified I would clog the toilet as well (probably tmi, but still.)  At one point I was lying in bed crying because I was afraid we wouldn't be able to board the ship, that I would be too sick to manage!  Chris was of course wonderful during that awful night and kept trying to make me feel better and get me water and stuff.  What an awful thing for the honeymoon though!  And yes, remember that he was sick approximately 6 days ago…but it seemed just too long beforehand to be related. 
Next step: the Celebrity Eclipse!