I was waiting to write a race recap until I could find the results online, but you know what, it doesn't matter. It wasn't a PR, it was a slow race for me…and that's what you all expect anyway, right? Plus…the results ARE online…except not my time, for some reason. Too slow I guess? They gave up? Whatever.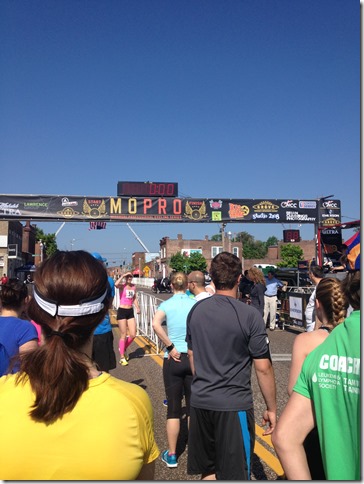 Tour de Grove 5k
My friend April asked me about this race one day when there was a deal to get the entry for $15 (half price). We figured, might as well!
The race was a 5k along a course that later would be used for the "Tour de Grove" which is a professional bike race. The 5k course was a double loop with a little spur out to the side, I'm guessing to make it 5k.
The Grove is a neighborhood not too far from where I live. According to the website, "The Grove is a growing vibrant business and entertainment district along Manchester between Kingshighway and Vandeventer in St. Louis City. In the Grove you can find a diversity of independently owned restaurants, nightlife, retail, and services. It is also home to the premier nightlife in the area, and is a thriving center for the LGBT, artist, and cycling communities in the St. Louis area."
All of that is true. It's also the neighborhood where Chris got punched in the face randomly walking with a friend going to a bar. Things he learned that night: he can really take a punch. But that's not really a race recap story now, is it? That's just your normal, "the night I almost got mugged but then they ran away because they didn't realize that I would keep standing" story. But that's really quite unrelated.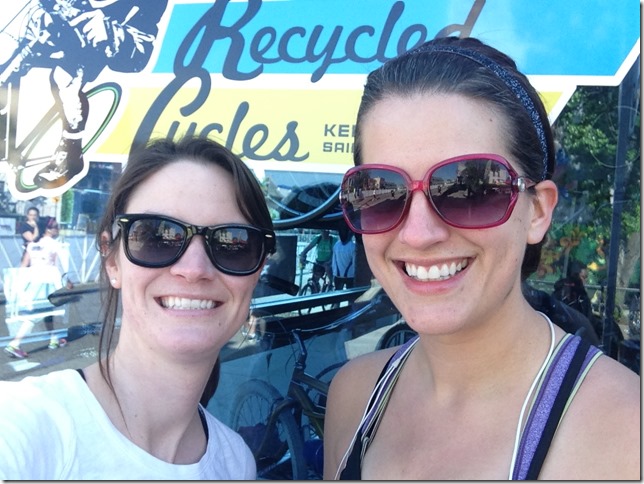 April and I, pre race
Anyway, we met super early because we needed to register the morning of and we weren't sure how easy that would be. Answer: really easy. We both arrived 30 minutes before our planned time and parking was a breeze (plenty of parking near Vandeventer and Chouteau). Registration took about two minutes and then we found ourselves with about an hour to kill. Oops.
It turned out there were less than 100 runners in the race. If we had been fast runners we might have been excited by the chance to do well. But instead we were nervous about coming in last. We decided it didn't matter. Because once you've come in last in a race, it's okay. Plus last in a tiny race like this would be no big deal.
Anyway, we agreed to just stay together unless we got really annoyed. And we didn't. We ran the whole first loop and then the heat started to get to us and we took a few short walk breaks. I think our time would have been around 38 minutes which seems really slow…and maybe it was…or maybe the course was long because both of our running apps clocked in at 3.4 to 3.45 miles. But I hate people who say that, and they claim the course was certified. But then again, they claimed they'd have results online and neither of us seemed to show up.
It was a nice race though. Great, well marked course, though the double loop is kind of boring, at least you know where you are going the second half. We almost got run down by the 2nd place male at one point…but we didn't. It was a fairly flat course and the T-shirt was good (I'm actually wearing it right now.)
Other plusses: nice volunteers and staff who handed us bottles of water as soon as we finished—none of that dazed wandering around looking for water while trying not to pass out. So I'd totally recommend this race. It was a fun way to spend the morning.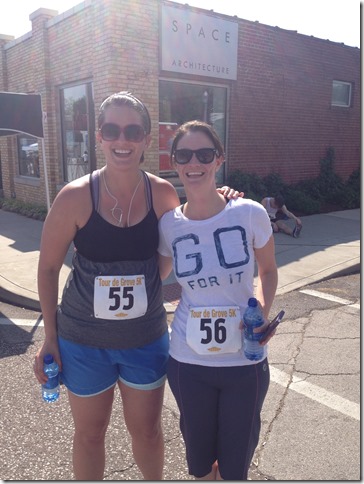 April and I, post race! Proud and sweaty.