I had a great time at Tuesday night's concert.  It was a STL Symphony sponsored concert:  "Symphony Tuesdays at Tower Grove Park", part of the Community Partnership Program.  The concert was free and was really well attended—the Piper Palm House was almost completely full!  Chris (along with some other folks:  Erin Schreiber, Asako Kuboki, and Bjorn Ranheim) played the Ravel String Quartet.  Then Asako, Bjorn, and two other musicians played some Piazzolla and other tangos.  Afterwards there was a small wine and cheese reception.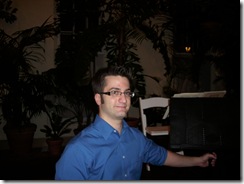 I didn't get to take any pictures during the concert because firstly I didn't want to distract the musicians, but also because I was WAY in the back as by the time I arrived that's all that was left.  So I made Chris pose as he was about to fold up his stand afterwards.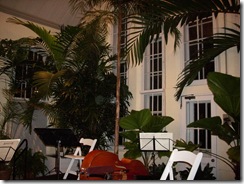 You can see why it's called the Piper Palm House. Well, at least the "Palm" part of the house!  I've played weddings there and attended a reception, but this was the first official concert I attended. 
You can see the crowd of folks in line for wine and cheese.  This is taken from the front of the stage—all those chairs were filled along with even more in the back half of the room. Chris and his group played very well 🙂